Runnin'toluvya seeks to defend Gall title on CT Oaks undercard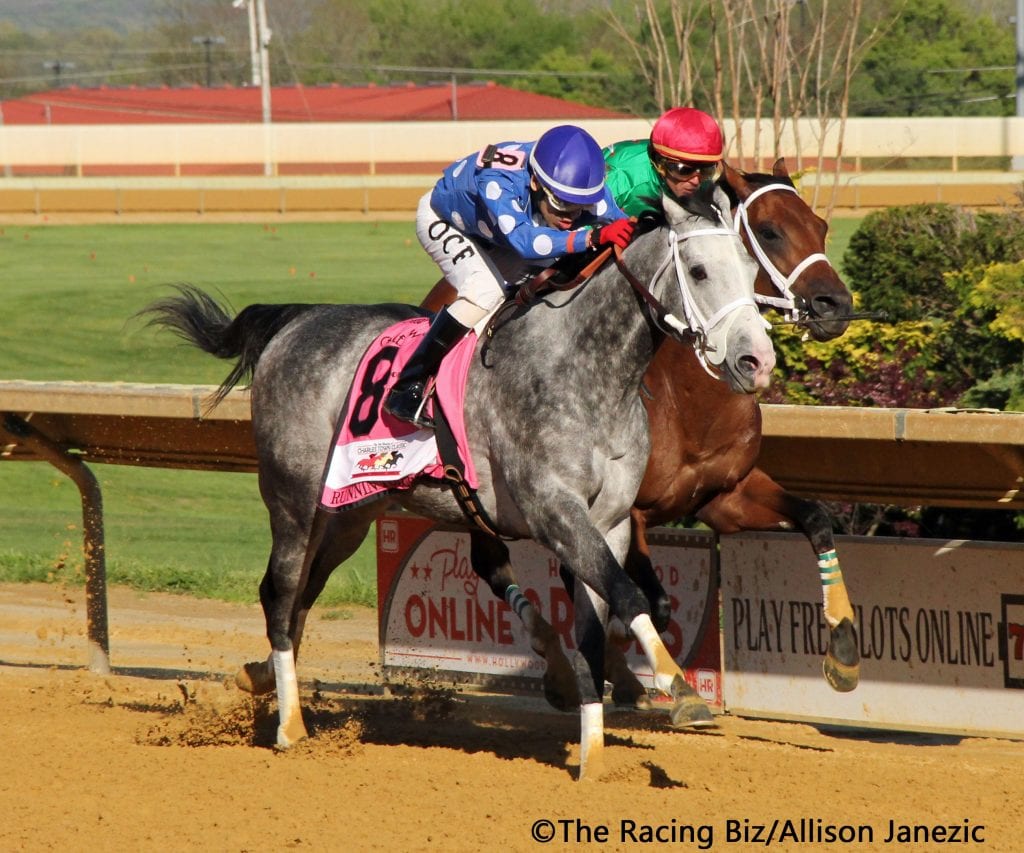 Runnin'toluvya won the Charles Town Classic. Photo by Allison Janezic.
While the Grade III, $300,000 Charles Town Oaks will clearly be the main event on this Saturday's card at Charles Town, the most recognizable name among the horses competing on the card belongs not to a filly but to the five-year-old gelding Runnin'toluvya.
The West Virginia-bred star, who took the Grade 2 Charles Town Classic earlier this year, is the 4-5 morning line favorite and will seek to defend his title in the $50,000 Frank Gall Memorial, one of five state-bred stakes on the Oaks program.
Last year Runnin'toluvya emerged as a force among state-bred older runners when he captured the Gall easily and used that event as a stepping stone to another triumph in the $300,000 West Virginia Breeders Classic.
Six months later trainer Tim Grams and his talented son of Fiber Sonde recorded the biggest triumph of his career when he edged Diamond King to capture the $1 million Charles Town Classic. It was the gelding's ninth consecutive win, a streak he would stretch to 10 before finishing fifth last time out, in June, in the Grade 3 Philip Iselin Stakes at Monmouth Park.
Runnin'toluvya will head into the Gall off a pair of workouts last month, a three-furlong breeze in 37.80 followed by a sharp half-mile drill in 47.40 that Grams hopes will have the Fiber Sonde gelding primed for this Saturday's state-bred stakes.
"He's doing really good," said Grams, who has saddled 43 winners from 190 starters this year. "He definitely needed some time off after that race at Monmouth. He's come back fresh and ready to run. The first workout last month was just an easy gallop but I pushed the pedal with him a little a couple of Saturdays ago."
Last fall Runnin'toluvya used the Gall as a prep for the West Virginia Breeders Classic, the nine-furlong affair that was his first try around three turns. After that score, he came right back to cap his 2018 season by winning the $50,000 A Huevo Stakes for state-bred older runners.
"Last year at this time I really didn't know if he had any distance limitations," said Grams, who will give a leg up to Christian Hiraldo aboard Runnin'toluvya in the Gall. "But after he won the Gall I had to try him in the Classic and he ran a big race. I'm hoping to use the Gall this weekend to set him up for the Classic again. He seems to be doing really good since the time off. He's actually a lot calmer now than he was back in the spring."
Saturday evening will be a busy one for Grams, who will also send out Brave (Carlos Delgado up) in a maiden special weight, Dionysus' Chalice (Hiraldo) in the Last Enchantment Stakes, Moonlit Night (Delgado) in an allowance, then both Cayenne Creek (Delgado) and Ihearuknockin (Hiraldo) in an allowance.
Moonlit Night is a half-brother to the former talented Grams trainee, Moonlit Song, while his undefeated sophomore Loving Touch, a full-brother to Runnin'toluvya, will train up to the WVBC card.
"I'm hoping Cayenne Creek can work out a better trip on Saturday than he did in the Leavitt," Grams said. "I think Ihearuknockin is coming into the race in really good shape. I could only put two in there, so I decided to skip the race with Loving Touch and just train him up to the three-year-old race on Breeders Classics night. He ran three times in a month to start his career, so he needed the time off."
Among the main contenders in the Gall are North Atlantic for trainer Jeff Runco and William and Mary (10-1) for trainer James W. Casey. William and Mary regained his winning ways earlier this month by taking an allowance race at Mountaineer Park. He owns eight wins and nearly $200,000 banked from 13 career starts, including stakes victories in the Henry Mercer, Tri-State Futurity and Coin Collector.
"He's doing much better now," Casey said. "Every time he came close to coming back he had a little setback. But his last race was really good. I think he can get a good piece of it on Saturday night in the Gall. Tim Grams' horse [Runnin'toluvya] is going to be awfully tough to beat. I'm just glad my horse has come back as good as he did. I'm hoping he has a little luck on Saturday night and runs a big race, but that other horse is going to be tough."
LATEST WEST VIRGINIA NEWS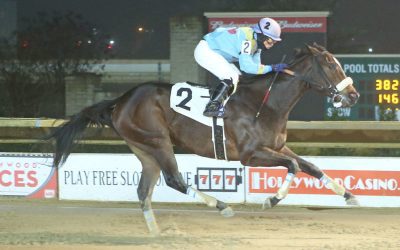 Chromatic Lass got a belated start to her career, but she's opened some eyes with back-to-back dominant scores at Charles Town Races.