Aguirre taking big swing with "big horse" Benny Havens in Futurity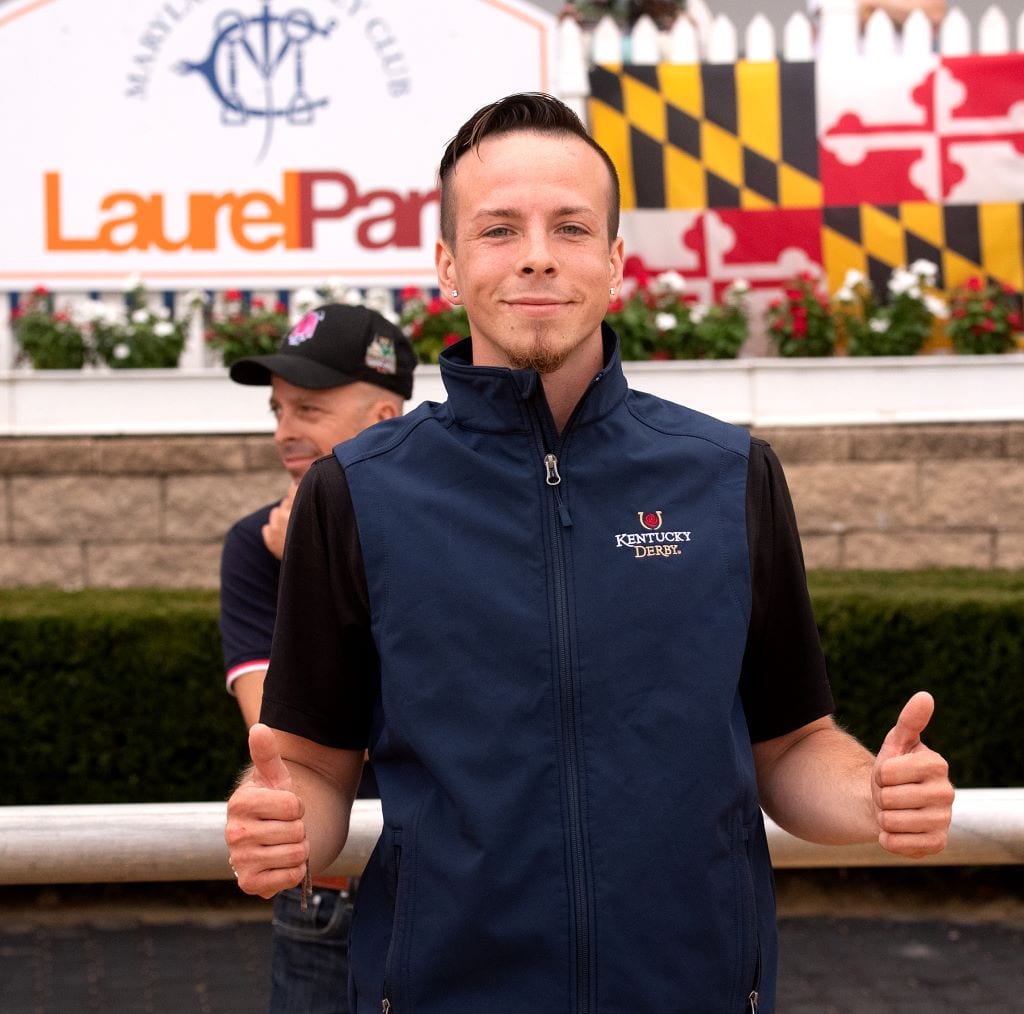 Trainer-owner T. J. Aguirre after Benny Havens' maiden score. Photo by Jim McCue, Maryland Jockey Club.
When the horses come on the track for Saturday's $200,000 Laurel Futurity, the longest shot on the board will likely be trained by the trainer with by far the least experience in the field.
But if you think T. J. Aguirre is daunted by sending out 30-1 morning line shot Benny Havens in the historic race, think again.
"I feel like I belong now," the 24-year-old Aguirre said Thursday. "It feels good."
The Futurity will go as the fifth race on the 12-race program and has drawn a field of nine. The Mike Maker-trained Field Pass, most recently second in the Grade 3 With Anticipation Stakes at Saratoga, is the 2-1 morning line favorite.
Benny Havens broke his maiden in his third and most recent start, on September 6 at Laurel. Under Wes Hamilton, he stalked the early pace before taking over leaving the quarter-pole and holding off the charge of Mister Frank's Way to win by a half-length in 1:38.92 for a mile on firm turf.
"Honestly, he came out of that race better than he went into it," Aguirre said. "He knows he's the big horse now that he won a race."
Benny Havens' first race was a disastrous ninth-place finish, but he followed that up with an unexpectedly good effort at Timonium, when he finished third in a four-furlong sprint at 12-1 odds.
Stretched out to a mile and switched onto the lawn, the Outflanker colt proved the dubious bettors wrong – he was 9-1 in his victory – with his best effort to date.
"I was very happy with the way he responded," Aguirre said.
Aguirre purchased the Maryland-bred Benny Havens for the princely sum of $1,500 at the Fasig-Tipton Midlantic Fall Yearling sale last October. But he points out that Saucy Countess, the Tabasco Cat mare, has been a productive broodmare; all 10 of her foals to race have visited the winner's circle.
"It's a gamble," he said with a laugh. "That's what we do at the races."
And he's been high on Benny Havens pretty much from day one. The horse's first two starts came in maiden special weight company before he dropped into higher-end claiming company to graduate.
It's heady stuff for a young man with a two-horse barn and a single win from eight starts to date. But Aguirre, who is the son of trainer Tony Aguirre and former jockey and current exercise rider and outrider Kaymarie Kreidel, has been around the game for a while.
"I grew up in Graham Motion's tack room," he said, recalling when his father worked for Motion, who is slated to send out two in the Futurity, including second favorite Irish Mias (3-1).
Despite the long odds on Benny Havens and the fancy pedigrees and connections of some of his rivals, Aguirre likes the position he's in. For one thing, his horse will be able to compete on his home track.
For another, he's already demonstrated success going a route of ground, and over this very turf course. And then there's how Aguirre thinks the race will set up.
Benny Havens will break from the eight-hole under jockey Xavier Perez and has already demonstrated ample speed and the ability to rate.
 "There are several horses coming from shorter races," Aguirre said, "so there should be enough pace that he can sit off and make a run."
It'll be the biggest start of Aguirre's young career, but he's not anticipating an attack of nerves.
"My first start with Benny Havens was probably my most nervous start," he said. "I don't know why, but going into his last race, I had no nerves. I have the same feeling coming into this one."
If horses could read the morning lines, there probably wouldn't be much point in running the races. But they can't, and so we do run them. Once the gates open, it'll be up to Benny Havens and Perez to prove they belong.
"I think my horse has a real good shot," the trainer said. "If he wins, (track photographer Jim McCue) is going to have to take a couple steps back to get everyone in the win picture."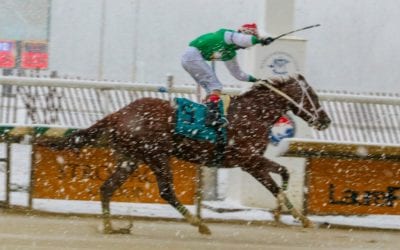 The nominations for the Barbara Fritchie Stakes upcoming at Laurel Park include several local runners, among them last year's show horse Fille d'Esprit.