"Love and affection" for horses propels trainer Eckert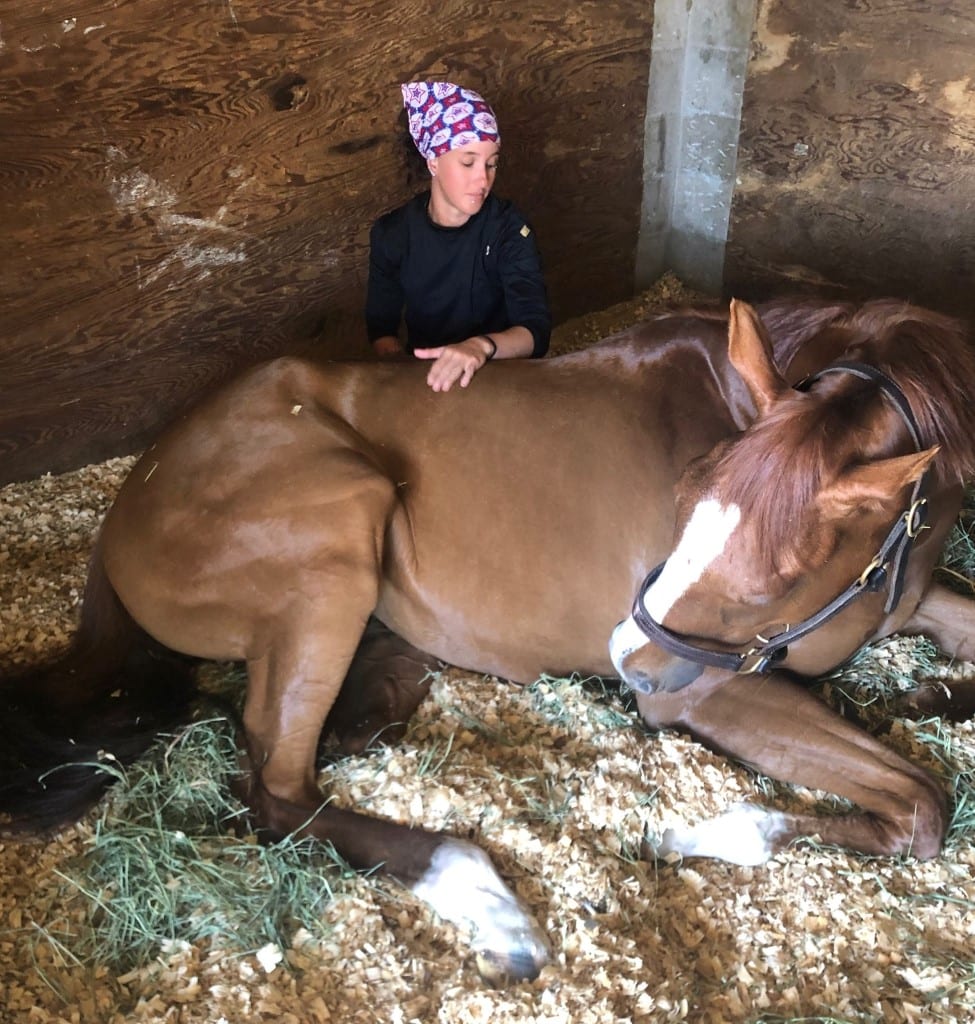 Elizabeth Eckert with English Tudor. Photo courtesy of Elizabeth Eckert.
This is a story of a trainer, her owner, a horse and the love that binds them together.
Brittany Elizabeth Eckert grew up in Maryland horse country. So did Rick Lewis, Jr. While there were no horses in Eckerd's family background, Lewis's father was a veterinarian and small time horse owner and breeder.
Lewis followed in his father's footsteps and became a vet, specializing in small animals, and also became involved in thoroughbred racing on a small scale, owning a modest stable. While 10-year-old Eckert was going through foal books for the breeding farms in the area and calling those farms looking for a job, any job that would bring her close to horses, Lewis had already built a successful practice in the Baltimore area and had sold it to a large conglomerate.
As time went on Eckert learned more and more about the care and training of horses and eventually worked in several capacities with show and pleasure horse operations. Lewis started another practice and continued to own and race thoroughbreds.
Then the pair's paths crossed in 2015 when Lewis hired Eckert to work with him at his Academy Animal Hospital. It was there that the veterinarian saw a unique quality in the young woman who was also working with King T. Leatherbury and galloping the great turf sprinter Ben's Cat at the time.
"She had an uncanny sense of communication with the animals we worked with, a communication shared by the animals themselves," Lewis recalled. "And the key was her love and affection for those animals."
It was at the same time that Lewis stepped away from his role as a horse owner. One of his best horses, Handsome Harley suffered several fractures and had to be put down, while another of his runners, Suzy's Dance, also was injured. While she managed to survive those injuries, Lewis found the heartbreak of losing Handsome Harley and seeing the career of Suzy's Dance end just too much to bear
"I decided to step away from an ownership role for at least two years" Lewis recalled. "Having to have Handsome Harley put down was such a difficult decision that I just decided to step away from the game for a while."
Meanwhile Eckert continued to work for Leatherbury, but the friendship she and Lewis had forged while working together kept them in touch. When Lewis decided to step back into racing, he did so by claiming a horse Leatherbury recommended, an English Channel gelding named English Tudor. Bred at Calumet Farm, English Tudor is a full brother to accomplished turf runner Res Ipsa, who earned more than $350,000. Leatherbury thought the horse had the bloodlines to do well on the grass. Lewis agreed to the claim with one proviso.
"I told King I wanted Elizabeth to take care of the horse," Lewis said. "I had been so impressed with her ability to communicate with the animals we worked with at the Academy Animal Hospital and her enthusiasm for horses and horse racing, I wanted to give her a chance to work with a horse from day one."
"When Dr. Lewis said he wanted me to take care of English Tudor I was speechless," Eckert remembered, "and King was so gracious to allow me the opportunity. Almost from the first, Tudor and I formed a special bond. He's the kind of horse that needs more personal attention than most, and we have to do a lot of stretching, and muscle massaging with him. He's got a very odd way of going behind when he gallops on the main track, but once he gets on grass his whole action changes and he's smooth as silk."
While his odd way of going and other quirks require more of her attention, Eckert says the horse's smarts help her give him what he needs.
"He's got a mind of his own and is intelligent enough to let you know if he's not up to being trained hard from one day to the next," she explained. "So reading his body language and frame of mind is critical to being able to train him while not pushing too hard."
English Tudor won at Tampa this winter with Eckert's fiancé, Gabriel Suarez, on the program as trainer. In fact, one of the problems the young woman faced was finding trainers who would agree to allow her to bring English Tudor with her when she went to work for them. Then in July Eckert suffered multiple fractures of her pelvis when a horse flipped in a gate on her during a schooling session. While she is cautiously optimistic she'll be able to get back on horses again, for now her riding days are over.
That's when Dr. Lewis stepped in again.
"He told me he wanted me to take over his horses at RTL Castleton Farm, to be the manager and trainer for the operation," she said. "I was thrilled because he's (Dr. Lewis) a 100% horse-first kind of owner. He believes in a drug free policy for his horses except for therapeutic medication like Lasix, and in all decisions he wants what's best for the animals."
On August 28 Eckert saddled English Tudor for her first starter as a trainer of record, and the 5-year-old gave trainer immediate rewards. English Tudor prompted the pace through six furlongs of the 7 ½-furlong turf test before coming home clear by a length in 1:28.31. Alex Cintron was aboard.
"We're good friends with Alex and he rode Tudor perfectly so that just like icing on the cake," Eckert said.
In the win, English Tudor set a track record for the distance, but the record lasted only two races, until Steelin Magnolias won the seventh race of the day in 1:27.85.
Eckert and Lewis have hopes for the future with a two-year-old Super Ninety Nine colt out of the Honour and Glory mare Oaks Victoria named Captain Harley. He is a half-brother to the ill-fated Handsome Harley.
"He's not far away from a race, and we're cautiously optimistic he has the talent to be a good one," the 25-year-old Eckert concluded. "I'm just so grateful Dr. Lewis gave a young person like myself a chance. With the costs of training horses going up and up, it takes a lot of courage to give a shot to someone without a resume. But he did it, and I'm totally committed to show he made the right decision."
Dr. Lewis said it just came down to love and devotion.
"Elizabeth has such an outpouring of love and affection for her horses, and she has such a sense of how they're feeling and what's best for them," Lewis said. "It's a joy to go to the track and watch her with them. I'm happy I could give her a chance to do what she loves."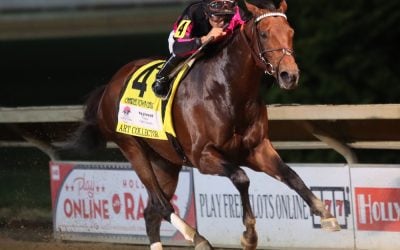 Art Collector's win in Saturday's Grade 1 Pegasus got us wondering: which winners of the Charles Town Classic had the best careers after their Classic win?