Delaware Park jocks participate in Childhood Cancer Awareness Month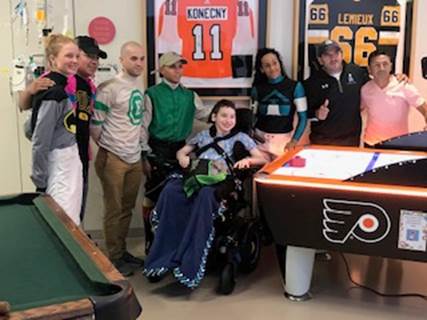 Brittany Scrampton, Robert Paz, Jr., Angel Suarez Jr., patient Kaden, Carol Cedeno, Gabriel Castro & Robert Paz Sr. at Nemours Alfred I. duPont Hospital for Children on Tuesday, September 17.
Donning colorful jerseys and racing caps, Delaware Park jockeys brought the racing world alive for patients at Nemours Alfred I. duPont Hospital for Children Tuesday.
During the visit, each child received a collectible doll of the 2006 Kentucky Derby winner Barbaro, who won his first race in his career debut at Delaware Park; "A Day in the Life of a Horse of a Different Color" coloring book by Pierre Bellocq; authentic jockey racing goggles; and other gifts from the Delaware Park family.
The jockeys' visit was part of the national Childhood Cancer Awareness Month initiative organized by the Jockeys' Guild. The visit to Nemours Alfred I. duPont Hospital for Children was organized by the Delaware Thoroughbred Racing Commission, Delaware Park, Delaware Thoroughbred Horsemen's Association and the Delaware Jockeys' Guild.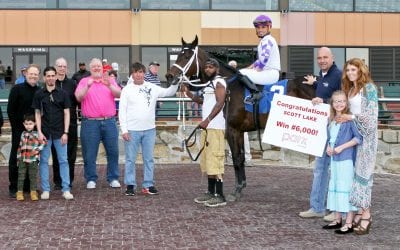 Trainer Scott Lake – whose career has been marked by bankruptcy,medication positives, and 6,000+ wins – is happier these days a bit out of the limelight.