At 39, Ricardo Chiappe believes best yet to come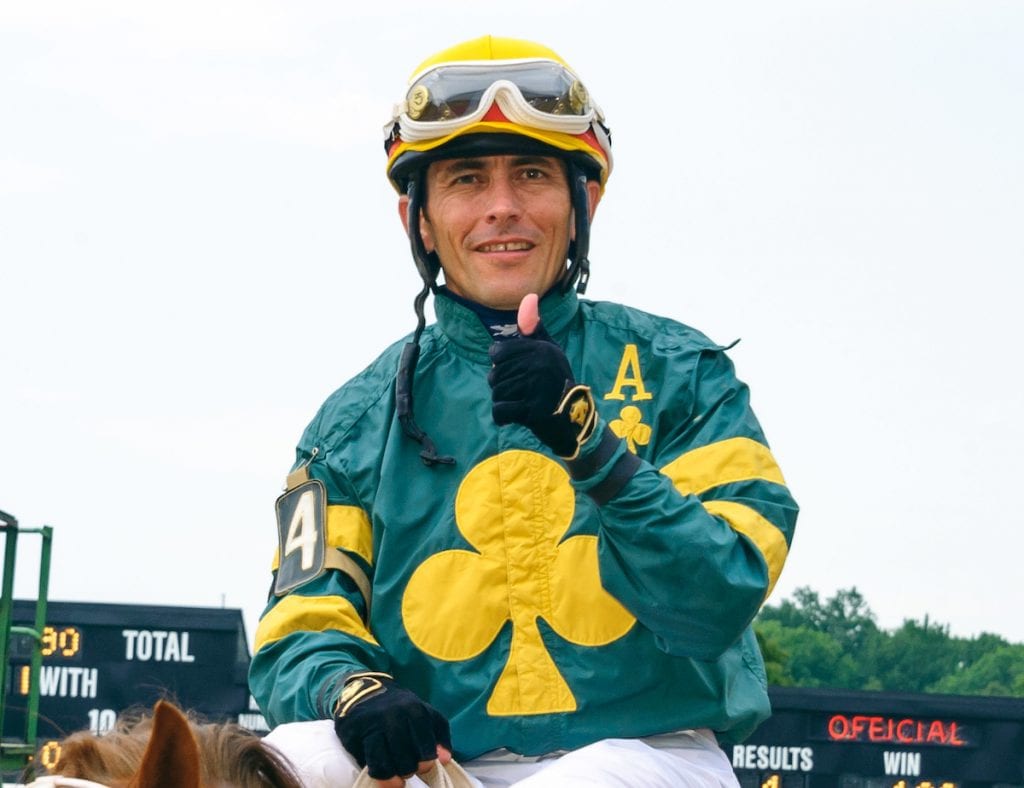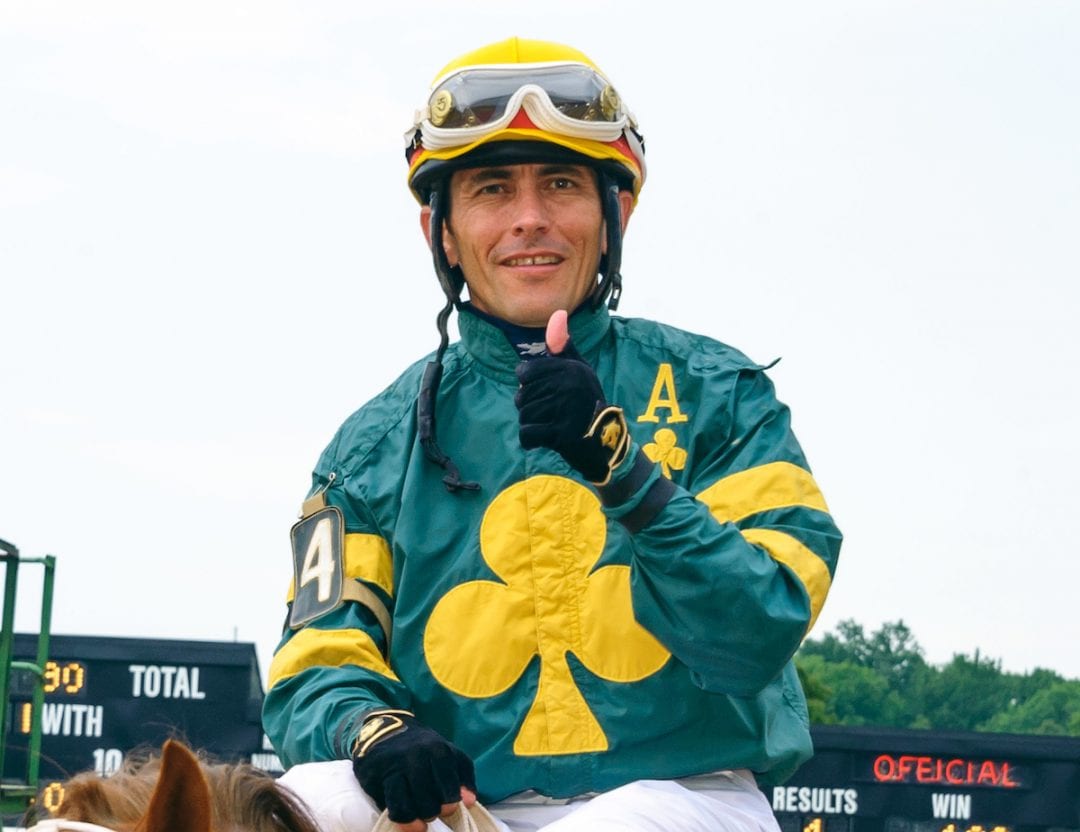 Thumbs up from jockey Ricardo Chiappe after another winner. Photo by HoofprintsInc.com.
Just like horses, every rider seems to settle into best stride at his or her own pace.
Take Ricardo Chiappe for instance. Chiappe came to the U.S. from Peru in 2004 and for several years was content to work as an exercise rider while riding the odd horse here and there. But the lure and challenge of riding races was always there, and in 2009 he began riding full time. By 2011 he was doing well, winning over 100 races in 2011 and posting earnings in excess of $2 million that year and in 2012 while riding primarily at Parx.
But Chiappe was never happy riding at the Philadelphia track, and eventually he moved south with an eye on riding at Delaware Park and Maryland. In the subsequent six years he knocked out a decent living racing around the Mid-Atlantic but never seemed to be able to settle into a comfortable schedule.
In 2015 he was third leading rider at Delaware Park in early September when he went down in a spill that also involved apprentice Christian Navarro and suffered a severe concussion that kept him out of action for almost eight months.
More recently, after finishing in the top ten at Delaware in 2017, Chiappe decided to focus his riding in 2018 in Maryland and as a consequence, won only four races at the Stanton oval from 30 mounts.
Which brings us to 2019. This season at Delaware Park, the 39-year-old has been riding in solid form, quietly winning races and making a good living. He's in the top seven at the track in starts, wins, and purse earnings.
He has 24 winners at the current stand, which ranks him sixth in the standings but more importantly, he finally feels as though has a good foundation here and in Maryland that will enable him to thrive.
"Last year when they (Maryland Jockey Club) ran the summer meeting at Laurel, I thought staying in Maryland would be the right thing to do, so I didn't ride much at Delaware Park, just some ship-ins for clients," Chiappe explained. "While we did all right in Maryland, in hindsight, I probably should have made Delaware my base in 2018.
"Another thing that made me want to stay here is the area; I just love it," he continued. "A lot of the riders like Trevor (McCarthy) and Alex (Cintron) have homes close to the track, and I'm shopping for one of my own. It's nice when you can be done riding for the day and only be a few minutes away from home."
Chiappe's client list may not include many high profile stables but as his agent, Mario "Flowers" Gendrachi reports, the outfits they do have stick with Chiappe.
"He's the kind of rider who a lot of trainers want, steady and productive," Gendrachi said. "He shows up on time every morning to get on their horses, and he's able to tell them things that may help their horses improve and win."
Gendrachi, a cancer survivor, is semi-retired and will hand over Chiappe's engagement to veteran agent Kevin Witte for the winter.
"Kevin's a great agent and really good guy," Chiappe said. "We work well together, and he's well-known and respected in the area, so it works out well."
It's been something of a journey of trial-and-error, but on the cusp of 40, Chiappe believes the best is yet to come.
"It's taken a while to settle into a schedule and a location that works well year-round, but I think we've found the right combination of tracks," the rider said. "I know a lot of people would say 39 is old for a rider, but I'm healthy and haven't been banged up too badly from spills and accidents. I think I've got some really good, productive years ahead of me in an area where I'm happy."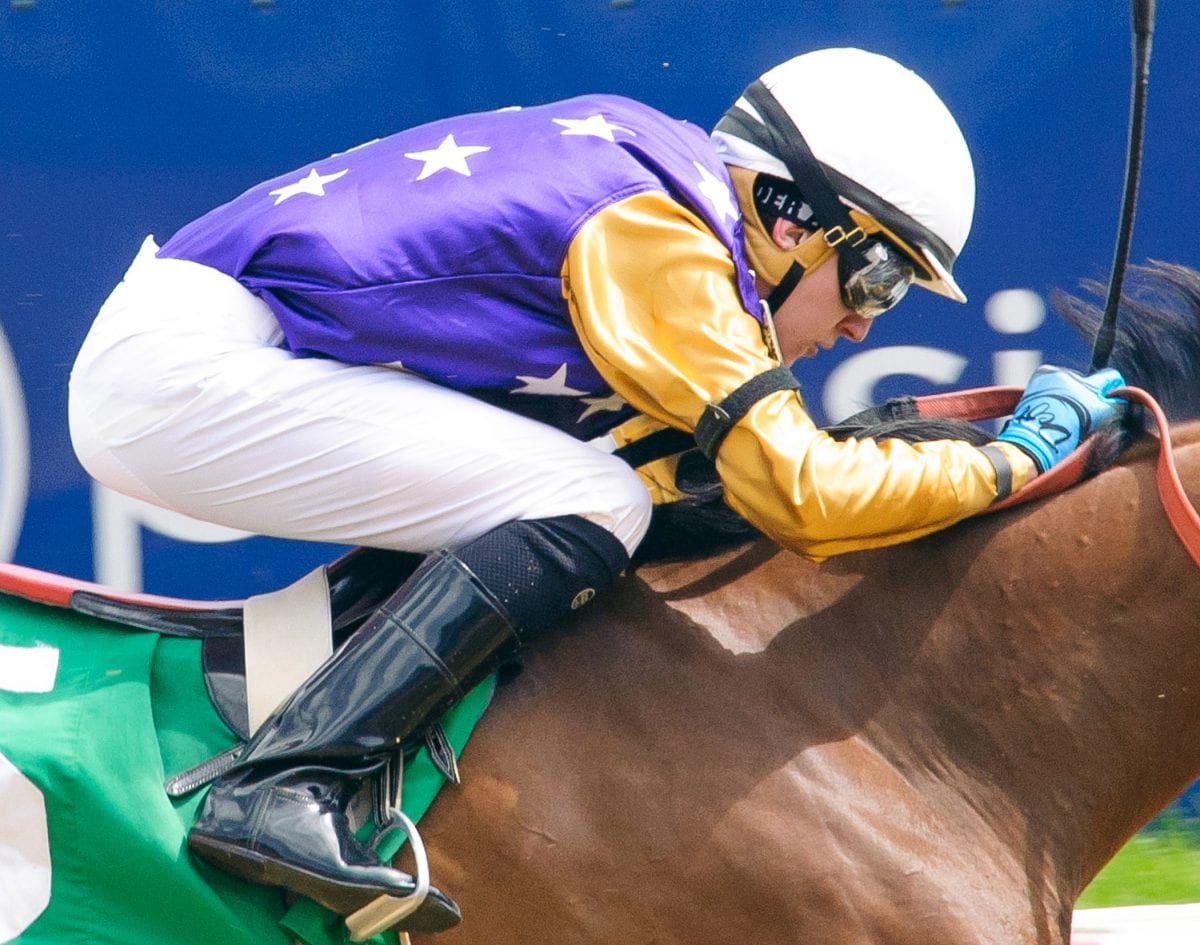 Our correspondent caught up with some jockeys who previously rode regularly at Delaware Park to learn their fondest moments or memories in the First State.