With Horologist, racing odd couple finding "perfect marriage"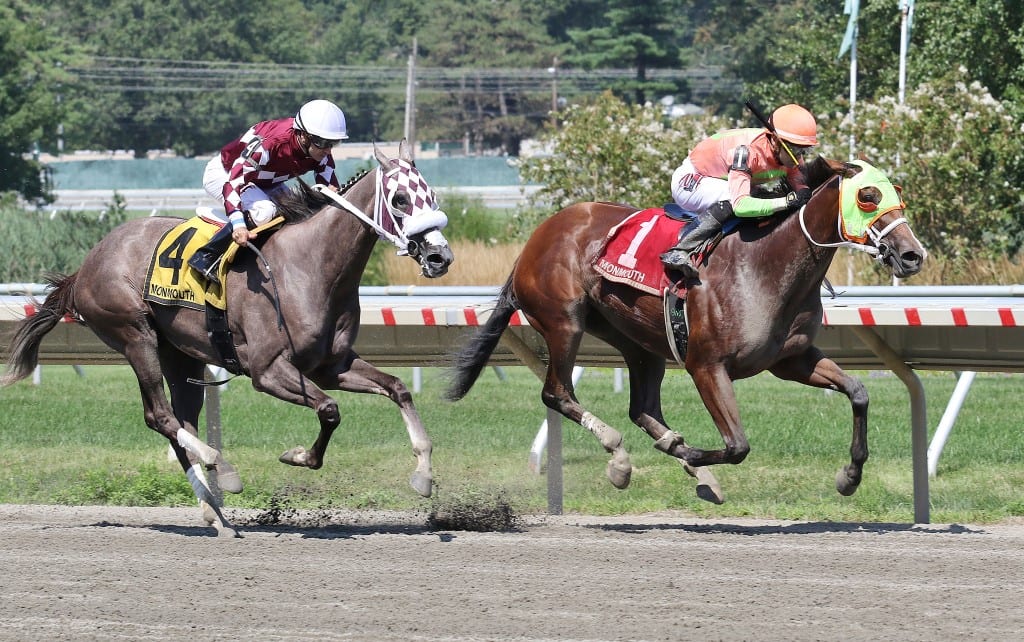 Horologist upset Jaywalk to win the G3 Monmouth Oaks. Photo by Ryan Denver/EQUI-PHOTO.
It's perhaps the most unusual marriage of sorts in thoroughbred racing – the union between an 82-year-old racing lifer and a 27-year-old investment banker.
"No marriage is perfect, except for this one," said Cameron Beatty, the young banker.
But whatever one might call the kinship between veteran trainer John Mazza and owner Beatty, it's working, evidenced by their prized 3-year-old filly Horologist's four-race winning streak, capped by a thrilling ¾ length victory over the heavily favored Jaywalk in the Grade 3, $150,000 Monmouth Oaks for 3-year-old fillies Aug. 17 at Monmouth Park.
Beatty owns only two horses in his There's A Chance Stable, Horologist and an unraced two-year-old, but it's just enough to keep Beatty involved in the sport, with Mazza guiding him every step of the way.
The association began five years ago, when Beatty was invited to Monmouth Park by his former football coach Don Goold.
Beatty was an aspiring college football player at Fairleigh Dickinson University-Florham Park, when a horrific motorcycle accident cut his career short.
"I was never actually a fan of horse racing, but then my coach brought me around the track and took me to meet John," Beatty said. "We went to the barn, and I fell in love with it right away."
Anyone who has taken a trip to the back barns at Monmouth Park knows that Mazza's barn with Holly Crest Farms is remote. One might need a road map, a flashlight and a compass to find it.
But that's where Mazza has called home for the last 60-plus years. The 2012 recipient of the Virgil "Buddy" Raines Distinguished Achievement Award has been a fixture on the Monmouth Park scene, as well as Gulfstream Park in the winter months, and is one of the most popular horsemen in the business.
Mazza and Beatty immediately hit it off. The two might have different terminology for their friendship, but it's close all the same.
"I'm like an older brother," Mazza said.
"John's like a second father to me," Beatty said. "It's like a father and son going to the track. We hit it off right away. From Day One, I fell in love with Rose (John Mazza's wife) and John. They're such good people and they've helped me a lot. I knew nothing about the process, but John has been developing me as a horse owner."
Mazza has no idea why the two became so close.
"He's just a good guy, a very good guy," Mazza said. "He listens to me and I try to teach him. When I met him, he had a little money and wanted to get involved."
Beatty got his hands on a gelding named Simon Bar Sinister, whom Mazza trained to earn $259,517 in a 32-race career, winning five times at five different tracks (Keenland, Monmouth, Gulfstream, Parx and Belmont Park) and finishing in the money 18 times out of 32 starts.
"We did well with that horse," Mazza admits. "We got him the right horse to start and we had a lot of fun. He said to me, 'Well, I have to get another horse.'"
"He was a good horse for me and my love for horse racing just grew," Beatty said.
By then, the Stephen Got Even mare Cinderella Time was in foal to Gemologist, and Beatty bought in; that foal would be Horologist.
"The next thing you know, we're pulling her out," said Beatty, who was present for the birth.
"I pulled her out of her mother," Mazza said. "She's never left my side."
When Mazza says that Beatty had to listen to him, here's proof.
"I'm 82 years old and been around horses a long time," Mazza said. "I've raised a lot of horses at Holly Crest and won a lot of races in the old days."
In fact, Mazza was the first trainer to bring home a thoroughbred winner at the old Meadowlands Racetrack in 1977 with a horse called Play The Palace.
"I had to teach Cameron the right way of doing things," Mazza said. "I told him that he had to have patience."
And when Beatty was asked the one aspect to the game that he's learned from Mazza, he replied: "Patience. That's the name of the game.
"Anything he says to me, it's like gospel," Beatty said. "He's the type of person who will give a horse two years off if he thinks it's right. He does it the right way. He's a detail-oriented person. If that saddle is on the horse, it better be on straight."
Beatty said that he had no idea how Horologist would turn out. The New Jersey-bred won one of four starts 2-year-old, earning $40,835.
"You always hope for the best," Beatty said. "You want to believe you have something good, but I didn't know how good she was."
But Mazza kept the faith.
"She's a nice-sized horse," Mazza said. "She beat boys that first day (Aug. 9, 2018 at Monmouth Park) and won by 21 lengths. But I took my time with her and developed her. Cameron had the patience. He listened to me. She had to prove herself. But she's a gamer."
Horologist is proving the wisdom of the men's patience. She won the Smart N Classy Handicap in June as the heavy 1-20 favorite, before taking the Monmouth Oaks Aug. 17 (almost a year after her debut), going off as the 5-1 second choice to Jaywalk.
"I have to be honest," Beatty said. "She's surprising me."
With the win streak, Horologist has moved into third by earnings among all Mazza trainees. Just two horses, Carrots Only (retired in 2008) and Great Navigator (who was euthanized in 1993 after breaking down at Garden State Park and was buried in the infield at Monmouth) have earned more in Mazza's incredible career.
Great Navigator gave Mazza the lone Grade 1 winner of his career, taking the 1992 Hopeful at Saratoga — his most recent graded win prior to Horologist's score in the Oaks.
Overall Mazza has saddled nine winners in 31 starts in 2019 to the tune of $427,763. At Monmouth Park alone, Mazza has earned $378,593 with eight wins from 22 starts.
"We're having a good summer," Mazza said. "I can't wait to get to the barn every morning."
Mazza has saddled 524 winners in his career and earned more than $10 million in purses.
"She feels good and she's doing well training," Mazza said of Horologist. "She came out of the last race (the Monmouth Oaks) like she didn't even run. There's not a pimple on her. Every time she steps on the track, she keeps getting better. The timing is perfect. She's at the top of her game right now. She's getting bigger and stronger. She's a tough filly."
Horologist has posted two half-mile breezes since her Monmouth Oaks win. She is one of 14 fillies nominated to what Mazza thinks is her most likely next start: the Grade 1, $1 million Cotillion Stakes at Parx Racing, a 1 1/16 mile race.
"We think that's the right spot," Beatty said. "She has earned it. John calls the shots and my job is to listen to him. That's what has worked the whole time."
"We're going to take it one race at a time," Mazza said. "We'll give her eight weeks and see what she does. She's a bear. She's sound."
Beatty has his own cross to bear off the track. His infant daughter Harper, just four months old, was born with gastroparesis, which is a condition best described as partial paralysis of the stomach. When this happens, the contractions that push food through the stomach are not effective and eventually cause malnutrition.
"The nerve in her brain doesn't work, so any food that goes into her mouth comes right back out," Beatty said.
The baby is being fed through a tube for now. Beatty and his wife Morgan are doing their best with the treatment of their first born child, who was hospitalized at Children's Hospital of Philadelphia for three months, but is now home.
"My wife has been a trooper," Beatty said.
And as for her acceptance in his hobby?
"Well, she wasn't for it at first," Beatty said. "But she's okay with it now."
A few big race wins can help ease that.
"It's an expensive hobby," Beatty said.
So who knows what the future holds for Horologist and horse racing's Odd Couple?
"We've had plenty of offers from people wanting to buy her," Mazza said. "I had so many phone calls that my head hurt. We're going to make a decision together. He's going to leave it up to me. He listens."
"He's given me more advice in life than he has in horse racing," Beatty said. "I take a backseat and just enjoy the ride."
There are 40 horses in the Holly Crest Farms barn, all the way to the back of the Monmouth's backstretch. That's where you'll find the octogenarian with the bright smile and engaging approach.
And even Mazza is learning new tricks.
"Imagine an 82-year-old man Facetiming with a 27-year-old banker," Beatty said. "I had to teach him. I sit in my office and my wife says, 'You have a FaceTime from John.' The fact that he knows how to do it is amazing."
"He's a good guy," Mazza said. "I'm having fun."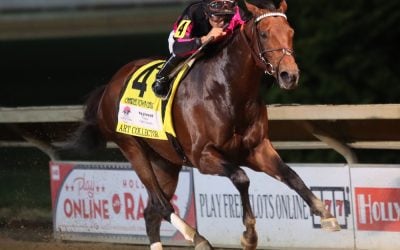 Art Collector's win in Saturday's Grade 1 Pegasus got us wondering: which winners of the Charles Town Classic had the best careers after their Classic win?