Mid-Atlantic racing roundup, September 11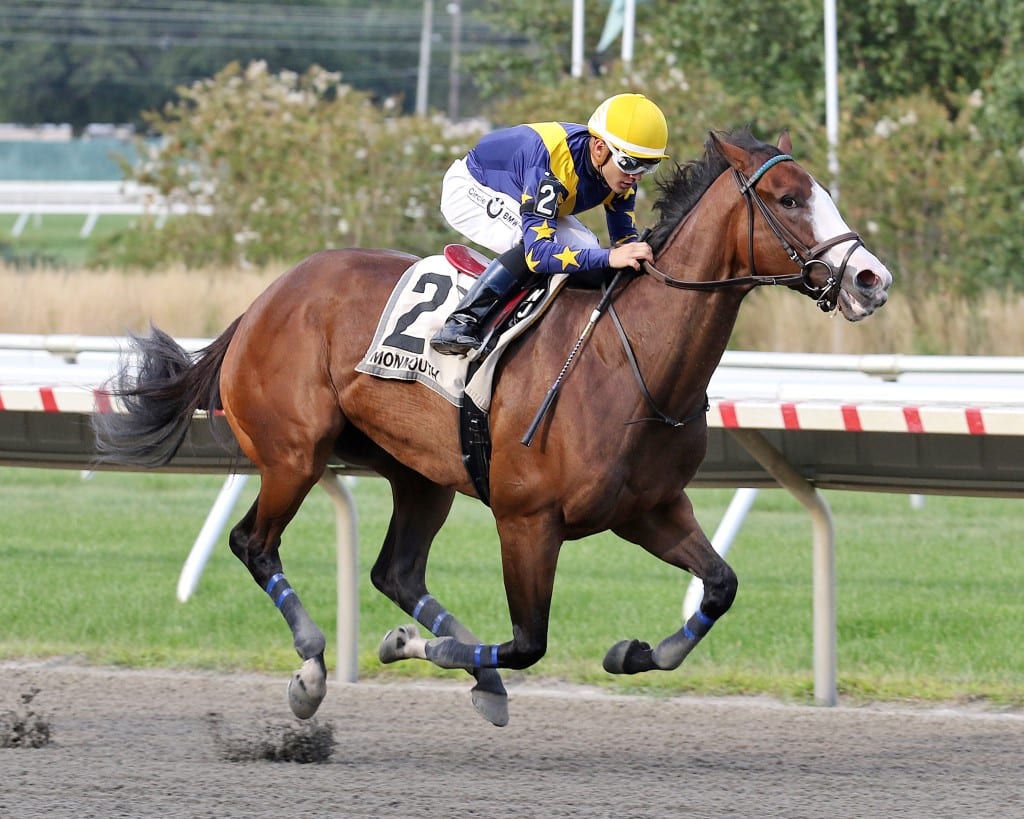 LAUREL PARK
Julio Correa established himself as a top jockey over the summer at Laurel, and he continued his torrid riding on opening weekend of the fall meet, with a hat trick on Saturday. He won the featured Maryland-bred allowance in the seventh race with Last Love ($4.20), took the eighth with Ten Eyck ($9.20), and prevailed in race 9 aboard Junction ($13.40). He won a total of five races opening weekend, propelling him to the top of the jockey standings.

Stroll Smokin won the opening day feature on Friday, taking a Maryland-bred allowance by four lengths. Correa put him on the lead and nursed him through a relatively slow opening quarter mile, then got to work once the pressure increased on the turn. In the stretch, Stroll Smokin shook off his rivals to win handily, going six furlongs in 1:10.24. This was the third win in a row for the Mark Reid-trained gelding, who is owned by Smart Angle LLP. 

In Sunday's third race, a 2-year-old maiden race, highly touted Jeopardy James was bet down to 3-5 favoritism in his second career start. However, he fell far out of it early, could mount only a mild rally, and the Lacey Gaudet firster Double Crown prevailed by a neck. The Bourbon Courage colt rated off early leader Ournationonparade the whole way, then wore down that rival in the stretch to win it in the last few jumps. He's owned by Debbie Rhodes and was ridden by Alex Cintron.
CHARLES TOWN RACES
The week's featured event was Friday night's seventh race, a West Virginia-bred allowance race pitting many of the same rivals from a similar condition on August 16. She Figures, who was second last out, prevailed as the 7-10 favorite. She hounded second choice Raelyn's Star almost the whole way before taking charge in the last sixteenth to win by 2 1/2 lengths. Despite the early battle, Raelyn's Star had enough to hold on for second. She Figures is owned by Feebs Racing and Schnably Stables, trained by Jeff Runco, and ridden by Arnaldo Bocachica. 

Bocachica had back-to-back hat tricks on Thursday and Friday, extending his meet leading total to 109 wins. Christian Hiraldo remains a clear-cut second, with 70 scores.
MONMOUTH PARK
Sprinting stars took center stage on Sunday, with the Decathlon and Miss Woodford Stakes headlining the 13-race program. First Deal, coming off a victory in the Jersey Shore Stakes, took the Decathlon Stakes as the 4-5 favorite. He pressed front-running Dugout in the early stages, drew alongside him entering the stretch, then pulled away to win by 2 ¼ lengths. He covered the 5 ½ furlongs in a sharp 1:02.84, for his third victory of the Monmouth season. He's owned by Julian De Mora and JN Racing Stables, trained by Jorge Navarro, and was ridden by Hector Diaz.

Fancy Dress Party, making her first start since June 8, took the Miss Woodford Stakes by 1 ½ lengths. She rated off free-running early leader Mardi Gras, who set the opening-quarter mile in a blazing 21.47 seconds. Once Mardi Gras tired from her early exertions, Fancy Dress Party rolled by and won comfortably. Favored Lexintonia began slowly and raced wide, ultimately fading to finish last. The winner is owned by LNJ Foxwoods, trained by Ben Colebrook, and was ridden by Nik Juarez.

Juarez had a solid weekend at Monmouth, extending his meet total to 94 victories. Despite a hat trick on Sunday, Paco Lopez remains a clear-cut second, with 83 wins.
PARX RACING
Arch Cat took the week's feature race, winning a second-level allowance/optional claiming contest on Monday. He was well off the early pace, before launching a strong rally on the turn. None of his four rivals had a response in the stretch, and he drew off to an easy 2 ½-length win, going the six furlongs in 1:10.35. This marked Arch Cat's fourth win of the year, from ten starts. He's owned by Burns Thoroughbred Racing, trained by Daniel Velazquez, and was ridden by Kendrick Carmouche.

Mychel Sanchez and Frankie Pennington have resumed their battle in the jockey standings. Sanchez's four victories over the weekend, including back-to-back wins on Tuesday, propped him up to 97 wins, five clear of Pennington.

In the trainer race, Joseph Taylor is on top of runner-up Scott Lake by sixteen wins, 66 to 50. Taylor had two wins on Monday, including one with the speedy gelding Fix Me a Sandwich. "Sandwich" won last Tuesday, then returned to win again six days later.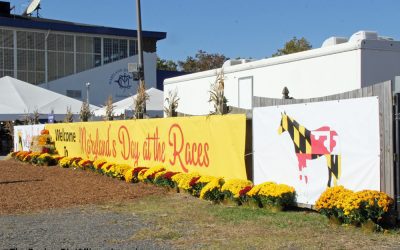 A bevy of defending champions and local stars headline the pre-entries for Jim McKay Maryland Million, which will take place at Laurel Park on Oct. 14.