Delaware Park Handicappers' Notebook 2019 Vol. 17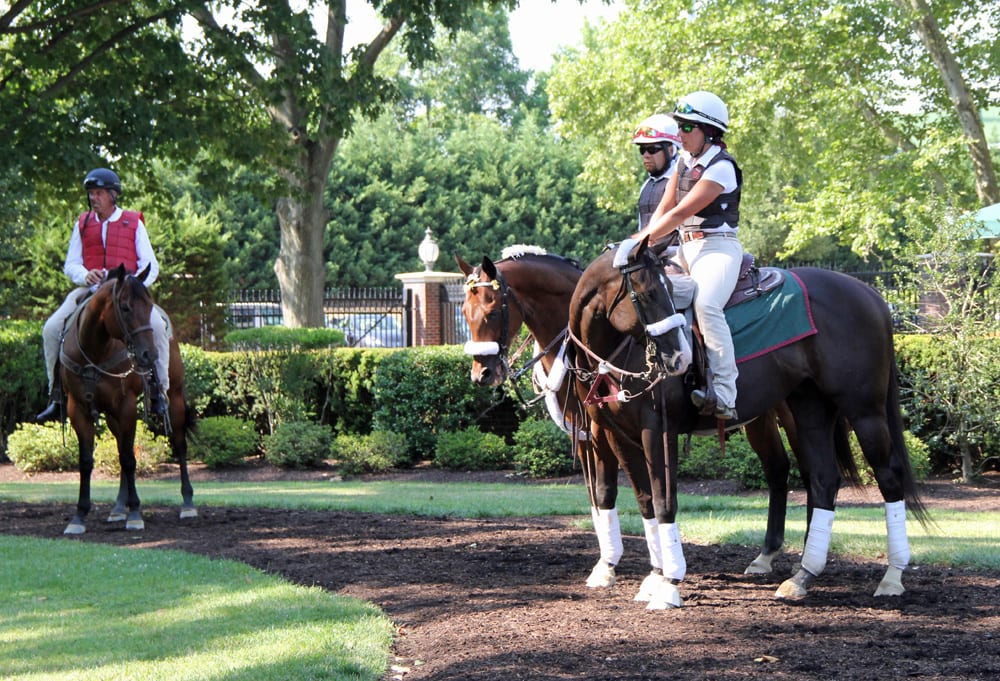 In the paddock on Delaware Handicap day. Photo by Allison Janezic.
Correspondent Doug McCoy returns with his weekly Delaware Park Handicappers' Notebook, featuring horses to watch, bet-backs, and more.
Horses and races to watch
FREE TO FLY (SEPTEMBER 5, RACE 2): This one was dead stopped while trying to get through along the inside in the second turn of a turf route, recovered to make another run along the rail in the stretch, and then was simply outkicked late. Clear sailing and better handling make this one tough next out.

SEPTEMBER 4, RACE 3: This was only a $5,000 claiming sprint, but the race turned out to be a dandy as Polished Steel and To the Hilt battled hammer and tong throughout the six furlong sprint, including a half of :45.91. Ultimately, old pro Tisdale rallied past those two in the closing strides to take the win. Anyone of those three is eligible to win off that race and even the also rans should be given a long look.

ESTERINA (SEPTEMBER 9, RACE 3): Was rushed but then steadied along the rail early in last, angled outside and came again in the stretch and just missed while well clear of the rest in a game effort. Sitting on a win.

DRIVER'S LICENSE (SEPTEMBER 9, RACE 4): Was well placed early then was swung very wide out of second turn while rider was very cautious and didn't the help the horse much in the lane with a weak finish. A  more assertive ride has to help this one's chances.
Jock/trainer Watch: Performers of the week
Ned Allard and Michael Catalano, Jr., a pair of horsemen who have been around a long time and are still sending out winners, each started three horses at Delaware Park last week and came away with a pair of winners. In Allard's case he saddled Me and Mr. C, a half-brother to stakes winner Abiding Star, to win at first asking. Catalano, who doesn't have many high profile runners in his string, still keeps producing and has nine wins at the meeting while winning at a 23% clip.
Handicapper's tool box
LET'S GO TO THE VIDEOTAPE…
Reviewing and analyzing race replays is one method a bettor can learn to use to produce winners and profitable wagering scenarios without a degree in mathematics. When watching replays there are several areas you should concentrate on:
THE START: American racing is predicated on speed and there are more sprints run than routes. That's why the start can be crucial to a horse's chances. When watching replays, make sure to watch the head-ons, look for horses bobbling or having their feet break out from under them when the gate opens. Also, look for horses who duck in or out or bump with rivals, and pay particular attention to horses breaking from the rail and far outside to see if they drop inside or outside because they don't have a rival next to them (inside for the rail horse, outside for the horse in the outside post).
APPROACHING THE TURN: Traffic problems often occur when the field approaches the final turn. Horses change leads moving into that turn, riders face critical split-second decisions on where to place their mounts and when they should begin to make their moves, and front runners can often start to tire and back into the field, causing problems behind them. Watch the final turn closely, especially in turf races; that's where most of the action takes place.
HEAD-ON VIEW: Watch head-on video angles, because they can reveal a lot about a horse that bettors can't ascertain from just watching the pan shot. Head-ons can reveal a horse lugging or bearing in or out. It can also reveal a horse whose hindquarters aren't in line with a horse's front legs, much like a plane tacking into the wind as it prepares to land. This action is often an indication of a horse with back problems or weakness behind. Head-ons can also show a horse who is uncomfortable or green in traffic and may be in need of blinkers.
There are a number of other areas where reviewing replays can prove helpful but if you concentrate on these areas, you will find you're getting a clearer picture of what went on in a race and how a certain horse may have performed. All these things can prove profitable when horses run back.
LATEST DELAWARE RACING NEWS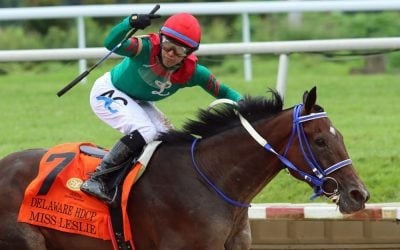 Racing returns to Delaware Park May 24, and we return with Delaware Park picks and analysis for the track's 86th racing season.