Delaware Commission upholds one-year ban for Vitali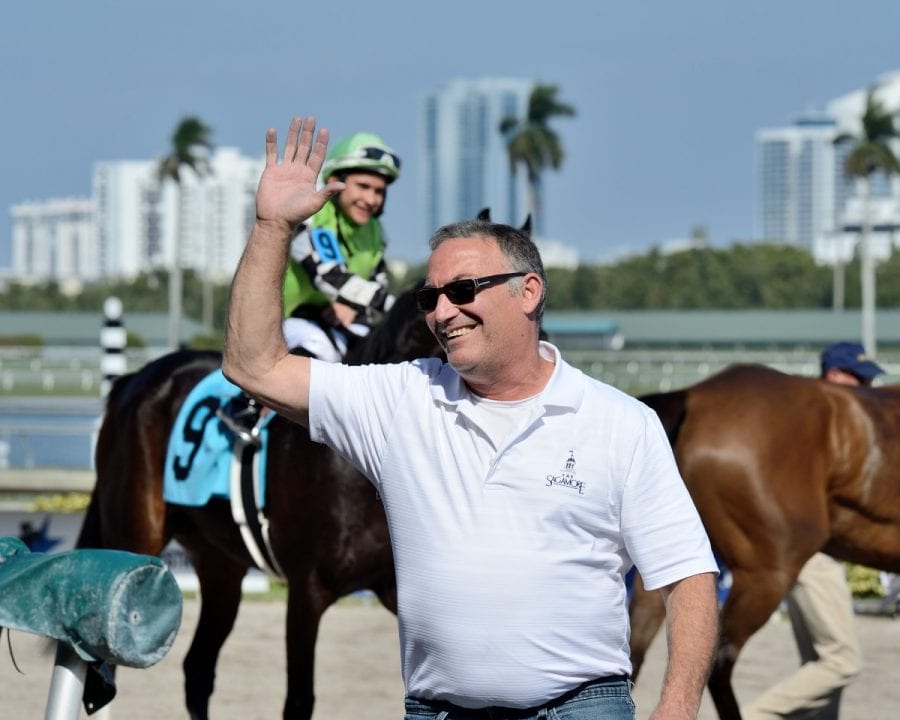 Marucs Vitali in happier times. Photo by Lauren King.
Barring an intervention from the court system, Marcus Vitali won't be training horses again any time soon.
Following a hearing that went on for over four hours, the Delaware Thoroughbred Racing Commission on Wednesday voted unanimously to affirm its stewards' July 22 decision to suspend Vitali for 365 days and fine him $2,500.
Vitali's attorney, Alan Pincus, said afterwards that he and his client would "have to talk this over" before he would know if they would appeal. If he were to appeal, the next step would be into the state court system.
The case has been, in some respects, a comedy of errors, yet one with real consequences both for the participants and for the integrity of the game itself.
It arose in May when Delaware Park security was called to break up an altercation between two of Vitali's employees. When security arrived, one of those employees, Brucie Garrett, asked they accompany her back to her dorm room because she wanted to give them something she was holding that she said she "wasn't comfortable with."
The two security officials, Mickaela Lee and supervisor Dan Panaro, did so. But when Garrett bent down to take the item — which she described as "a vial" but which Vitali said was a baggie with what appeared to be marijuana in it — from the vegetable compartment of her refrigerator, Vitali suddenly entered the room, grabbed the item, and left with it.
"All of a sudden, Marcus flew in between us all, grabbed it, pocketed it, and fled," Garrett testified.
"It only took seconds, in and out," Panaro added.
"I'm looking, they're looking, nobody can see nothing," Vitali testified. "I see what looks like weed in a baggie, I grabbed it."
Vitali took the item back towards his barn at what Lee described as "a faster pace of walk."
By the time the security officials caught up with him, Vitali said he no longer had the item, having disposed of it in a nearby trash can. Yet no one ever searched either the trash can or Vitali himself, leaving a conspicuous gray area in the case.
In Vitali's telling, he's the victim of his own good — if ill-considered — deed. He told the Commission that he grabbed the baggie to prevent the investigators from finding pot that Garrett had been storing for the employee with whom she had been fighting.
"I should have just let it go," he lamented. "Let them take the thing, throw the kid out. Just too many drugs, too many things going on back here."
But Garrett painted a different, and darker, picture of the Vitali operation. What's more, she said, as a recovering drug addict, she would never store drugs for someone.
Garrett alleged that Vitali had bullied her into storing unmarked vials of a clear liquid that had not been identified to her. She said she had personally witnessed Vitali injecting a horse on race day with the liquid.
"I was told it was an anti-biotic," she said. "I didn't ask."
Her testimony was in part supported by that of a veterinarian, Dr. Don Johnson, who said Vitali one day gave him an unmarked vial of the liquid and intimated he should administer it to one his horses.
"Whatever it was, it wasn't an ethical substance," Johnson said. "I wasn't going to use it… It could be anything."
He said that Vitali claimed it was a vitamin supplement — "I'd have to be skeptical," Johnson said — and he told Garrett, via text message, that she should not store the vials for Vitali.
Vitali denied forcing his employee to store any vials and said that, when Garrett testified about his injecting a horse, she was lying "one hundred percent."
Pincus' strategy depended in part on underlining discrepancies in various testimonies. Both Johnson and Garrett, for example, testified to a similar event at which Vitali presented the veterinarian with a vial. But they differed as to what kind of a vial it was, with Johnson saying it had a screw-top cap and Garrett alleging it had the kind of top used for injectable medications.
And Pincus sought to portray Commission executive director John Wayne as the bad guy.
"Mr. Wayne, whose fingerprints are all over this, is not to be trusted," Pincus told the Commission in his opening statement.
Pincus called Wayne's decision to deny Vitali a stay of the ruling pending the outcome of this afternoon's hearing "vindictive" and said it was "inappropriate" for Wayne to tell The Racing Biz that Vitali "is a breach of integrity."
And he said that Wayne even approached Vitali in the paddock one afternoon and told him "he was going to get him." That claim was not fully supported by testimony, however, with Vitali saying only that Wayne had told him "I'll be watching you."
All of that could, perhaps, have put investigators' failures to search the garbage can or have Vitali empty his pockets — or even to prevent him from grabbing the item in the first place — in a more sinister light.
But Oliver Cleary, who as the deputy attorney general at the Delaware Department of Justice represented the stewards, pointed out that by interfering in an ongoing investigation and disposing of evidence germane to that investigation, Vitali had committed a felony under Delaware law.
"We probably should have called the state police at that point," Vitali said.
"I agree," said Cleary.
Cleary pointed out that Vitali has had numerous adverse rulings on medication issues over the years and told the Commission, in closing, that for most of the last couple of years, "Mr. Vitali has been suspended for his conduct."
In the end, Pincus acknowledged the need for punishment but called the one-year term handed out "outrageous." The denial of stay, Pincus said, had already caused his client to be "crucified financially."
But Cleary differed.
"Even if I accept everything Mr. Vitali says is true," he pointed out, "he has admitted to committing a… felony."