Viands hoping to take heart in Parisian Diva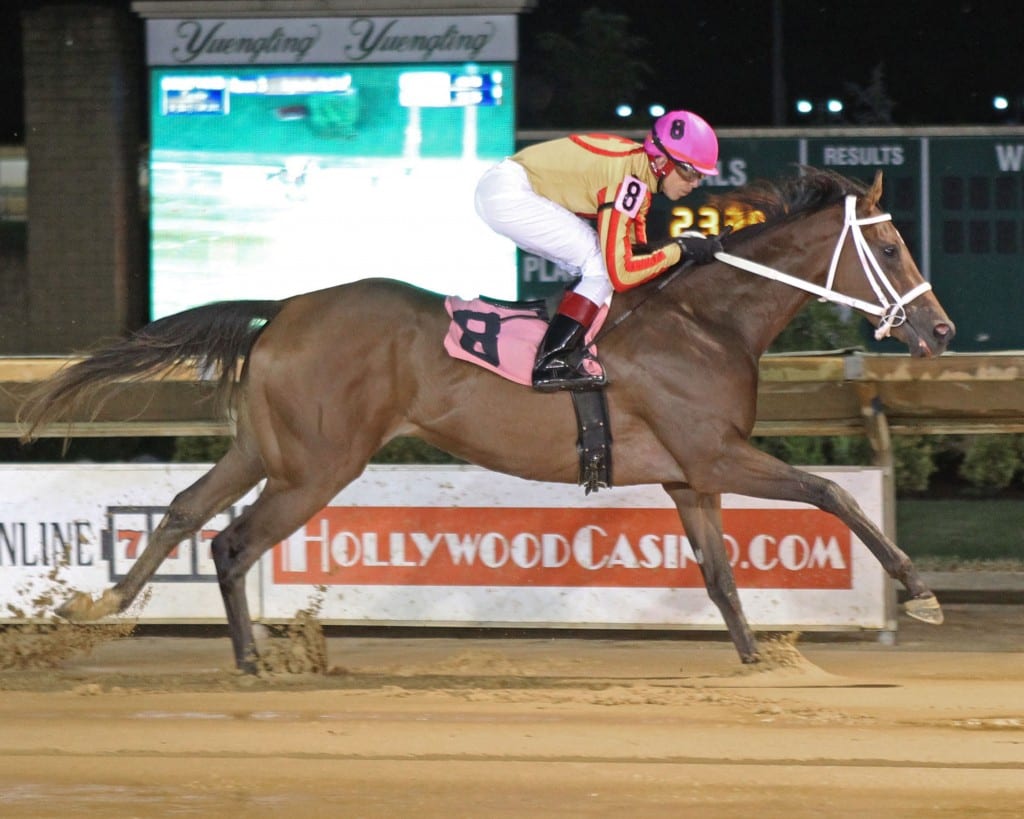 Parisian Diva. Photo by Coady Photography.
In the three weeks since his talented West Virginia-bred three-year-old filly Parisian Diva finished second in a local allowance race at Charles Town in her prep for this Saturday's $50,000 Sylvia Bishop Memorial Stakes for state-bred sophomore fillies, trainer Stacey Viands has had bigger things on his mind.
Viands, 53, required triple bypass surgery in late July and only recently has been cleared to drive by his doctors. On Wednesday morning he officially entered Parisian Diva in the Sylvia Bishop where she will be the favorite in the field of seven state-bred fillies. Viands noted that Parisian Diva has been training smartly for this event, and he will give jockey Jose Montano a leg up aboard the daughter of Freedom Child for owner-breeder Melinda Golden since regular pilot, J.D. Acosta, has mounts at Colonial Downs on Saturday night.
"She's going to have a new rider this weekend, but she's sharp as a tack right now," Viands said of Parisian Diva, who has won four of six starts and nearly $100,000 this year and sports a 6-3-1 slate and over $160,000 banked from 10 career tries. "If she just runs her race, she'll be tough to beat. I know Jeff Runco has two in there [Amelia Bedelia and Ocean Lilly], and Amelia Bedelia beat her last fall when they were still two-year-olds. I still have to take it easy. I just started back driving and I can't really do too much work in the barns with the horses, but she's doing great and I have two others running Saturday night, so it will be a busy night for me."
In fact, Runco has three in the race, the two mentioned by Viands as well as Grace Elizabeth. Ocean Lilly is 6-1, while the other two Runco trainees are 8-1 on the morning line. Parisian Diva is a strong favorite at 3-5.
Viands said he began feeling pains in his chest and sweating one night at home last month and asked his wife to take him to to the hospital. Two transfers later, he had successful triple bypass surgery at Winchester Medical Center in  Winchester, VA.
Well on his way to recovery, Viands is hoping that Parisian Diva will enable the healing process with a victory in the Sylvia Bishop on Saturday. Two years ago, the Bishop went to Moonlit Song, who then won the Sadie Hawkins and the WVBC Cavada. Last year it belonged to Late Night Pow Wow, who returned to win the Grade III, $300,000 Charles Town Oaks and $125,000 Cavada.
"Depending on how she comes out of the race, I am leaning toward the Oaks," Viands said. "Then we'll probably end up taking her to Maryland for the Maryland Million. She's not eligible to the West Virginia Breeders Classics, so she would have to supplement into one of those races. If we go to Maryland, we won't have to pay a fee to get in that race on Maryland Million Day. But we won't know anything until after we see how she comes out of the race on Saturday night."
The Oaks and the Sadie Hawkins are scheduled for September 21.
Runco, meanwhile, is seeking his second state-bred stakes in as many weekends after K Town Express captured the Robert Leavitt last Saturday night. Amelia Bedelia has won twice in three starts this year and three times in six career outings, and the daughter of Fed Biz was second in the West Virginia Triple Crown Nutrition Breeders Classics last fall for owner David Raim.
Ocean Lilly, a sophomore filly by Flashback that Runco trains for Smart Angle, has won once and been second twice in three starts this year and owns a 3-2-0 slate and neatly $60,000 banked from eight career tries. She was fourth in the Eleanor Casey Memorial in her lone prior stakes outing. Grace Elizabeth has won twice in four starts this year and three times in seven career outings for the Tri-State Stable and was fifth in the Eleanor Casey in her stakes debut last fall.
Trainer Tim Grams will send out C R Case's Legacy for owner-breeder Cleil Albrite, Jr. In the midst of a busy campaign, she already owns a 4-3-0 slate and nearly $80,000 banked from nine starts this year and a 5-4-0 slate and almost $100,000 bankroll from 11 career tries.
Flatter Me Owen, fifth in the WVBC event and third in the Eleanor Casey, has won twice in seven starts this year for trainer Kevin Joy and owner-breeder James F. Miller, while Skylar's Trick seeks her first win in eight starts this year for owner-breeder-trainer Michael Sterling.
LATEST WEST VIRGINIA NEWS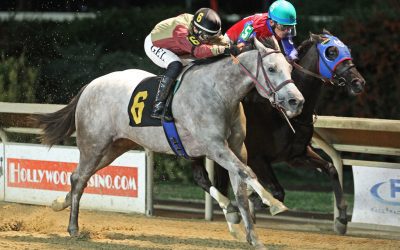 King Kontie and Jubawithatwist shared top honors as they dead-heated for the Henry Mercer Memorial Stakes win at Charles Town.