Moments Notiz, Cherokee Blessing strike blows for elderly set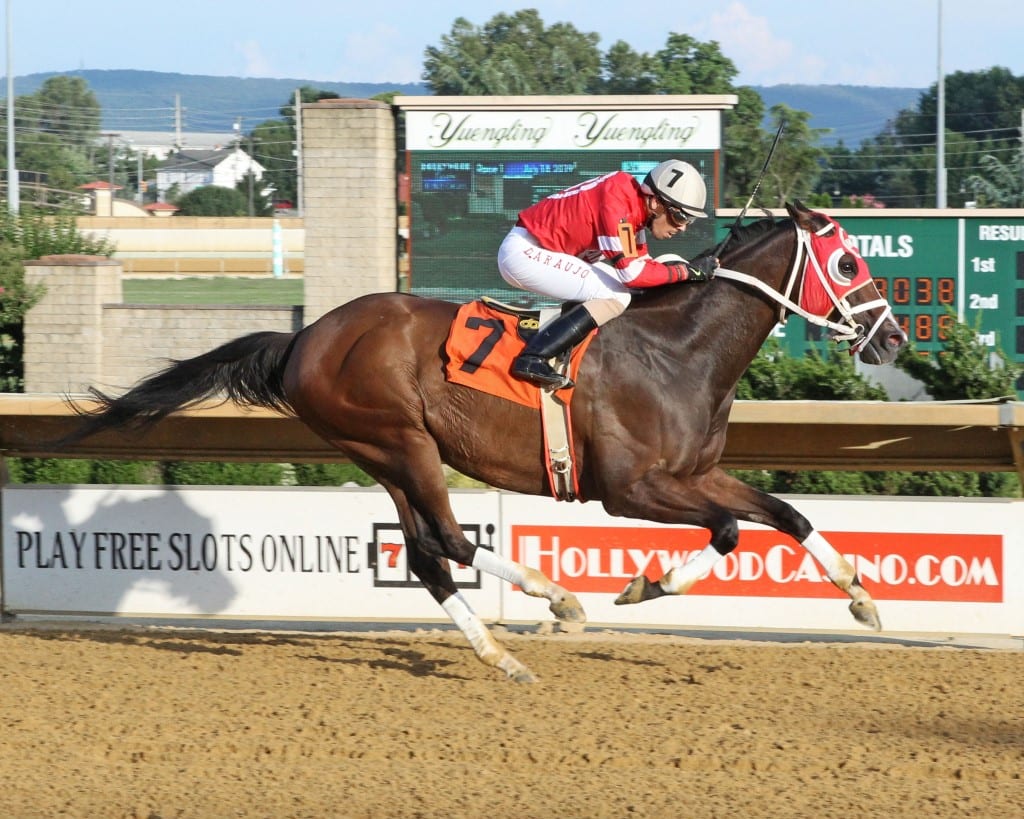 Moments Notiz won a claiming race at Charles Town with Denis Araujo up. Photo by Coady Photography.
Age is just a number, they say. And for some horses, that seems to be true.
On July 18, a pair of 11-year-olds, one male and one female, kicked off the evening's Charles Town Races card with victories that suggested there is still ample youth in their aging legs. They are two of just 25 11-year-olds to have won a race thus far in 2019.
In the opener, Moments Notiz, a gelded son of Tiznow, earned the 27th victory of his career in a $5,000 claiming event. Just 30 minutes later, another old-timer, the West Virginia-bred mare Cherokee Blessing, also struck, winning by a couple in another nickel claimer.
In the first, Moments Notiz rallied from just off the pace to capture a two-turn event for $5,000 claimers by a length-and-change in 1:26.96 for the seven furlongs. Sent out as the 2-1 third choice, Moments Notiz notched his second win in eight starts this year. He now boasts a 27-17-12 slate and over $514,000 banked from 75 career outings.
"Really, the key with him is just keeping him happy," said trainer Ronney Brown, who had claimed the aged gelding from trainer Jeff Runco 15 months earlier. "He really doesn't do a lot of serious training. He just goes to the track to gallop and jog. He's also the nicest horse in the barn. His demeanor never changes. It doesn't matter if it's a race day or not, he's always the same."
Moments Notiz, whose sire, Tiznow, and damsire, Alphabet Soup, both won the Breeders Cup Classic, enjoyed a solid start to his career. Unraced at ages two and three, Moments Notiz won four of 11 starts at age four, recorded eight victories in 13 starts the following season then won six of 13 starts at age six, giving him 18 victories in his first 36 outings.
During the early stages of his career, Moments Notiz also did considerable traveling, competing at nine different tracks on the East Coast and Midwest before eventually ending up in California to compete at Santa Anita, Los Alamitos and Del Mar before making his Charles Town debut on November 2, 2017. Since then, Momentz Notiz has made 20 of his last 21 starts at Charles Town, with the lone exception being one outing at Mountaineer Park where he ran second.
"After he won last Thursday, I am waiting to check out the next [condition] book and see if there is going to be another race for him here next month," Brown said. "I think he might be out of conditions and we might have to go to Mountaineer Park. I think the six furlongs on the dirt up there will be just what he likes. He's a nice old, horse. Everyone in the barn loves him, and they call him the old man. If there isn't a race for him in either book, he might go to the farm for a while."
Then roughly 30 minutes after Moments Notiz prevailed in the July 18 opener at Charles Town, Cherokee Blessing, an 11-year-old Select Session mare, rallied from well off the pace to overhaul 4-5 favorite Attempting to Love for a two-length score in 53.30 seconds in a one-turn $5,000 claiming event for fillies and mares. While Moments Notiz has made 75 starts at 16 different ovals, Cherokee Blessing has made 37 of her 38 starts at Charles Town and sports a 5-11-10 slate and $120,000 banked while making every appearance for owner-trainer David Hussey.
"One thing about her is she tells you when she's ready and when she's not ready to run," Hussey said after Cherokee Blessing posted her latest triumph. "When she behaves a certain way, I know she's ready to run. When she acts another way I know I need to back off of her and give her some more time off. It's just a matter of me being able to read her signs and then going from there. She still loves going to the track and running."
Cherokee Blessing earned her diploma when she captured a maiden special weight event on Nov. 28, 2012 and then broke through against allowance foes on Nov. 9, 2013. She ran just once in 2014 before getting a long vacation and being on the verge of retirement.
But after more than 30 months between starts, Cherokee Blessing returned to the track in the 2016, making her first start on December 7 when she prevailed with a victory that certainly bordered on Dickinsonian. She ran once in 2017 and got another year off, returning December 5, 2018, before getting six more months off. Her win came in her fourth start of this year, and she has finished in the money in all four.
"She's always been sound," Hussey said. "She was a little unlucky at times early in her career, but she stayed sound. Even when she had that long layoff, I could never find anything wrong with her. When she came back [in 2016] she acted like she had never been away. She's been in the money now 26 times and she's been fourth a few other times, so she rarely misses a check. She's always been consistent, but that's because she tells me when she's ready to run."