Hello Beautiful, Gifted Heart impress in Laurel Park scores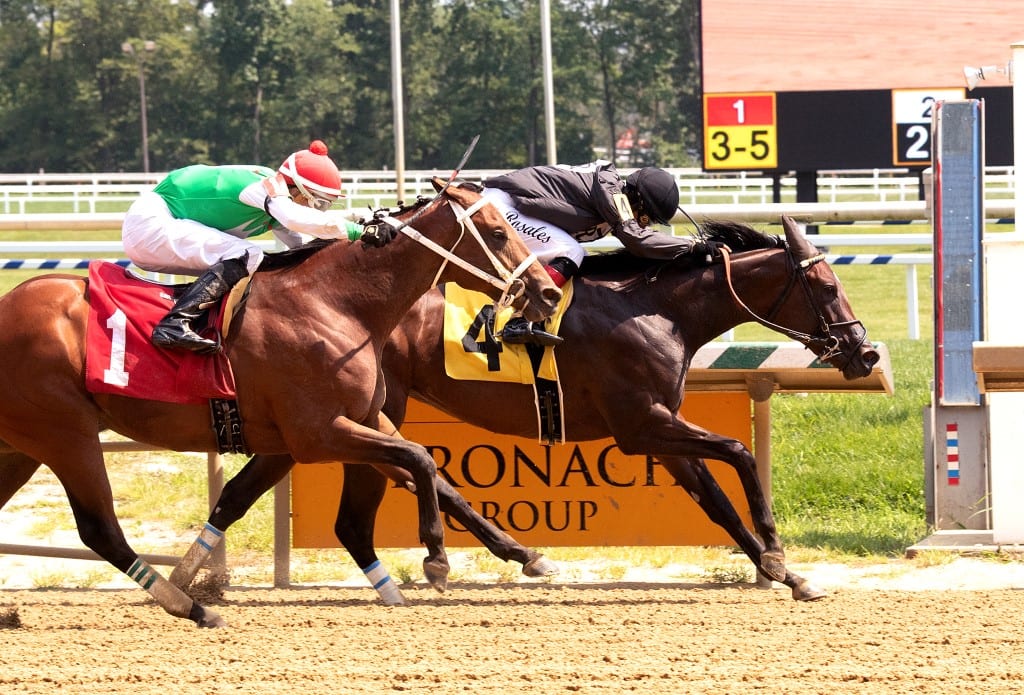 Gifted Heart held off Mischevious Alex to win Saturday at Laurel Park. Photo by Jim McCue, Maryland Jockey Club.
A pair of two-year-old fillies impressed Saturday at Laurel Park, and since both are Maryland-bred, and Maryland Million-eligible, their paths may soon cross.
Gifted Heart, a daughter of Super Ninety Nine, won an allowance contest in race four, and six races later, the Golden Lad filly Hello Beautiful blitzed a field of $40,000 maiden claimers.
Ninety-three two-year-olds have made at least one start during the current Laurel Park stand. But only one of them has won twice.
That one is Gifted Heart, who was fast early and had just enough late to hold off favored Mischevious Alex by a neck to win an allowance/optional claiming contest in 1:04.76 over a fast main track.
"I'm happy to get the win, happy to be undefeated," winning trainer Phil Schoenthal said after the race. His Kingdom Bloodstock co-owns the horse, along with Rashid's Thoroughbred Racing, Linda Walls, and Rick Wallace.
The win had added meaning for Schoenthal. The horse is named for the transplanted heart that now beats in the chest of his young son, Emerson.
"It's just… emotional," he said, gingerly picking his way through the emotions.
In her career debut, Gifted Heart laid waste to a field of $40,000 maiden claiming fillies, winning off by nine. Today's race, however, was a much dicier proposition, made so in large measure by the presence of the John Servis-trained Mischevious Alex, an Into Mischief colt who ran a big one on debut.
"When the race was drawn last weekend, I thought that was a field we could handle," Schoenthal said. "They canceled it because of the heat and brought it back on the overnight, and Servis shows up with that horse (Mischevious Alex) that ran a monster number."
In today's race, it was Mischevious Alex who broke like a shot to the lead, but he quickly had company from Gifted Heart on the outside with Victor Rosales up and Sight of Heaven in between. That trio was heads apart, but nearing the turn, Mischevious Alex and Jockey Jorge Vargas, Jr. checked and were shuffled several lengths back.
Gifted Heart put away Sight of Heaven in upper stretch and seemed to be home and dry, but Mischevious Alex mounted a furious late rally, shaving five lengths off his deficit in the final furlong to fall just a neck short of victory. It was another three lengths back to Sight of Heaven, who held third. Running time for the 5 1/2 furlongs was 1:04.76.
Gifted Heart paid $6.20 to win as the second wagering choice and topped an exacta that returned $5.90 for a buck.
Schoenthal said following the race that the fall goal for Gifted Heart would be the Maryland Million in October. Between now and then?
"I don't know if we'll go down to Colonial next time, run on the grass if they have a stake," he said. "Maybe we'll go to Saratoga — who knows?"
Six races later, Hello Beautiful, the lukewarm 2-1 favorite, ran like a 1-9 shot under Sheldon Russell, zipping to the early lead and widening from there, to a 5 1/2-length victory in 1:03.52 for 5 1/2 furlongs. Stickingtogether was second, and it was almost seven lengths farther back to Maybe an Omen in third.
"I was surprised that she came out of there like that, to be honest with you," winning trainer Brittany Trimble Russell said. "That was pretty nice today."
The win came in Hello Beautiful's third career start, following a third-place on debut and a runner-up effort last time out on the grass.
Russell had entered the filly in a maiden special weight race yesterday on the grass at Laurel but decided to scratch out of that spot and await this one.
"She ran good on the grass. The way she trains in the morning, i always thought she might handle the grass a little bit better," Russell said. "I didn't want to run against that American Pharoah (filly, Bernadette the Jet, who finished fourth) yesterday. This race came up too, and the maiden 40 — this is ideally where you want to run."
Hello Beautiful paid $6.20 to win, and with longshot Stickingtogether running into second, the exacta returned $66.60 for a dollar.
Russell co-owns Hello Beautiful with Dark Horse Racing LLC. They paid just $6,500 for her at the Fasig-Tipton mixed sale this past December.
"Jodi (Quinn, of Dark Horse Racing) and I wanted to go to the sale in December," Russell recalled. "We were just looking for a yearling to have some fun with. She was my favorite by far, and our budget wasn't very high, so… Best $6,000 we ever spent."