Aimee Hall doing it all with blue-collar stable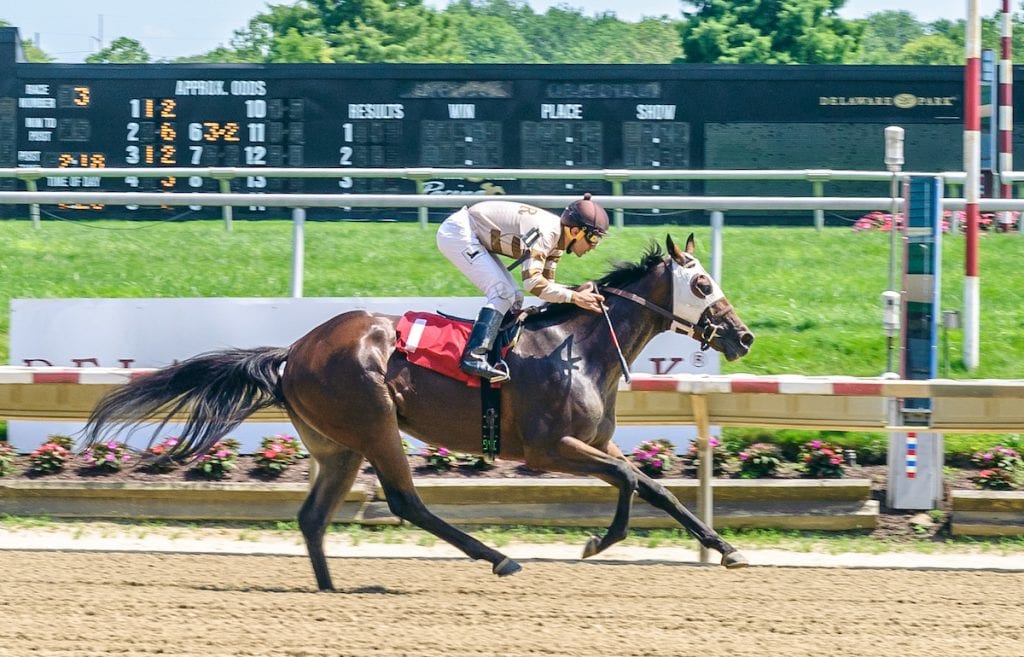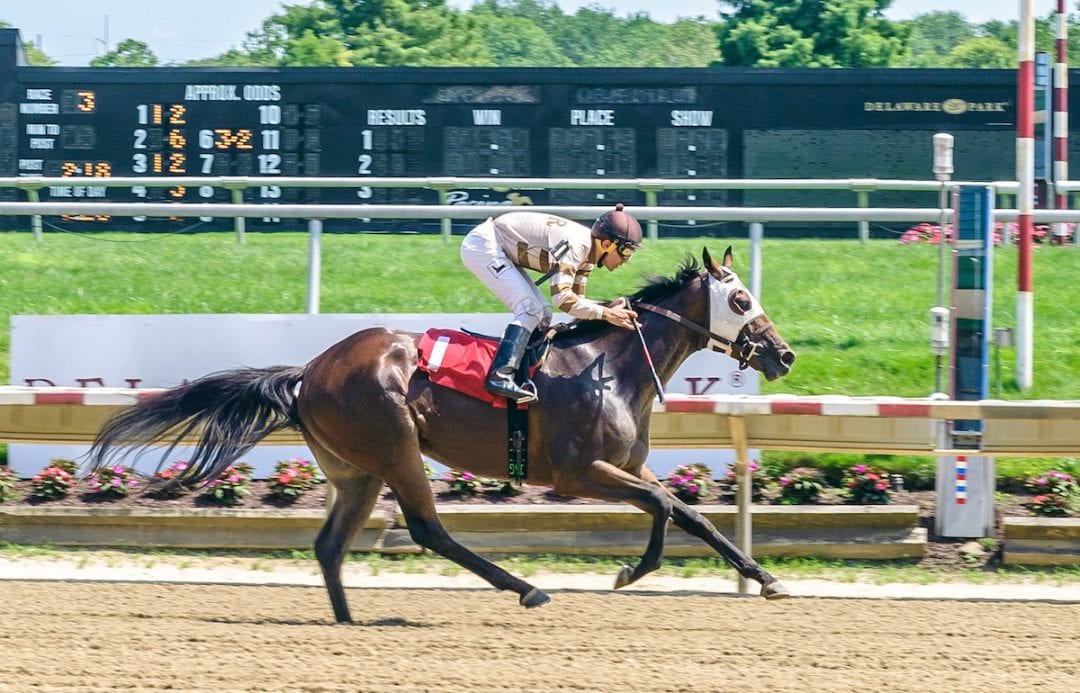 Isabella's Magic won on July 22 for trainer Aimee Hall. Photo by HoofprintsInc.com.
Aimee Hall had a pretty good day July 22. She won two races and had a second from four starters.
The training double gave the stable seven wins for the meet, surpassing her win total from last year at Delaware Park with just over half the stand completed. It's fair to say that she continues to defy the odds by making a living with blue collar stock.
There's plenty of publicity and coverage for those at the top of the heap, the Bafferts and Browns and Pletchers. But there's very little said about the true backbone of the sport, the little guys who manage to grind it out with less fashionably-bred runners and lower-priced claiming types.
For Hall those are the horses who have been her companions through almost 30 years in the business. During that time she has managed to handle moving from New England to the Delmarva area when racing up north began to collapse. She survived severe injuries to her ankle incurred in a training accident, and while rebuilding a stable after a six-year break, suffered through two years where she made 20 starts total.
So with all the pitfalls that come with training a small, no-frills outfit, why would one still do it?
"I guess it's just being able to enjoy that sense of accomplishment that comes with working with my own horses and seeing them do well," Hall said recently. "I've worked for other trainers, good horsepeople like Lynn Ashby, and I enjoyed that. And the security of getting a steady paycheck every week while not having to worry about everything that goes with running an outfit certainly has its attraction. But at the end of the day, there's just no substitute for doing it yourself."
While most people think of training simply in terms of horsemanship, the truth of the matter is that being a trainer is running a small business — with all the good, and bad, parts that come with that.
"It's like keeping the books," she pointed out. "There's a lot of paperwork and record-keeping that goes along with running an outfit. There's payroll, vet records, and on and on and on. And it has to be done. I'd say that type of work's my least favorite part of the job, but I don't have a big outfit where I can hire someone to handle all that, so you just hunker down and do it yourself."
While the detail work is tedious for Hall, her favorite part of the game is being able to work with her horses from the time they're foaled right up to racing and winning at the track.
"I've always enjoyed working and breaking young horses. It's probably my favorite thing to do." Hall admitted, "I've broken all my horses lately, and I also have broken Tony Pecoraro's youngsters lately as well. Working with those babies, and watching them come along and develop and learn, that's really something special."
One of those youngsters, Isabella's Magic, gave Hall one of her two wins July 22. The Street Magician gelding scored by a couple of lengths at 12-1 in a $25,000 maiden claimer under Jose Garcia. He's a homebred for Country Roads Ltd, who is perhaps Hall's main patron.
"Mrs. Moscarelli (of Country Roads Ltd.) trusts me to develop her horses right from the start," Hall said. "She gives me the freedom to run them where I think they belong, and having an owner like that means a lot."
As a woman trainer, Hall is part of a minority in the business — a business that some women believe has a ways to go in terms of providing opportunities for them.
"I don't know if that's true or not," Hall commented. "I mean, it's still the boys club in a lot of respects, and I imagine it will always be that way. But when it comes to hiring a woman to train or employing one who is going to be a head trainer for the first time, I'd say it's more about economics then anything else. It's not cheap to own a race horse these days, there's a lot of money involved, so when it comes to hiring someone to train your horses, I don't blame owners for looking hard at someone's record before deciding. And no matter who you may have worked for, if you don't have a record of accomplishment of your own to point to, it's tough to sell your abilities and that's no matter whether you a man or a woman. This is a tough time for the business as a whole and a tough time for anybody to crack into the sport as a trainer."