Laurel Park picks and ponderings July 4, 2019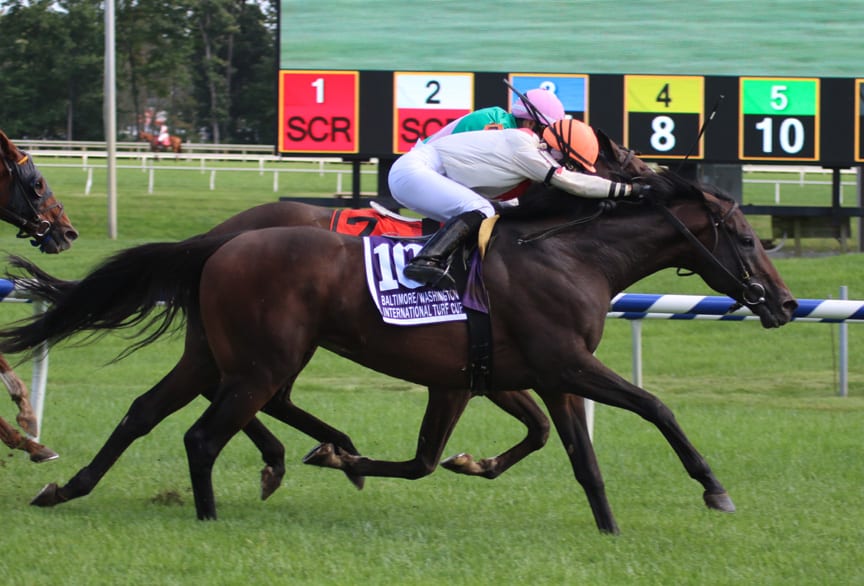 Doctor Mounty held off Projected narrowly to upset the 2018 G3 BWI Turf Cup at Laurel Park. Photo by Laurie Asseo.
by Frank Vespe
In which we pick the races from Laurel Park each day…
Post time: 1:10 p.m.
Carryovers: Rainbow Jackpot Pick 6 — $30,667; Super High 5 — None; Late Pick 5 — None
Stat of the day: "We hold these truths to be self-evident, that all men are created equal, that they are endowed by their Creator with certain unalienable Rights, that among these are Life, Liberty and the pursuit of Happiness."
ANALYSIS
RACE 1
The two runners with the lowest odds in the Independence Day lid-lifter are #1 Ekhtibaar (2-1) and #2 Sir Orinoco (5-2), both of whom figure to be hunting the early lead. That might create an optimal situation for #5 The Great Casby (9-2), who has split a pair of recent decisions with Sir Orinoco and will do his best running later. He didn't make much impact last out chasing a 1-5 winner, but the pace scenario looks friendlier here, and trainer Kieron Magee is 26% with horses wheeling back in less than 10 days.
RACE 2
If he takes to the grass, #2 Edict (5-2) will likely be a handful in this maiden turf route, but as Gramps would have said if he'd played the ponies, "Why you wanna take short odds on a horse that's never been on the turf before?" This one's siblings, parents, and grandparents have run a combined one time on the turf, so the jury figures to be out on whether this is the right move. We'll try to beat him with #8 Stand My Ground (4-1). The Judith DiNatale trainee ran a big one last out in his first time on the green stuff, rallying to miss by just a head after being stalled awaiting running room near the quarter-pole. Runner-up Jag graduated in his follow-up.
RACE 3
Trainer Anthony Farrior entered a pair in this maiden claimer for two-year-olds, the favorite #3 Malibu Moonstruck (9-5) and the #4 Side Car (3-1). Go-to pilot Jevian Toledo rode both in their most recent tests, took Side Car here, and Malibu Moonstruck has been scratched. All of that suggests that Malibu Moonstruck may have been entered to ensure this race would go for Side Car, who gets the nod as our top choice in here despite having dumped his rider last out.
ANALYSIS
RACE 4
Gramps probably would've counseled us to keep our powder dry in this one, because, to be honest, we found it a struggle to separate one of these from the others. #5 Storm Net (3-1) is OK and could give legendary trainer King Leatherbury his first win of the season here in what is this runner's third start of '19. But he's moving up a level off a defeat. #8 Tricked Up (3-1) has been facing much better — but recently getting his head kicked in. And what do you make of #6 Miners Quest (5-1) stretching out for the first time in his lengthy career? #7 Bank Float (6-1) didn't run a step last out against better in his first try in over two years; is that because he's all out of steps? Dunno. And those are just the horses we used…
RACE 5
Here's another race that's a bit of a puzzle, a beaten nickel claimer going six furlongs on the main track. We settled on the (slightly) class-dropping #5 Apolodorodedamasco (9-2), whose last may have been better than it looked after wide journey against slightly better. He figures to sit about mid-flight and try to run his rivals down late as he finds his lowest level yet.
RACE 6
This three-other-than on the turf brings together a stakes-quality field, including multiple stakes winners #3 Phlash Phelps (7-5) and #4 John Jones (6-1). The former is the deserving favorite in this one after a couple of credible tries this year, including last out in the Grade 2 Dixie. Trainer Rodney Jenkins passed on the next obvious spot for him, which would have been the PG County Stakes in June, and that looks like a wise decision, as Just Howard, who finished third in the Dixie, could muster up only another show effort against a tough field in the PG County. The pace ought to be strong in here, as #1 Saratoga Jack (6-1) and #6 Dark Templar (9-2) both have demonstrated an affinity for the lead, and John Jones also is typically involved early. We'll take a bit of a swing here with #5 Gunnison (5-1). This one was keeping the right company last year as a sophomore, winning the Tale of the Cat at Monmouth and trying his hand in a couple of G3 events. He's been away since last August but has been training well enough for trainer Kelly Rubley, who is 5-for-14 at the meet and 5-for-26 bringing horses off long layoffs into turf routes. The pace should be there if this one is ready to roll. Jevian Toledo will ride.
ANALYSIS
RACE 7
It's not a great sign that trainer Dale Capuano is dropping #8 Gran City (5-1) to the bottom two races after claiming him for $25,000, so we would certainly be wary of taking short odds on him. But 5-1 feels like a pretty square price on a horse who, if he's right, probably should win here. His three tries on the main track were all against much higher end maidens — including his debut, which came against future Kentucky Derby and Preakness participant Win Win Win — and while he didn't show a ton in them, he showed enough to suggest that this much easier group might be right up his alley. If not, another to look at is #11 Mr. Chesapeakecity (4-1), That one took the worst of the trip last out before just being outfinished, and if Angel Cruz can work out a cleaner trip today, that would go a long way towards a win.
RACE 8
The speedy #9 Squibnocket (4-1) might have a chance to control this turf sprint from the first jump breaking from the far outside with Jorge Ruiz up. His three turf sprint tries are all decent, though it's worth noting that all have come against similar, and she has yet to secure a victory. A horse who, by contrast, has a spotless record on the turf is #5 Sharp (15-1). Of course, that's because she's never tried the turf, but her breeding suggests it might work, she has a win from two starts, and while she only managed a low speed fig in that win, the runner-up retured to graduate at the maiden $25,000 level. 
RACE 9
Obviously, #4 In Him With Him (8-5) is a deserving favorite in this nickel claiming event; he has better figs than his rivals and may have a chance to control this one from the front. The problem is that he's lost this race four straight times, all at less than 3-1 odds and twice as the favorite. We'll leave him on the ticket but see if we can beat him — and blow up the toteboard — with #9 Majestic Doctor (20-1). This one's no world-beater — 2-for-38 in his career — but his last two against similar aren't bad. He was beaten less than three in each, and last out he finished second against (very) slightly better at monster 75-1 odds. No reason he can't contend here, and the price surely will be right.