Maximum Security heads final 3yo NTRA Top Thoroughbred Poll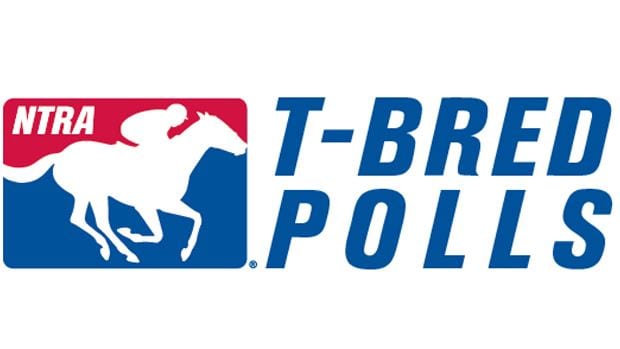 From a National Thoroughbred Racing Association release
A historic disqualification may have denied Maximum Security his place in history as an American classic winner, but the impression the colt left in the 145th edition of the Kentucky Derby has allowed him to hold bragging rights as the National Thoroughbred Racing Association (NTRA) Top 3-Year-Old Poll concludes for 2019.
With poll newcomer Sir Winston pulling off the mild upset in the Belmont Stakes on June 8, voters cycled back to the horse who hit the wire in front on the first Saturday in May. Though he was disqualified after crossing the wire first in the Kentucky Derby due to interference and didn't compete in the final two legs of the Triple Crown, Jason Servis-trainee Maximum Security earned 24 first-place votes and a total of 425 points to hold the lead position in this year's final edition of the Top 3-Year-Old Poll.
For the third time in the last four seasons, it will be up to the results of the second half of the year to settle championship honors as three different horses captured each leg of the Triple Crown. The Bill Mott-trained Country House was elevated to first in the Kentucky Derby but didn't contest the final two legs due to illness. Sir Winston's popular stablemate War of Will – the only horse this year to run in all three Triple Crown races – landed an emotional victory in the Preakness Stakes for their trainer Mark Casse but faded to ninth in the Belmont Stakes.
"I think probably everybody will go back to Maximum Security, won't they," Casse said after the Belmont Stakes when asked to assess the current 3-year-old hierarchy. "That would be my guess. But….it's kind of a mess right now as far as that goes."
Despite his off-the-board effort in the Belmont Stakes, War of Will still holds high regard amongst voters, earning 8 first-place votes and 347 points to sit second behind Maximum Security in the Top 3-Year-Old Poll. Tacitus, runner-up in the Belmont Stakes in his first outing since being elevated to third in the Kentucky Derby, also received 8 first-place votes and is third overall with 342 points.
Grade 1 winner Omaha Beach, unraced since having to scratch out of the Kentucky Derby due to a throat ailment, is fourth with 6 first-place votes and 312 points. Sir Winston (279 points) enters the ranks for the first time in fifth with Country House (262) now sixth.
Code of Honor is seventh with 169 points and reigning juvenile male champion Game Winner (121 points) sits eighth. The Chad Brown-trained Guarana, who captured the Grade 1 Acorn Stakes in just her second career start, earned 82 points to join the poll in the ninth spot while Owendale (37 points) rounds out the top 10.
On a Belmont card this past Saturday that saw virtually every divisional leader in action, multiple Grade 1 winner Bricks and Mortar delivered another stellar run to capture the Grade 1 Manhattan Stakes and further cement his lead position in the NTRA Top Thoroughbred Poll with 35 first-place votes and 446 points.
Owned by Klaravich Stables and William Lawrence, Bricks and Mortar is unbeaten since returning last winter after being sidelined for more than a year, with four of those victories coming in 2019. The latest turf standout from Brown's arsenal now has three Grade 1 triumphs this season with his 1 ½-length win in Manhattan over stablemates Robert Bruce (CHI) and Raging Bull (FR) arguably his most impressive outing to date.
"He had an early start in December and to keep it going at this level, it's just been a remarkable run," Brown said of the 5-year-old horse. "There are a lot of Grade 1s next to his name and on the turf that's hard to do. He takes good care of himself. I know he had that long break and he had some injuries, but he's been back and he trains kindly. He's a very smart horse and I think that is a big part of his success as well."
Mitole, winner of the one of the best editions of the Grade 1 Metropolitan Handicap in recent years, moves up to second overall in the poll with 8 first-place votes and 408 points. Fellow top-level winner Midnight Bisou also delivered a stirring effort this past Saturday, taking the Grade 1 Ogden Phipps Stakes to remain unbeaten in four starts this season, and is now third with 2 first-place votes and 296 points.
Grade 1 winner McKinzie, second in the Met Mile, is fourth with 290 points while the brilliant World of Trouble (233 points) moved up one spot to fifth on the heels of his win in the Grade 1 Jaipur Invitational Stakes. Catholic Boy (138 points) is sixth followed by Gift Box (134) and two-time Dubai World Cup winner Thunder Snow (IRE) (1 first-place vote, 116 points). After earning her fourth career Grade 1 victory in Saturday's Just a Game Stakes, Rushing Fall enters the top ten in the ninth spot with 108 points while Vino Rosso (98 points) completes the order.
With the Top 3-Year-Old Poll concluded, all ages will now be voted upon in the Top Thoroughbred Poll, which wraps up November 4 after the running of the Breeders' Cup.
The NTRA Top Thoroughbred polls are the sport's most comprehensive surveys of experts. Every week eligible journalists and broadcasters cast votes for their top 10 horses, with points awarded on a 10-9-8-7-6-5-4-3-2-1 basis. All horses that have raced in the U.S., are in training in the U.S., or are known to be pointing to a major event in the U.S. are eligible for the NTRA Top Thoroughbred Poll.
NTRA TOP THOROUGHBRED POLL
Bricks and Mortar
Mitole
Midnight Bisou
McKinzie
World of Trouble
Catholic Boy
Gift Box
Thunder Snow
Rushing Fall
Vino Rosso
NTRA TOP THREE-YEAR-OLD POLL
Maximum Security
War of Will
Tacitus
Omaha Beach
Sir Winston
Country House
Code of Honor
Game Winner
Guarana
Owendale