Trainer Jose Camejo making most of unexpected path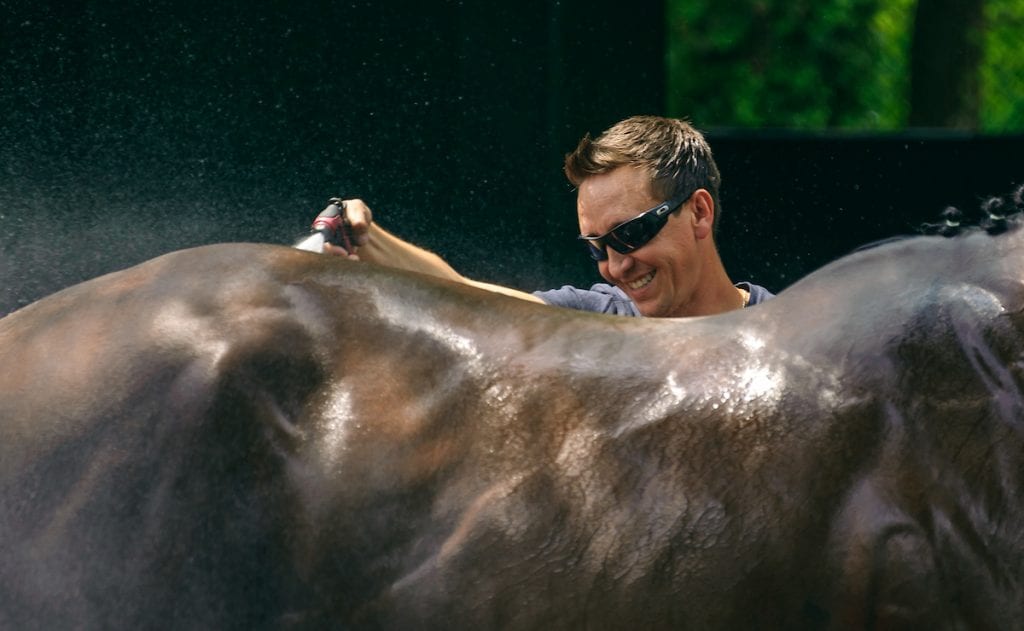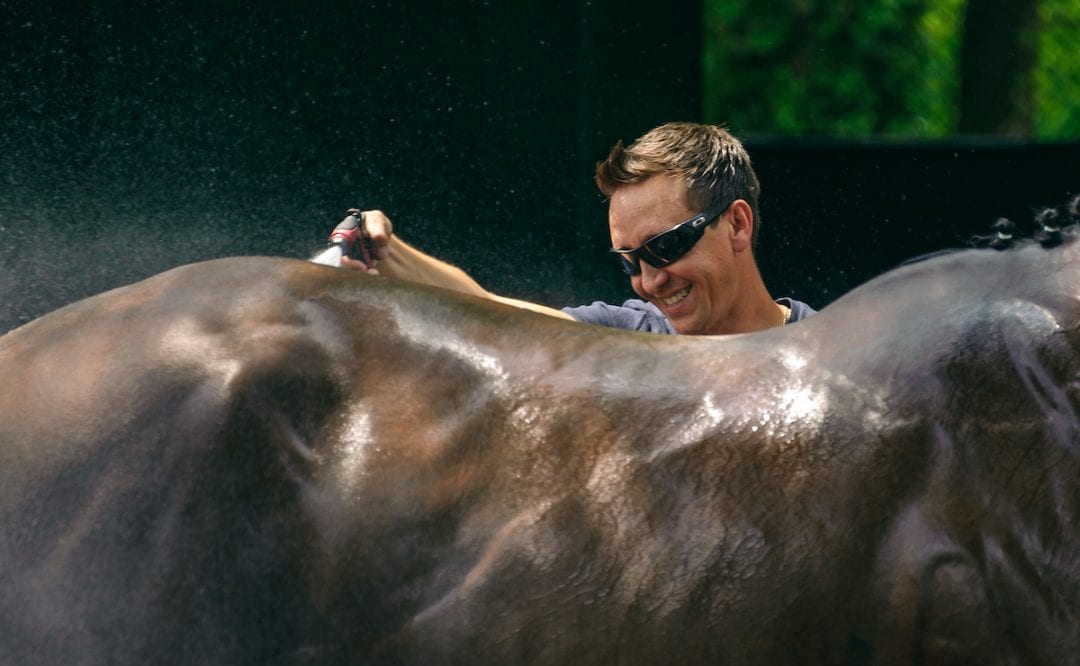 Jose Camejo at Delaware Park. Photo by HoofprintsInc.com.
Jose Camejo's life path looked rosy back in 2011. The native of Venezuela had come to the U.S. in late 2003, riding in Florida, Kentucky and Louisiana, and was having modest success. Then one night at Evangeline Downs that all changed. Camejo went down in a spill, and his injuries included a broken neck.
After a long period of recovery Camejo still didn't feel right. The changes in his body from his injuries were such that Camejo didn't feel confident he could return to the saddle and be the rider he was before the accident.
So at age 33 Jose Camejo faced a crossroads in his life. He talked things over with his wife Maggie, a consummate horsewoman in her own right who had been stallion manager for several breeding operations and she encouraged him to try training.
"I was at a loss for a while," Camejo said. "I didn't know exactly what to do. I mean, I was still relatively young, but when you're used to doing one thing and you like it and then suddenly that's gone, it's like, 'What am I going to do now?' Fortunately, Maggie helped me through that period, gave me some ideas and some advice, and after thinking it over, I decided to give training a go."
Fast forward seven years. The Camejo racing stable has almost 70 horses in training with more on the farm, and 45 of those are on the grounds here at Delaware Park. Since 2013 when he sent out winners at a 17% clip, the Camejo operation has grown steadily every year, winning more races and earning more money in each season.
Last season Camejo saddled 34 winners from 152 starters for a 22% strike rate, and his horses earned more than $622,000 in purses. He has 145 winners as a trainer (22%), and this season, with 14 wins and earnings over $400,000 through just five months and change, he's on target to have his best season ever.
Obviously the addition of over 40 horses is a plus for any track and any racing secretary's office, and Camejo said he wound up deciding to come to Delaware Park after talking with the track's new racing secretary, Tom Creel.
"I knew Tom from Gulfstream Park when I was riding there," the trainer reported. "He called me earlier this year and asked me to bring some horses up here. It was a bit of a gamble — we'd never run a lot up north or in the northeast — but many of our horses fit the (condition) book, they have a turf course, which is important because several of our better horses are turf horses, and they have a good backstretch."
Most of Camejo's owners agreed to give Delaware a shot this year, the trainer said, and with another string in Louisiana, they have options.
"We still have 26 in Louisiana and we've got 14 babies who will be coming here from the farm soon," Camejo said. "We've been here since late March, and so far I like it. The track's good to train over and the horses have settled in nicely. It takes a while to get over shipping over 1,000 miles, but they're doing better now."
Camejo sent Brittlyn Stable LLC's homebred daughter of Star Guitar, Wild About Star, to capture the $100,000 The Very One Stakes going five furlongs on the Pimlico turf, and he says that filly who came to him recently from the Albert Stall barn and her full sister, Minit to Stardom, are two of his brightest stars.
Mint to Stardom wired a field of optional allowance sprinters here while going six furlongs in 1:09.41, and Camejo said then that he was looking forward to trying her on the turf. She followed that win up this past weekend by setting a Laurel Park turf course record by getting 5 ½ furlongs in 1:00.75.
"Wild About Star has just been doing better and better ever since we got her," Camejo said, "We know she can sprint on the turf, and now we'll probably try and find out if she can go a bit longer."
Camejo gets on two or three horses every morning, and while he admits he still misses the excitement and competition of riding, he is finding the sense of accomplishment that comes from working with his horses and seeing them achieve success is just as fulfilling.
"Riding and training are two different animals," Camejo admitted, "I never really realized how much work was involved in running a racing stable. There's always something to deal with, whether it be the help, the health of your horses, the economics and bookkeeping that is involved in that, and other things, but seeing your horses succeed and do well brings a lot of satisfaction and I'm enjoying it more and more."