Two decades on, memories of Victory Gallop still resonate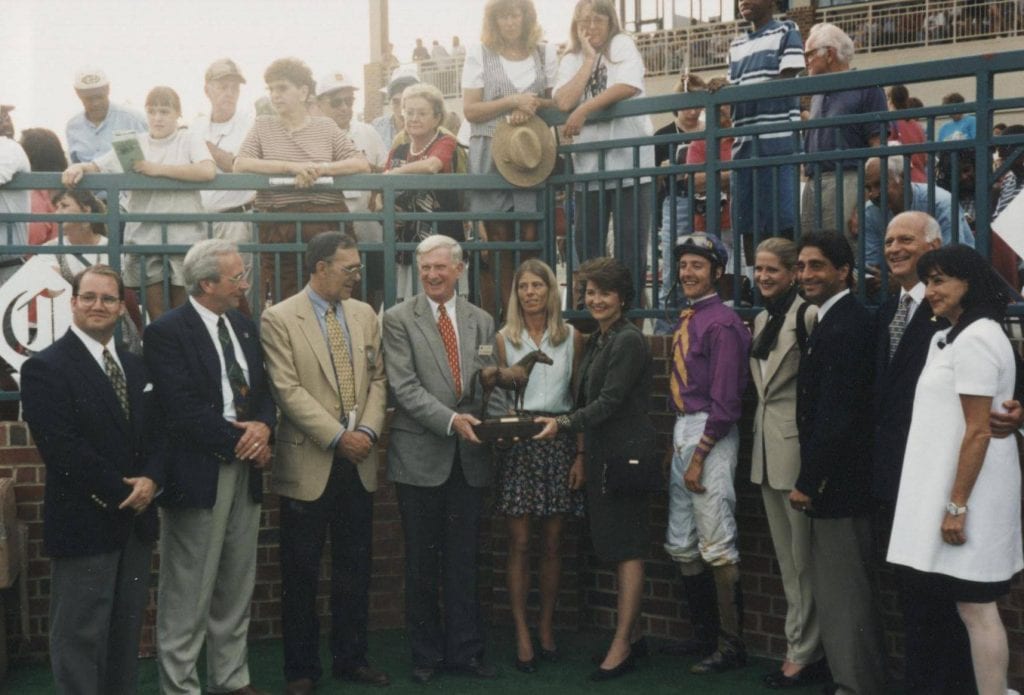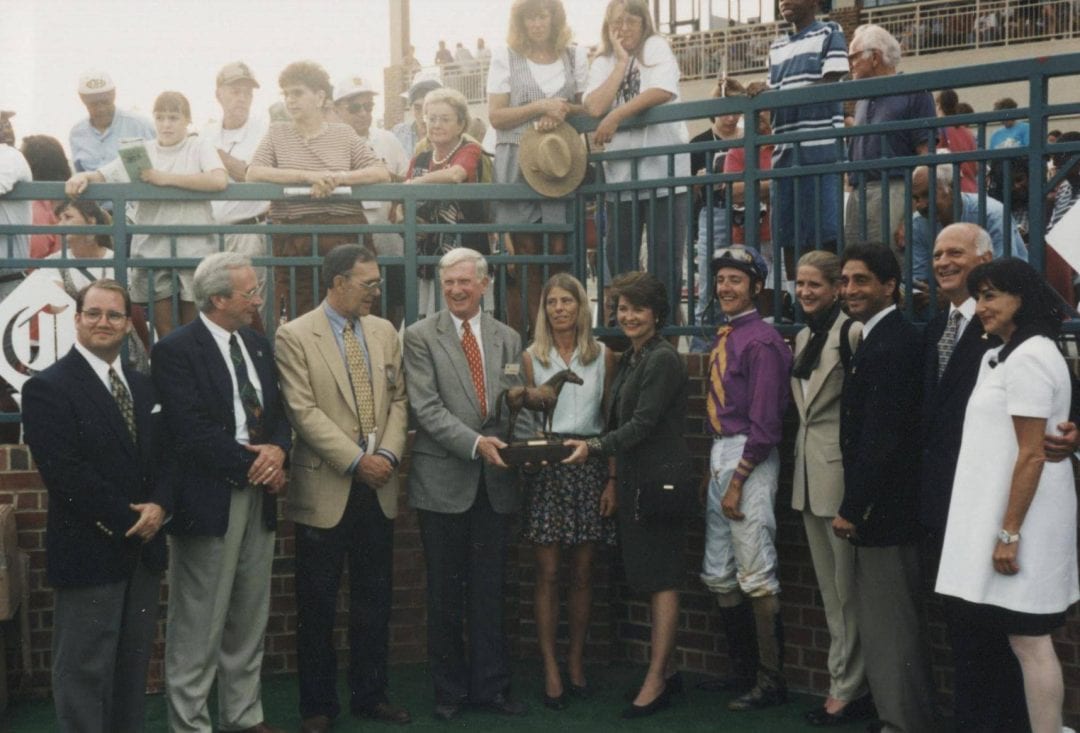 Trainer Mary Eppler (center) and jockey Mark Johnston (5th from right) are among the celebrants for a Victory Gallop stakes win at Colonial Downs. Photo courtesy of Nick Hahn.
Before Colonial Downs had turf, it had Victory Gallop.
Before seed was planted on the landmark Colonial Downs turf course, Victory Gallop won two stakes during the inaugural meet in October 1997. In fact, before they ran the first race on the turf at Colonial Downs, Victory Gallop had won the 1998 Belmont Stakes to thwart Real Quiet's Triple Crown bid, giving Colonial Downs an icon, and maybe even some legitimacy.
Few in the game understood the potential and significance of the bay colt's twin stakes performance that fall. It's all right. Neither did his jockey or trainer.
"I was kind of blown away because I didn't know he was that good at the time," jockey Mark Johnston recalled thinking after his onetime mount had won the Belmont Stakes. "How could I be so far off?"
Johnston had a justifiable excuse for misjudging the potential of his mount. In the two Colonial Downs stakes wins, Victory Gallop was only asked for seven-furlongs and a mile.
"Seven furlongs wasn't his strong suit, so I didn't know what I had," admitted Johnston, who now runs an equine transportation company in Kentucky. "I didn't know the horse was going to win a leg of the Triple Crown."
Neither did Mary Eppler, who trained Victory Gallop for owner Speriamo Stable of Florida.
"I knew he was a very good horse. It was hard to tell how good he would be. I knew he was good," remembered Eppler. "It was sad that he was sold."
The first of those two stakes, the New Kent, took place on Colonial's grand opening day on September 1, 1997. Eppler had hoped to retain jockey Edgar Prado, approaching the prime of his riding career, to ride Victory Gallop. Prado had returned Victory Gallop's maiden score at Laurel a few weeks earlier. Prado, though, was already assigned to ride Storm Punch in the New Kent, and that runner was a towering 4-5 favorite. Despite coming off his maiden score, Victory Gallop was a dime shy of 9-1 in the 6-horse field; only one horse had longer odds.
"He broke his maiden with Edgar Prado, but I believe he had a mount so Mark Johnston was the next rider up," said Eppler. "He did a great job."
"I didn't know that much about it," said Johnston about seeing Colonial and Victory Gallop for the first time. "Nobody did. It was a new track. At the time I knew I had to work him aggressively early to keep him in the race. It became my favorite place to ride. It was a fun meet — something different than when I used to race yearlong at Laurel. Camping at Rockahock Campground and riding at the Colonial was like a working vacation."
After sitting fifth going up the backstretch, Victory Gallop drew clear by two in winning the seven-furlong dirt stake. The day was memorable for Johnston who attained trivia question status in winning Colonial's grand opening start aboard MacGyver earlier on the overcast day.
The win impressed bettors — but it didn't wow them. A few weeks later, in the one-mile Chenery, Victory Gallop was 9-5, but still not the favorite. That honor went to Fight for M'Lady, but Victory Gallop and Johnston came running late to win by three-quarters of a length over the favorite. 
The signs were becoming visible.
In the Laurel Futurity, Johnston had become perhaps too comfortable in the his mount's ability to close ground. In a six-horse field with little pace, he made up ground late but could not get to Fight for M'Lady, who turned the tables with a length-and-change victory in the nine-furlong, Grade 3 test.
"I rode him at Laurel overconfidently and probably got him beat that day," admitted Johnston.
Then came the private sale from Speriamo to Prestonwood Farms. Johnston had some discussion with new trainer Elliott Walden about retaining the mount, but matters forced another course.
"In those days good horses coming out of Maryland were going to be sold to run in New York or wherever," Johnston remembers. "I wanted a shot to ride that horse. I'm pretty sure I was going to Arkansas to ride him after the sale, but he got sick and Eibar Coa started riding him in the morning after his recovery. I wanted to ride him again. I felt like it would be a chance for redemption after the Laurel race."
As a three-year-old, Victory Gallop had two prep races for the Kentucky Derby. Coa rode him to victory in the Grade 3 Rebel at Oaklawn Park March 21, and Alex Solis did the honors three weeks later in a victory in the Grade 2 Arkansas Derby.
In the Kentucky Derby, Victory Gallop and Solis were chasing down Bob Baffert's Real Quiet, his big fish, when the wire showed up. The Preakness, run at a sixteenth shorter than the Derby, wasn't as suitable for Victory Gallop's style; though they again ran one-two, Real Quiet was pulling away from Victory Gallop in the stretch.
The mile-and-a-half of the Belmont Stakes, and the surface at Belmont Park, just seemed to be a perfect fit for the son of Cryptoclearance, who by now had Gary Stevens in the irons. Real Quiet seemed home and dry after opening up a four-length lead in the stretch, but Victory Gallop was flying.
The finish of the Belmont Stakes wasn't deciphered until well after the race. Neither jockey could claim victory on the gallop out. Neither track announcer, Dave Johnson for ABC or Tom Durkin on the NYRA signal, could call the winner. Providing the national broadcast, ABC Sports displayed a wire photo 90 seconds after they crossed the wire displaying Victory Gallop with his nose down first. Almost exactly a minute later his #11 was posted on the infield toteboard above Real Quiet's #8.
Eppler relished having a role in developing Belmont Stakes winner.
"I thought it was great," said Eppler. "I was very happy for Elliott."
"I was happy for the horse and the connections, but at the same time you wanted to stay with them," agreed Johnston.
Victory Gallop was out of the Vice Regent mare Victorious Lil and was bred in Ontario by Tall Oaks Farm. The brown colt was purchased for $25,000 out of the Keeneland September Yearling Sale in 1996. Eppler considers his breeding favoring the turf, but Victory Gallop never had the opportunity to run on the grass, at Colonial or anywhere else. Of course, with a record that included nine wins in 17 starts and more than $3.5 million in earnings, that made good sense.
Eppler recalls Victory Gallop as something of a handful.
"He would put out his tongue and want you to grab it," chuckled Eppler about young Victory Gallop. "He would keep smashing the light bulbs in his stall to the point that we wouldn't replace them all the time. He was a real character."
His three-year-old campaign ended in a strong rally from last to fourth in the Breeder's Cup Classic in a tough field that included Silver Charm, Skip Away, Gentlemen and the three-headed entry of Coronado's Quest, Touch Gold and winner Awesome Again.
The slower he started, the better he got. Last at some point in each of his last five career starts, Victory Gallop won three, including the Stephen Foster (G2) and Whitney (G1). He later became a sire and in 2010 was elected to the 2010 Canadian Horse Racing Hall of Fame.
The career path of many great turf horses passed through at Colonial Downs, a list that includes Gio Ponti, English Channel, Kitten's Joy, Paddy O'Prado, Silver Max, Da Hoss, John's Call, Go Between, Red Giant. Oddly, they all followed a horse that was often last early — but first late. On the Colonial dirt, Victory Gallop stands alone.