Modestly priced Rookie Salsa adding spice for local connections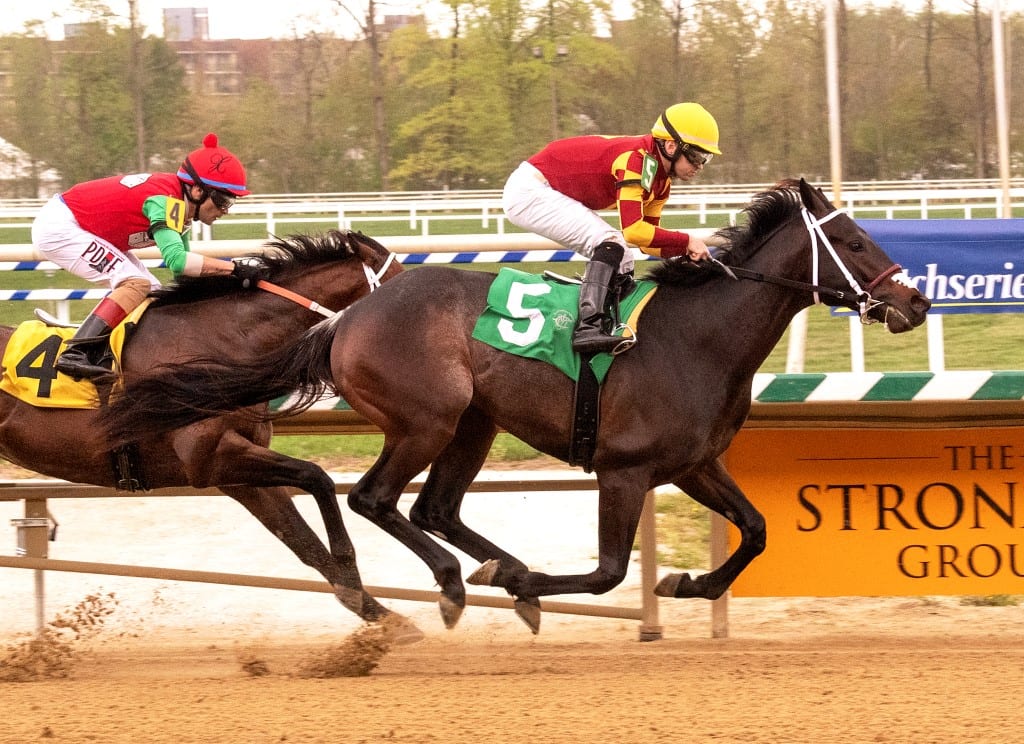 Rookie Salsa. Photo by Jim McCue, Maryland Jockey Club.
On Thursday afternoon, just about exactly 24 hours before the gate would open for the listed Tremont Stakes, two-year-old Rookie Salsa was happily ensconced in his stall at the receiving barn at Belmont Park. He poked his head out inquisitively. He munched hay. Occasionally, he stamped his foot, as if demanding attention.
"Stop that!" scolded Alison Wilaby, looking at him.
Then she softened. "Isn't he beautiful?" she asked.
Her fiancé, trainer Jerry O'Dwyer, reminds her regularly that what matters is a horse's speed, not his looks. In Rookie Salsa, 4-1 and third choice on the morning line, they seem to have found a horse that has both.
A $15,000 yearling purchase at the Fasig-Tipton Kentucky sale in October 2018, Rookie Salsa is undefeated in his two races, breaking his maiden at Laurel Park in April and winning the listed Kentucky Juvenile Stakes at Churchill Downs in early May. It was Wilaby's name on the sales ticket, and she was instrumental in the purchase of the horse for Designated Hitters Racing.
The partnership already owned Rookie Salsa's half-sister, Olive Kat, the first foal out of the Florida-bred stakes winner Kalambaka Queen, a veteran of 44 races who earned $240,000; Olive Kat is also trained by O'Dwyer.
"Jerry and I were both keen to get him," said Wilaby. "We love his sister, and when we looked at him, he had a beautiful physical. I was twisting Jerry's arm, but he was already on it. The horse went into the ring early and we were very determined to get him."
"We know how talented his sister is," said Dan Heim, the founder of Designated Hitters Racing. "We put our sights on him because we knew he would be ready to run. Both Alison and Jerry know exactly what to look for."
An accomplished horsewoman, Wilaby grew up in Colorado riding and showing horses; O'Dwyer hails from Ireland and began his career in racing as a jockey. Realizing that he wasn't going to have a top-level career, he took the advice of some friends living in Kentucky and came to the States for a year to gallop horses.
He ended up working for Al Stall in 2010, the year that Stall trained Blame to wins in four Grade 1 races–the Stephen Foster Handicap, the Whitney Stakes, the Jockey Club Gold Cup, and the Breeders' Cup Classic—often riding Blame's workmate in the mornings.
Eschewing winter in the bluegrass, he headed to Niall Brennan's farm in Ocala to work with two-year-olds and learn the sales business. Returning to Kentucky to continue working with two-year-olds, he also trained a few horses, and in January 2017, he made a strategic and fateful decision with one of them.
Intending to run his filly Follow the Petals in a maiden race at Turfway Park, he instead opted to send her to Laurel Park, where the purses were higher. She won by 4 3/4 lengths and paid $38.40.
After making the same move with similar success with other horses, O'Dwyer moved to Maryland permanently, and it's there that he met Heim, who lives near Laurel Park and works as an energy trader in Baltimore. Designated Hitters officially has about five key partners, but Heim's philosophy is anything but exclusive.
"We know lot of folks that don't really have the resources or the risk-taking sensibility to go out and buy a horse," he said, "but they support us and are fans, so we've really grown into a whole lot of folks."
Some of those friends and partners will be on-hand this afternoon to see Rookie Salsa run in the Tremont, but Heim won't be among them.
"I haven't been able to make it to any of his races," he said. "And my friends who are superstitious now tell me to stay away. They hope I never make any of his races."
Heim would also welcome the chance to bring new partners into Designated Hitters.
"We're not in this to make money," he said. "We want good people who enjoy racing, who want to come to the track, who care about the horses and want to give them treats. When you're running at a track and there's nobody to cheer you on, it doesn't feel right. We want big win photos with lots of folks in the winner's circle."
[FAG id=52647]