Bronx Beauty caps emotional day for trainer Margotta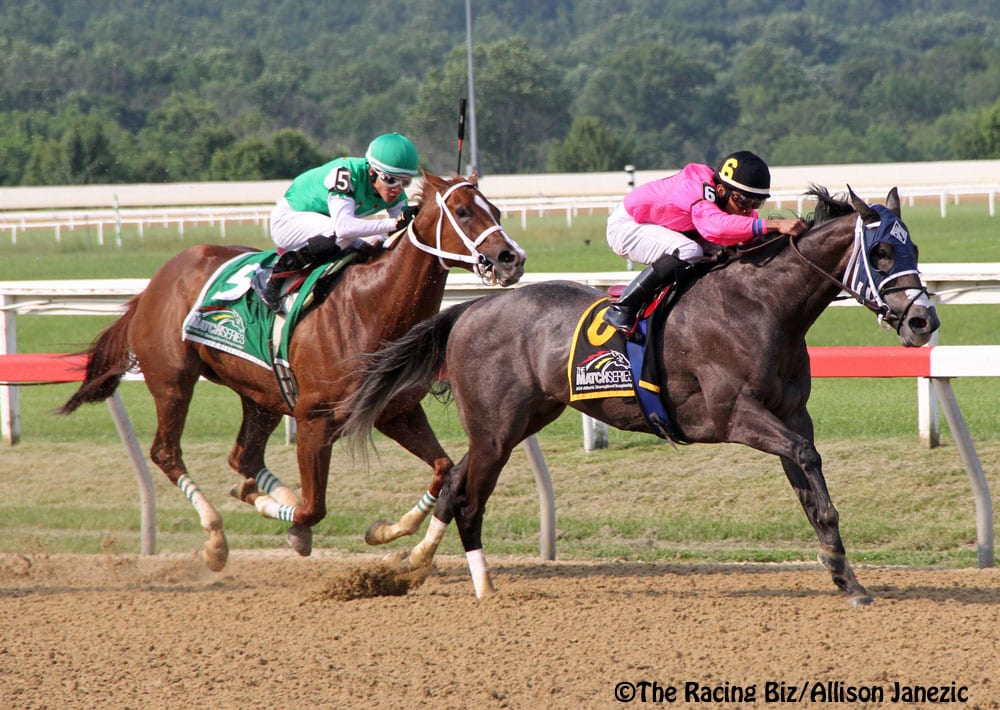 Bronx Beauty proved best in the Penn Ladies Dash at Penn National. Photo by Allison Janezic.
If ever a horse trainer had an emotional day, that trainer was Anthony Margotta, and that day was Saturday.
Margotta, close friends for 39 years with the recently deceased J. J. Crupi, laid his friend to rest Saturday in Ocala. Crupi, 79, died May 23.
Later in the day, Margotta watched from afar as Hopeful Growth, a two-year-old Tapiture filly he trains for the St. Elias Stable operation of Vincent and Teresa Viola — also friends with Crupi — was up late to win her debut by a nose in a maiden special weight race at Monmouth Park.
And then, to cap the day, Bronx Beauty, a four-year-old Liaison filly he trains for longtime owners 2W Stables LLC, pressed the pace of favored Ms Locust Point before pulling away to win by 1 ½ lengths in the $100,000 Penn Ladies Dash at Penn National on the Penn Mile undercard.
"What a day," Margotta said by phone after the Dash. "Very poetic. I feel very blessed today."
Margotta is a recovering addict. The people on his mind today — Crupi, the Violas, and 2W's Rich Woll and his wife Marie — all have played major roles in his recovery. Crupi gave him a job when he needed one; the Wolls, longtime partners with Margotta, provided his first horse when he emerged from addiction. And the Violas have supported him with several high-end horses.
"Tony has changed his life around," Rich Woll said after Bronx Beauty's victory. "Tony found religion, and he believes in what he says, and he preaches all the time."
"A good man," added Marie Woll.
Bronx Beauty has made serious hay on her relatively few visits to her home state. She was bred in Pennsylvania by Blackstone Farm.
In three prior visits to Penn National, the filly had emerged with three victories — of the five she's recorded in her career — and more than half of her total $273,000 in earnings.
But she entered the Ladies Dash on a bit of a downward trend. Three tries in graded company had netted no better than a fourth-place finish and last time out, in the Foxy J G at Parx Racing, she was away slowly and never a threat while finishing seventh as the favorite.
"Last time she tripped coming out of the gate," recalled Rich Woll. "She likes to be close to the front. She doesn't need the front but she likes to be close to it."
"Nothing went her way that day," Margotta agreed.
ronx Beauty had had seven different riders in the first 10 starts of her career, and Margotta opted for an eighth today, in Manny Franco, whom Rich Woll called a "Class A jockey." He also put blinkers on her for the first time.
But bettors weren't impressed. They made Bronx Beauty 11-1, the fifth-longest shot in the field of seven.
Bronx Beauty and Franco broke alertly to press the pace of Ms Locust Point, the 4-5 favorite who entered after a narrow win in the Primonetta at Laurel Park April 20. Those two ripped off an opening quarter-mile in a blazing 21.17 seconds and the half-mile in 43.52 seconds while a couple lengths ahead of Zipper's Hero, who chased willingly but to no avail.
Entering the stretch, Bronx Beauty forged to even terms with Ms Locust Point, and then went by. None of the closers made much progress.
At the finish, the margin was more than a length, and running time was 1:08.57 — just .14 seconds off the track record. Ms Locust Point held second, and Zipper's Hero was third.
Bronx Beauty returned $24.20 to win and topped an exacta worth $69.60 for two dollars. And she made for some very happy owners.
"Couldn't have been any more excited," Rich Woll said with a laugh. "Even with my bypass, i'm still good."
Woll was there with Marie and other members of his family. He and Marie are natives of the Bronx — she's the eponymous Bronx Beauty, their son said — and now live in Tinton Falls, NJ, near Monmouth Park.
"Tony knows what he's doing. He's got some good owners, not big with claimers," Rich Woll said. "His philosophy is good horses, exciting races, and he tells me all the time: 'This is what it's all about, Rich. $100,000 races. Your family, your friends all around. Nothing more exciting than that.'"
PENN MILE UNDERCARD NOTES 
The Ladies Dash was part of the MATCH Series, and Margotta said that the next step in the series — the Dashing Beauty at Delaware Park in July — would be his "first choice" if his filly is ready for it… A pair of state-bred races earlier in the card went to Gotta Be Strong and Call Paul. The former won the New Start Stakes for sophomore fillies in a mild upset; she's trained by Jamie Ness for Gap View Stables and Jagger Inc. Frankie Pennington was up… The latter took the Danzig for three-year-olds in 1:09 flat under Manny Franco. He's trained by Jason Servis for Michael Dubb, David Simon, and Bethlehem Stables and Bruce Irom… In another MATCH Series event, Midtowncharlybrown won the Chocolate Town Sprint Stakes with Roberto Rosado up for trainer Ed Coletti and owner Uptowncharlybrown Stud LLC and Godric LLC.