For trainer Anthony Margotta, "a long way into the woods, a long way out"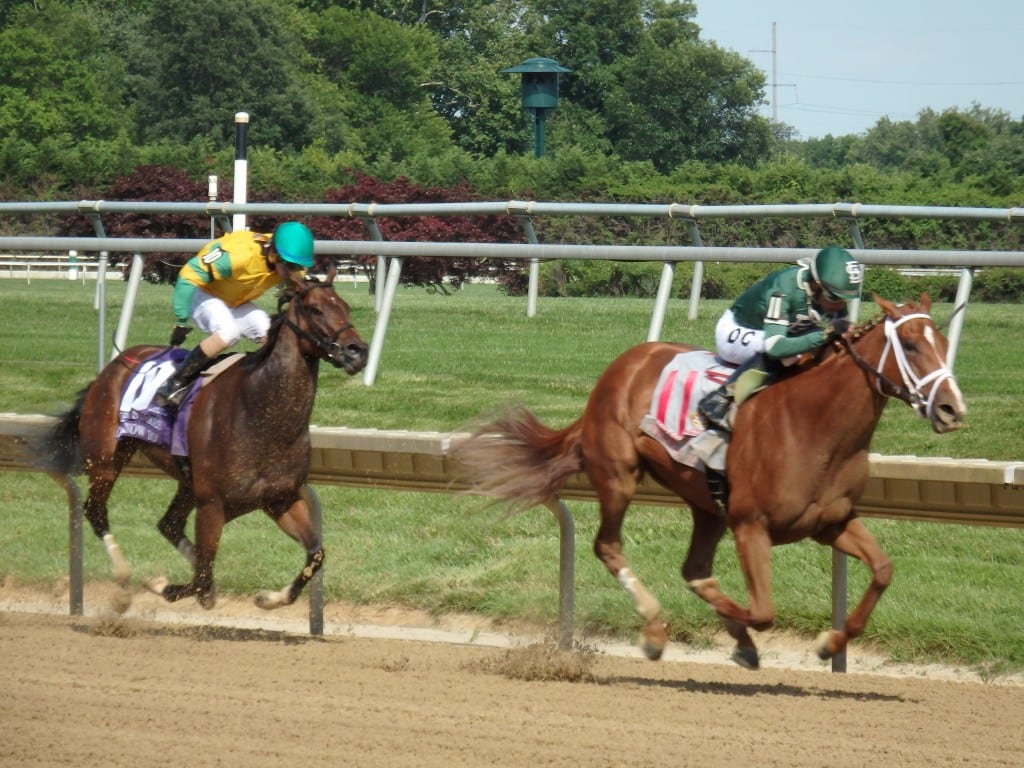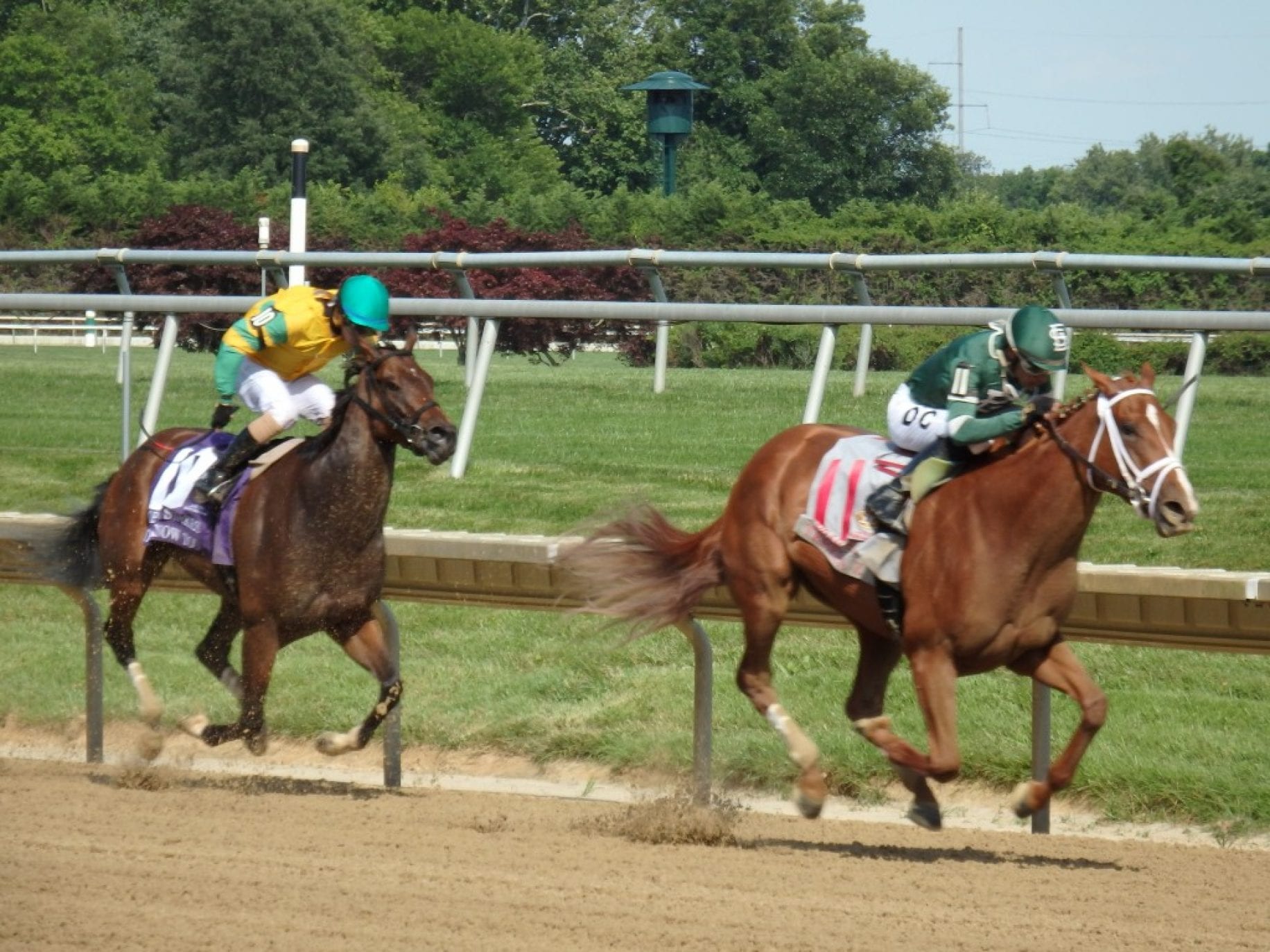 Teresa Z (#11) outfought You Know Too to win the Obeah Stakes at Delaware Park. Photo by The Racing Biz.
by Frank Vespe
When you talk with Anthony Margotta, Jr., he often has an oddly specific reply to your entirely generic question.
"How's it going?" you might ask him.
"Today is a good day," he may reply.
Coming from some folks, it might seem a verbal tic.
Yet for Margotta, the specificity is warranted. As a recovering drug addict and alcoholic, he might have good days or bad days, but no day can be more than merely another today: another day to ward off the demons that sought to steal everything he'd earned or cared about, another day to grow stronger and healthier. Another day farther removed from the dark places he visited, and which threatened to consume him.
We often speak of horse races as journeys; we send horses off, away from the post, and they run until, eventually, they come home.
Yet the true wayfarers in our sport more typically are the people behind the horses. Take Margotta.
In the space of just 20 years, he went from hotwalker to multiple Grade 1-winning trainer to virtually washed out of the business.
On Saturday, just shy of 20 years removed from his second (and most recent) Grade 1 victory, with Run Man Run in the 1998 Malibu Stakes at Santa Anita, he'll aim for the biggest win of his comeback, when he sends out Teresa Z in the Grade 2, $750,000 Delaware Handicap at Delaware Park.
"STRUGGLING WITH THE DEMONS"
It's a story, he'll tell you, of mistakes and of miracles. Of those who stand by you, and those who don't.
At the very height of his training career, the pinnacle of his success, Margotta says that he was downing "up to in excess of 15 to 20 Percocets per day."
These days we know Percocet as a drug containing the opioid oxycodone, a highly addictive substance that, according to The Recovery Village website is "one of the main painkillers contributing to prescription drug abuse and addiction across the U. S."
Opioids in 2016 accounted for more than 42,000 deaths in the United States, according to the US Department of Health and Human Services. The opioid crisis shows up on the front page of our newspapers and the top of our television news programs, and it is devastating families and laying waste to entire communities.
Back then, however, Percocet was new on the market – and generally considered to be less addictive than other medications.
Medication prescribed to him for back pain was becoming the problem that would define two decades of his life. But even Margotta couldn't tell that at the time.
"Unbeknownst to me, I had an addiction," he said.
His training career, begun in 1986 at just age 24, was clicking along smoothly. Each year, his barn grew more successful, and his runners earned more money. In 1993, Brunswick won the Grade 1 Whitney for his first score at the top of the racing world.
More graded wins followed: the Grade 2 Bowling Green in '94, a couple of Grade 3 races in '95. And then in 1998 – "the year that I call the beginning of the end," Margotta said – another Grade 1, this time the Malibu at Santa Anita, with Run Man Run.
Like his speedy runners, he could run, man, run, but the addiction was about to overtake him nevertheless.
Runners he trained made 133 starts in 1998, earning over $630,000.
In 2000, he was suspended for 120 days, the result of several positives he'd incurred at Saratoga in '98. Over the next eight years, his horses made a total of just 25 starts, earning less than $40,000.
He'd lost his business. He'd lost properties, and his marriage. He'd spent all his money.
By 2007, he said, "I'm broke, and I have no access to the pills anymore."
But he couldn't stop – not yet. The withdrawals were "so horrible you think you're going to die," he said. He wasn't using for the pleasure of it, merely to alleviate the pain of withdrawal. And then he found another opioid, a cheaper one.
"You go to something that's cheaper that you can get," he said. "And that's heroin. For $80, you can buy enough heroin for a guy that's just starting to do it that it lasts you for a week."
It got worse.
"During them times, I was struggling with the demons," Margotta said.
In the space 10 months of 2008, Margotta's already tenuous grasp on something approaching a normal life gave way. His father and uncle – the two men who'd introduced him, as a 14-year-old in 1976, to horse racing – both died.
And his brother Pat – like him, a recovering heroin addict – relapsed. In early June of that year – hours after they had had a nasty fight over Anthony's unwillingness to give his brother a ride to Newark to score some drugs – Pat Margotta overdosed on heroin and died.
"That hurt pretty bad," Margotta said. He was at sea.
"These guys were always there for me," Margotta said of the three men he'd lost
And then they weren't. Margotta – fresh out of rehab – turned to alcohol, and plenty of it. By January 2009, he'd hit something that might be called rock bottom, finding himself in the hospital with alcohol poisoning.
"NOTHING BUT MIRACLES"
On a sunny June day at Delaware Park, Teresa Z, one of 21 horses in Margotta's Monmouth Park barn, won the $100,000 Obeah Stakes.
As the four-year-old Smart Strike filly was led into the winner's circle, Margotta looked skyward. It's a common enough gesture in horse racing, one often made towards deceased relatives or loved ones a jockey or trainer is recalling in that moment.
Though Margotta certainly has his share of those, he said he was looking beyond them.
"There's one in particular," he said. "Jesus Christ, for sure."
The word "miracle" comes up a lot in discussing Margotta's journey. The social worker who pulled a few strings because she happened to know Margotta's father, a former school teacher. The folks at Integrity House, the Newark rehab center where he stayed for seven months in 2009. The drunk driving accident that didn't injure anyone but did lead to his being incarcerated for six months – separating him from the addictive substances he was battling.
All miracles.
"From 2014 to the present is nothing but miracles," the trainer said. "I've struggled with addiction and alcoholism, and I've been to the depths of hell. I was fortunate that God graced me and took away the obsession."
Margotta got clean following his 2009 stay at Integrity House, relapsed a couple of years later – "I was drinking morning, noon, and night," he said, "and I was looking to take Percocet pills again" – and finally in 2014 poured out the last of his vodka bottle.
"A LONG WAY INTO THE WOODS, AND A LONG WAY OUT"
J. J. Crupi, who owns and operates Crupi's New Castle Farm in Ocala, FL, gave Margotta his start in the business. Crupi, who won several leading trainer titles at Monmouth Park and the Meadowlands before turning to breaking and sales prep, hired Margotta, just out of Bloomfield (NJ) High School, in 1980 as a hotwalker.
"He was a young boy," laughed Crupi. "Couldn't even spell horse."
A young boy in a hurry – both on his way up and on his way down.
Within six years, Margotta struck out on his own, earning his first victory as a trainer with Bingo B. on July 28, 1986. By '93 he had that first Grade 1 win. And within eight years of that score, he was virtually washed out of the business.
His tale of addiction and relapse might have scared some people away. Yet when Margotta began feeling his way back towards normalcy, Crupi extended a helping hand, inviting Margotta to Ocala to run a barn.
"He needed a job," Crupi explained simply. "I gave him a job."
Margotta is a bit more effusive.
"That guy has never given up on me," he said of Crupi. "He's a father, a brother, and a best friend all wrapped up in one."
Crupi also connected Margotta with one of his key owners, Vincent Viola and his wife Teresa. Margotta says that he has a half-dozen runners, including Teresa Z, who was a $635,000 auction purchase, for Viola's St. Elias Stable operation.
"They have been super-supportive," Margotta said.
So, too, has been Rich Wahl, who races as 2W Stables LLC. His Bronx Beauty has won three stakes, including the Colleen last August – the first stakes win of Margotta's comeback. The first graded win, by Teresa Z in the Grade 3 Monmouth Oaks, came just a week later.
The Delaware Handicap is another matter altogether. The field includes the multiple Grade 1 winner Elate, who was the beaten favorite in last year's Breeders' Cup Distaff, and this year's Grade 1 Apple Blossom winner, Unbridled Mo.
It's also one of the great, historic distaff events in American racing – and that's to say nothing of its gaudy, $750,000 purse.
"It would mean absolutely the world to me" to win the DelCap, Margotta said. "First, for Jimmy Crupi, and the Violas, who gave me the horse when they didn't have to do that."
And of course, there would be the satisfaction, the symbolism of returning to the top of the mountain, winning on the big stage. These days, though, Margotta says he understands the difference between what matters and what he calls "the trappings and temptations."
"I love training horses. I love winning races," he said. "The one thing that gives me more satisfaction is to see someone I'm working with recover" from addiction.
Crupi, for one, is certain that Margotta's troubles are in his past.
"He's over it," Crupi said. "Some people get over it. Some people don't. He's over it."
While acknowledging the "one day at a time" nature of recovery, Margotta agrees.
"I'm free now," he said. "It was a long way into the woods, and it was a long way out."