Delaware Park Handicappers' Notebook 2019 Vol. 1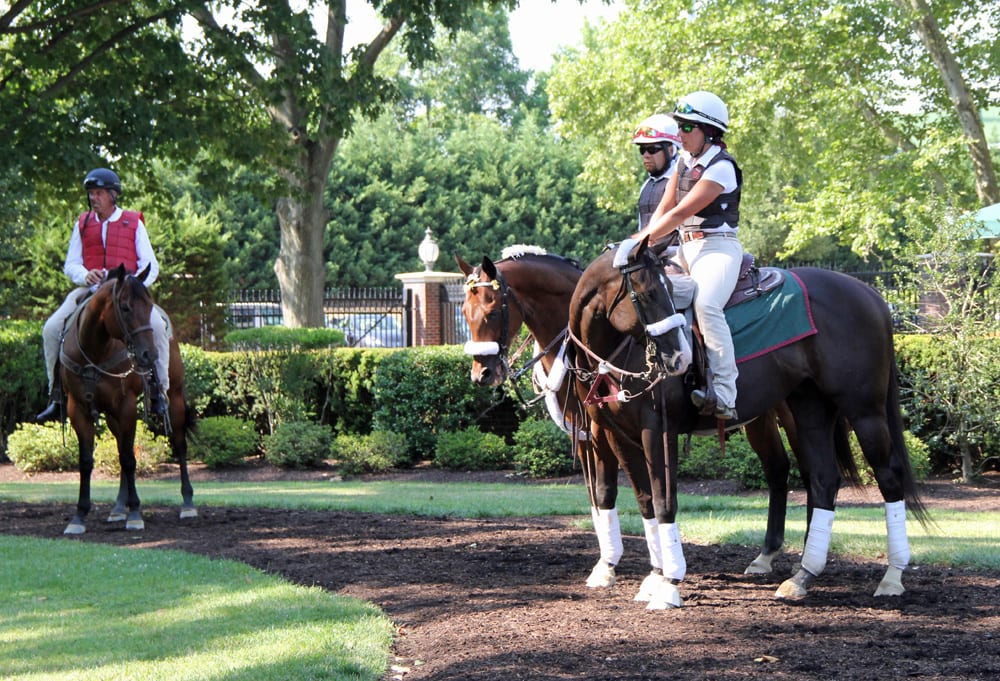 In the paddock on Delaware Handicap day. Photo by Allison Janezic.
Correspondent Doug McCoy returns with his weekly Delaware Park Handicappers' Notebook, featuring horses to watch, bet-backs, and more.
Four horses to watch
ASPECT – Tim Ritchey runner who showed considerable promise last season as a juvenile came out with a big effort in his 3-year-old debut at 15-to-1, moving to the front into the stretch before just being run down in the final strides by Caladan, who was notching his fourth career win. Look for this one to win a small stake soon.
DROP DEAD RED – This one just ran away and hid from a very strong field of optional allowance fillies and mares in her first start for a new stable. There were four stakes placed runners in that group including Sneaky Betty, who was second to Elate in last year's DelCap. Look for this one to move to stakes level competition before long.
SMART TIME – Claudio Gonzalez sent this one out dead ready in his debut and the Bernardini colt ran away from his field under urging from Victor Carrasco to run six furlongs in 1:09.4. Could be a youngster with a future.
HARDCORE FOLKLORE – This one had a spotty record for other trainers but apparently trainer Anthony Pecoraro found something they'd missed as this one was heavily bet for his first start for the trainer and scored a very impressive win, rallying from just off the pace and finishing strong to be up late. May be even better going longer, watch this one.
Three races that may prove productive
EIGHTH RACE, MAY 6, ALLOWANCE OPTIONAL CLAIMING ONE MILE AND FORTY YARDS – This race could very well have been a small stake, given the high quality of the field. Four horses in the six-horse field were stakes placed, and Sneaky Betty had finished second to Elate in last year's Delaware Handicap. Watch anybody who comes out of the field next time out.
EIGHTH RACE MAY 8, ALLOWANCE ONE MILE AND FORTY YARDS – There were several horses in this first-level allowance race with multiple wins, another horse had run third in the Remsen last fall, and the winner of the race was scoring his fourth career victory. This was a very strong group that could well produce several next-out winners.
SEVENTH RACE MAY 11, ALLOWANCE SIX FURLONGS – The winner of this race, Threes over Deuces, was stakes-placed and ran a big race to outkick recent winner Desert Spring from the Stidham barn in 1:09.2. A very solid group of allowance sprinters.
Two horses that may have bright futures
DROP DEAD RED – This one's overpowering performance over a classy group in her first Mid-Atlantic appearance points her out as a horse of stakes potential.
SMART TIME – This youngster's debut was smoking hot, and the way jockey Victor Carrasco kept busy on him through the lane indicates trainer Claudio Gonzalez may well have been using this race to get this Bernardini colt ready for bigger things, like a stakes race in his next start.
And one handicapping tip
CHANGING TRACK CONDITIONS – With the meet in its early stages and with a lot of unsettled weather, handicappers would be well advised to pay close attention to the first two races every day to see how the racing surface is playing. Often track maintenance measures will change the surface from one program to the next, and playing particular attention to things like what part of the track the riders are trying to race over and how much ground late closers are able to make up down the stretch should give bettors some barometer on any track or speed biases for a given program.