Safety the watchword during Timonium breezes for 2yo sale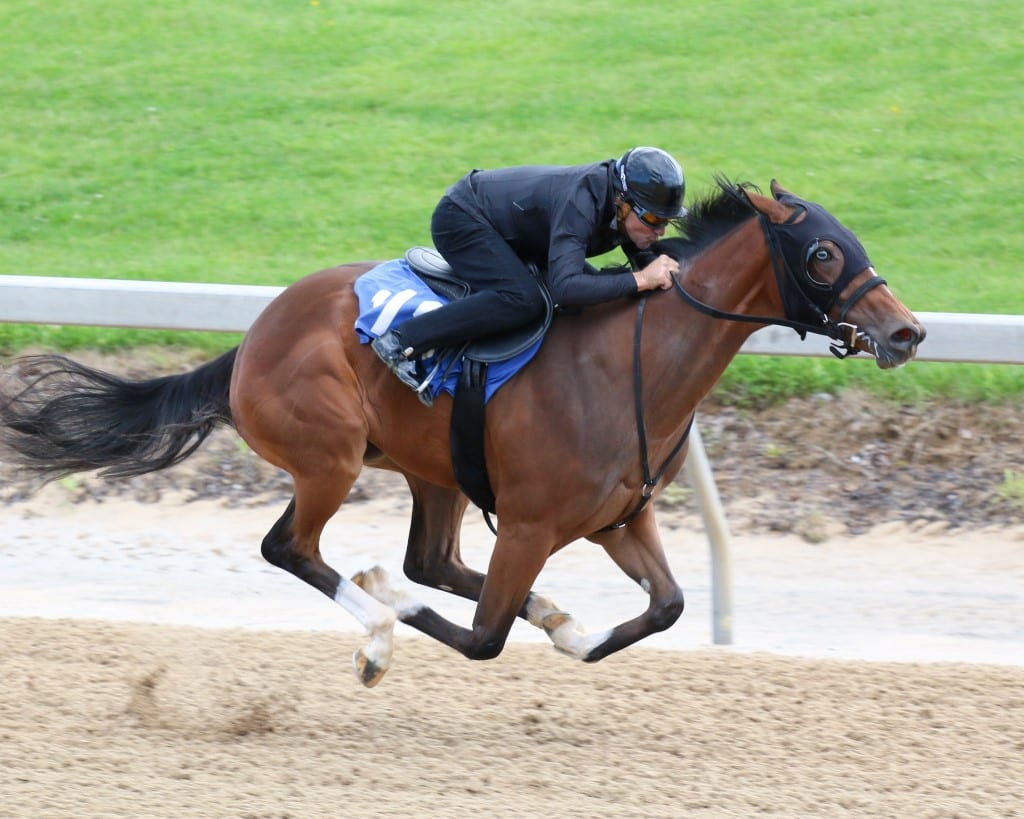 The blue-eyed Hip 118 was among the fastest to work a furlong during Tuesday's breezes. Photo by George Adams.
The Fasig-Tipton Midlantic Two-Year-Olds In Training Sale wrapped up its under tack show early in the afternoon of Thursday, May 16 at the Timonium State Fairgrounds, and the buzzword on the three-day affair from both auction officials and consignors was "safety."
"We had a safe track all three days," said Fasig's Midlantic Sales Director Paget Bennett.
Even though, as Bennett noted, "Timonium can take a lot of moisture," Tuesday morning's initial session of the breeze show had its start time delayed from 8:00 o'clock until 10:00 to give the track maintenance crew additional time to work on the surface after heavy rains hit the area over the weekend and into Monday.
That move was praised by consignors, including Courtney Young of the locally-based C&C Stables LLC.
"It was smart to delay the start," said Young, whose four-horse consignment features horses that breezed on each of the three days. "Safety first."
David McKathan of Grassroots Training & Sales LLC echoed that sentiment, and called Timonium's surface this week "the safest it's ever been."
Unfortunately, Thursday's session was marred when hip 426, a Tale of the Cat colt out of Rock and Glory from the Crane Thoroughbred Services LLC consignment, broke down on his gallop-out after a :10 2/5 breeze and had to be euthanized. The exercise rider was uninjured.
But nobody appeared to blame the track condition for the incident. In fact, McKathan called Thursday's track's condition the best of the three days.
Consignors were pleased with the track surface start-to-finish even though it clearly changed from one day to the next, starting slower on Tuesday and quickening up over each of the next two days. Of the five horses that shared the one-furlong bullet time of :10 flat, and the eight that recorded the fastest quarter-mile clocking of :21 3/5, all breezed on either Wednesday or Thursday (full list below).
Young noted that, although she had to send out a pair of colts over the first day's "heavy" surface, she was happy with the track condition despite the slower times those colts clocked relative to horses that breezed on the following two days.
McKathan's Grassroots consignment included two of the four juveniles who clocked Tuesday's bullet time of :10 1/5 for their one-furlong works: a New York-bred filly by Competitive Edge (hip 106), and a Pennsylvania-bred filly by Weigelia (hip 118). That both are bred in local markets rather than in Kentucky is no coincidence.
"We try to hit the regional market (when shopping for yearlings to pinhook at the Timonium sale)," according to McKathan. "None of the horses in our consignment has been in another sale this year. We don't have a re-tread in the bunch."
Young also specifically targeted Maryland- and Pennsylvania-bred runners for her C&C consignment.
"Last year's Maryland-breds sold really well. The Maryland (owner and breeder) bonuses are amazing. I expect the Maryland-breds to get a ton of action," she said, also citing the Pennsylvania award program positively.
Fasig-Tipton's Bennett expects a strong sale across the board.
"We have a lot of hotel rooms booked (for potential buyers)," she noted. "There are a lot of agents up there," nodding towards the Timonium grandstand where the breeze shows were watched and clocked.
With this weekend's Preakness Stakes at nearby Pimlico in the rearview mirror, the action will return to Timonium on Monday morning at 11 o'clock for the first of the sale's two sessions. Bennett says she will be ready.
"Let the fireworks begin."
FASTEST WORKERS
Horses that breezed one furlong in :10 flat:
Hip 360 — filly by Into Mischief out of Peggy Jane, consigned by Bobby Dodd.
Hip 467 — filly by Violence out of Significant Other, consigned by Crupi's New Castle Farm.
Hip 535 — filly by The Big Beast out of Therese, consigned by Wavertree Stables Inc.
Hip 574 — colt by Flatter out of Veronica's Lake, consigned by Sequel Bloodstock
Hip 590 — filly by Wicked Strong out of With Wonder, consigned by Bobby Dodd.
Horses that breezed a quarter-mile in :21 3/5:
Hip 213 — colt by Union Rags out of Isabelle's Thunder, consigned by Kirkwood Stables.
Hip 322 — colt by Into Mischief out of Nihilist, consigned by Top Line Sales LLC.
Hip 334 — filly by Street Sense out of Now I Know, consigned by All Dreams Equine.
Hip 355 — colt by Bayern out of Pardonmecomingthru, consigned by de Meric Sales.
Hip 364 — filly by Palace Malice out of Perfectly Natural, consigned by SBM Training & Sales LLC.
Hip 396 — colt by Awesome Again out of Queen Buxley, consigned by Pick View LLC.
Hip 424 — filly by Cairo Prince out of Rico's Posse, consigned by de Meric Sales.
Hip 445 — colt by Daredevil out of Seattle Charlie, consigned by Richardson Bloodstock.