Omaha Beach retains top in pre-Derby NTRA Top Thoroughbred Poll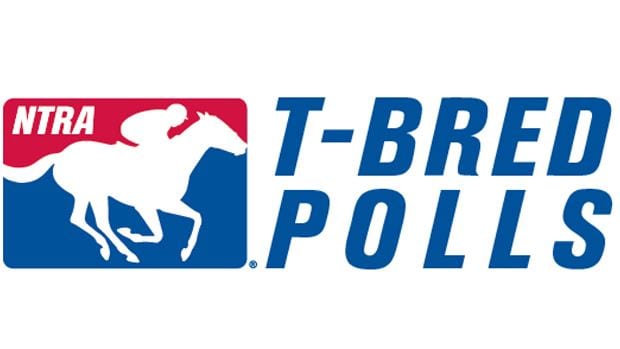 From a National Thoroughbred Racing Association release
Days out from the 145th edition of the Kentucky Derby Presented by Woodford Reserve, the high opinion of Grade 1 Arkansas Derby winner Omaha Beach continued to dominate the National Thoroughbred Racing Association (NTRA) Top 3-Year-Old Poll.
There was no change in the top 10 this week with Omaha Beach remaining atop the 3-Year-Old Poll with 26 first-place votes and 384 total points. Grade 1 Santa Anita Derby winner Roadster – one of three Bob Baffert trainees in the top 5 – remains in the second position with 3 first-place votes and 314 points while Juddmonte Farms' Tacitus sits third with 5 first-place votes and 291 points.
Reigning juvenile male champion Game Winner (3 first-place votes, 281 points) and stablemate Improbable (223 points) are fourth and fifth, respectively, with Grade 1 Xpressbet Florida Derby winner Maximum Security (2 first-place votes, 172 points) sitting in sixth. Vekoma (137 points), Code of Honor (93), War of Will (75), and By My Standards (42) round out the top 10.
Win Win Win (39 points), who was part of some drama on Sunday when he gave Tacitus and his stablemate Country House some unexpected company in their final major workout, received a single first-place vote.
There were no major shifts in this week's NTRA Top Thoroughbred Poll as Grade 1 winner Bricks and Mortar earned 13 first-place votes and 312 points to retain the top position. Grade 1 Santa Anita Handicap winner Gift Box (5 first-place votes, 304 points) also held steady in second with fellow Grade 1 winner Midnight Bisou (3 first-place votes, 265 points) in third.
Champion filly Monomoy Girl (5 first-place votes, 206 points) is fourth with McKinzie (186 points) in fifth. Champion sprinter Roy H (161 points) is sixth followed by City of Light (10 first-place votes, 159 points) and Thunder Snow (IRE) (2 first-place votes, 93 points). World of Trouble (89 points) and X Y Jet (1 first-place vote, 84 points) complete the top 10.
Omaha Beach (25 points) earned a single first-place vote.
The NTRA Top Thoroughbred polls are the sport's most comprehensive surveys of experts. Every week eligible journalists and broadcasters cast votes for their top 10 horses, with points awarded on a 10-9-8-7-6-5-4-3-2-1 basis. All horses that have raced in the U.S., are in training in the U.S., or are known to be pointing to a major event in the U.S. are eligible for the NTRA Top Thoroughbred Poll.
The NTRA Top Thoroughbred Poll concludes November 4 after the running of the Breeders' Cup.
The Top 3-Year-Old Poll concludes June 8 after the Belmont Stakes.
NTRA TOP THOROUGHBRED POLL
Bricks and Mortar
Gift Box
Midnight Bisou
Monomoy Girl
McKinzie
Roy H
City of Light
Thunder Snow
World of Trouble
X Y Jet
NTRA TOP THREE-YEAR-OLD POLL
Omaha Beach
Roadster
Tacitus
Game Winner
Improbable
Maximum Security
Vekoma
Code of Honor
War of Will
By My Standards