Midnightcharly logs first stake win in Lyman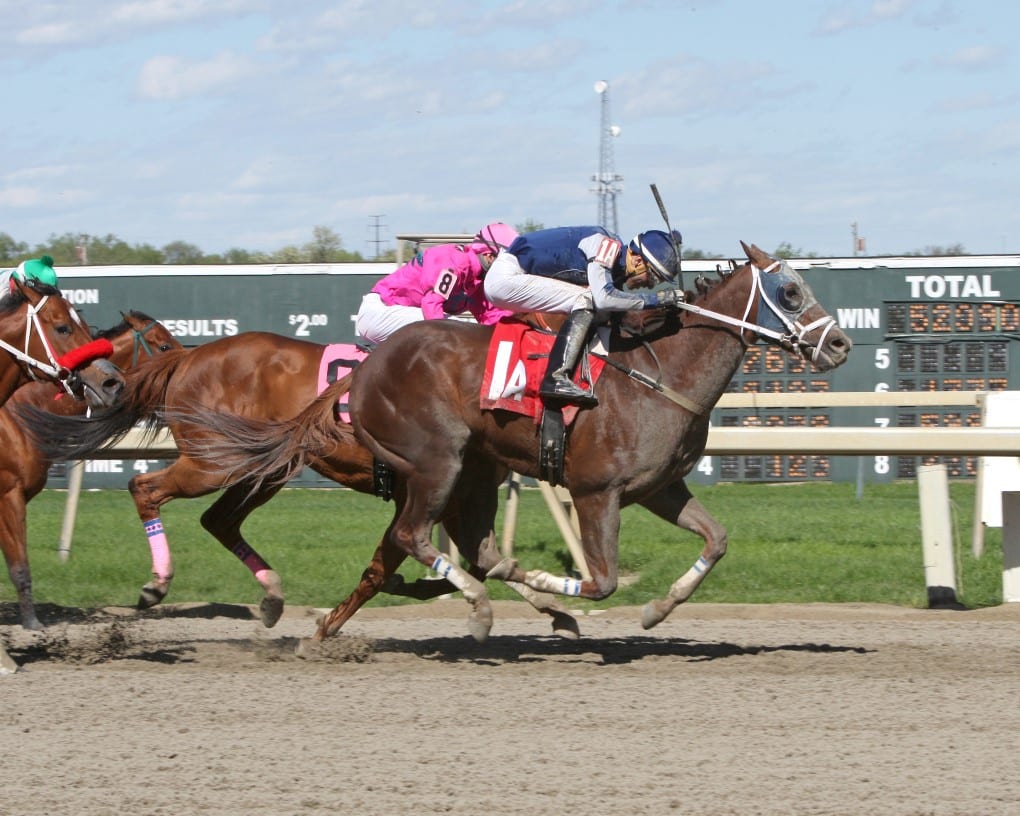 Photo of Midnightcharly by Equi-Photo.
Parx Racing opened its stakes schedule with a pair of stakes for state-breds Saturday afternoon, the $100,000 Lyman Handicap and the $100,000 Foxy JG Stakes. The Lyman for the boys, the Foxy JG for the ladies, both were contested at seven furlongs.
The Lyman Stakes was won by Midnightcharly. The 4 year-old gelded son of Uptowncharlybrown rallied from next to last at the half mile pole and got up in the final strides for the victory.
Running into a stiff head wind in the long run down the backstretch, the lead was hotly contested, with Cowboy MZ pressured through fractions of 22.57 and 45.24. Winning jockey Mychel Sanchez was content and patient to linger toward the back, a good five or six lengths behind with a half-mile to go, but racing in behind horses and out of the wind. Moving well rounding the far turn, Midnightcharly needed to find some room to run and Sanchez was forced to swing out about four wide to get clear sailing near the quarter pole, but was still about five lengths behind.
Cowboy MZ fought off all comers passing the eighth pole and had moved away to a two length lead, but the early pace was starting to take its toll. Both Long May You Run and Midnightcharly were now gaining on the outside. Long May You Run managed to get the lead inside the final sixteenth, but he could not hold on. Midnightcharly surged past nearing the wire and went on to win it by a half-length. Owned by Uptowncharlybrown Stud & Godric and trained by Ed Coletti, he went off as part of a 7-5 favored entry and paid $4.80 to win. The final time for the seven-eighths over a fast track was 1:24.17.
Midnightcharly, a four-year-old Uptowncharlybrown gelding, now has five wins and four seconds from nine career starts for earnings of $243,480.
Mario Mangini's Zipper's Hero, a 6 year-old daughter of Partner's Hero, overwhelmed her eleven rivals in what, on paper, looked to be a very competitive Foxy JG. The front running mare made the lead after the opening eighth of a mile and never looked back. Under Johan Rosado, she was in front by just over 2 lengths after the first quarter in 22.4, stretched that to three in front past the half-mile pole and after a 46.0 half, had increased the margin to four.
Nobody would threaten her the rest of the way. Rolling into the final furlong with a six-length lead, she stayed on well to the end, and while Sweetest Yet made a valiant effort to make a race of it late, the result was never in doubt. Zipper's Hero official margin of victory was two and a half lengths, but it was a totally dominating performance that was essentially a one-horse race. Trainer Ed Coletti turned the rare Lyman/Foxy JG double, winning both ends of the PA-bred stakes for two different owners. Zipper's Hero went off at 8-1, paid $19.60 to win and finished out in 1:25.0.
Zipper's Hero, bred by Peter Giangiulio, now has nine wins and $401,892 in earnings from 26 starts.