After eventful last work, "fit and sharp" Win Win Win awaits Derby day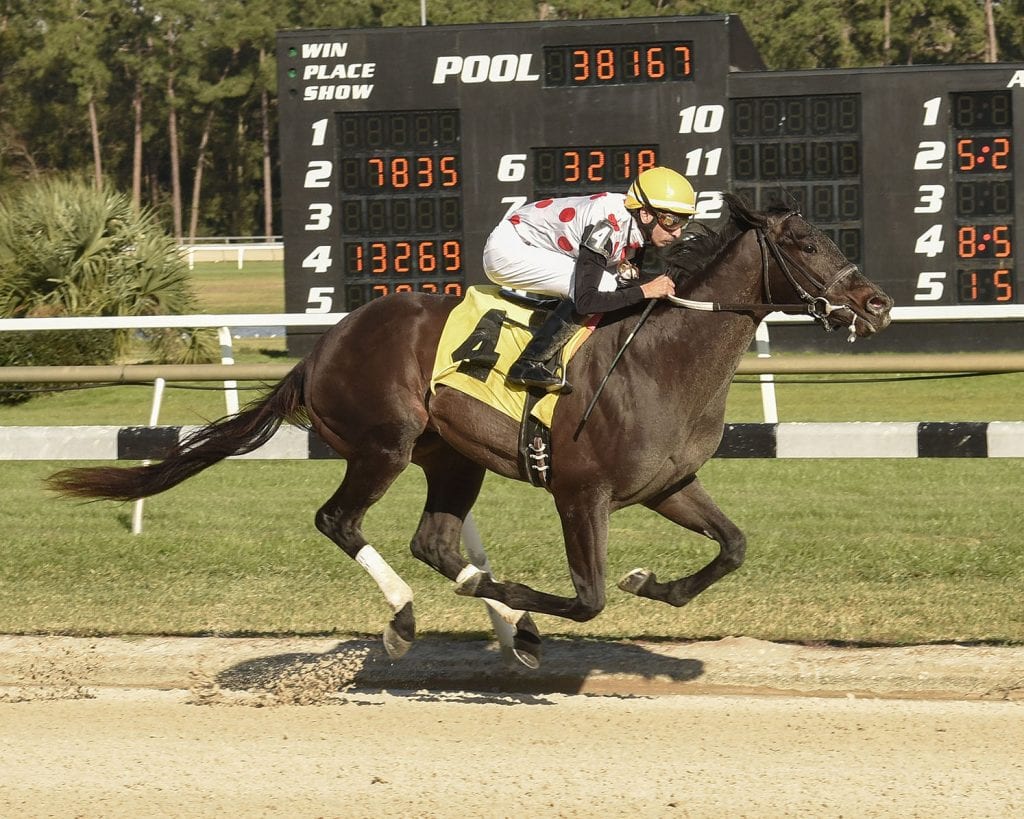 Win Win Win. Photo provided by Maryland Jockey Club.
Win Win Win, Mid-Atlantic racing's hope to win the 2019 Run for the Roses, had his final – eventful —  breeze before next Saturday's Kentucky Derby Sunday morning, working a very solid half-mile in :47.60 under Julian Pimentel while working with stablemate Souper Courage, a maiden.
It turned out to be a notably unusual work, as the pair were joined for part of their drill by Bill Mott's two Derby starters, Tacitus and Country House. Those two, working five-eighths, cruised past Win Win Win and Souper Courage along the inside, but Win Win Win actually hit the wire a length in front of Country House and Tacitus with Souper Courage several lengths back.
Tacitus and Country House had broken off earlier than Trombetta's pair, working five furlongs in 1:00 flat.
The work will be the final breeze for Win Win Win.
"He came back good," Trombetta noted. "That was the last serious move before the race for him. Now next week it'll just be maintenance training up to Saturday."
The veteran horseman said he wouldn't blow his charge out on Thursday or Friday,
"He's fit and he's sharp right now, he doesn't need anything else," Trombetta explained.
This will be the second trip to the "big show" for Trombretta. Thirteen years ago the trainer came to town with Sweetnorthernsaint, a horse that captured the fancy of the numbers pundits after earning a 107 Beyer speed figure for his runaway win in the Illinois Derby. The figure represented the highest Beyer number earned by a three-year-old that spring, and though it was posted over a speed-favoring Hawthorne surface, the public jumped on the Sweetnorthernsaint bandwagon. The gelding was the post time favorite for the 2006 Derby but wound up finishing seventh in the race won by the brilliant but ill-fated Barbaro.
Fast forward to 2019.
This time Trombetta brings a scrappy street fighter in Win Win Win, who hasn't had the best luck or trips in his last two starts but is a tough individual who has finished strong in both the Grade 2 Tampa Bay Derby (where he ran third to Tacitus) and in the Grade 2 Blue Grass (where he got up late for second behind Vekoma).
In the Tampa race Win Win Win was in tight quarters and shuffled back badly in the first turn, and in the Blue Grass the Live Oak Plantation runner was just starting to roll in the second turn when he ran up behind tiring rivals and was stopped dead in his tracks. By the time jockey Irad Ortiz swung Win Win Win outside and got him back in gear, Vekoma had drawn away from the field. But through the lane the only horse who was making up any ground was Win Win Win.
Ortiz won't be on Win Win Win Saturday, opting to ride Improbable for trainer Bob Baffert. Instead, Win Win Win, a colt by Hat Trick, will reunite with old friend Julian Pimentel. It was Pimentel who was aboard Win Win Win for his first four starts – including his blowout, seven-length win in the Pasco Stakes at Tampa Bay Downs, in which he got seven furlongs in a dazzling 1:20 4/5.
Trombetta said he feels comfortable using Pimentel Saturday instead of one of the "A" list riders. Trombetta and Pimentel have been one of the most successful jockey-trainer combos at Laurel Park of recent vintage.
"He's familiar with the horse, he knows him as well as anyone, and he's a pro," the trainer pointed out. "The Derby isn't a rider's race anyway. It's a race unlike any other and anything can happen. There's one thing about our horse. He's already shown he's got no quit in him. He's encountered trouble in each of his last two and never gave up. If the race turns out to be wild and rough, I know our horse won't be intimidated by that, and you can't say that for every horse in the field."
Trombetta was asked if he felt his experience from 2006 would help him deal with all the hoopla surrounding the race.
"I don't think there's much you can do about a lot of the distractions, it's just part of being involved in a race this big," he observed. "The one nice thing is we're not all stabled in the Derby barn anymore. The Derby horses are spread around in different barns so that makes things a little quieter and calmer than in the past. As for being older and wiser than I was the first time I was here, I'm certainly older. As for being any wiser, I don't know about that."
Final breeze for Win Win Win