Maryland horsemen, breeders oppose partial Lasix ban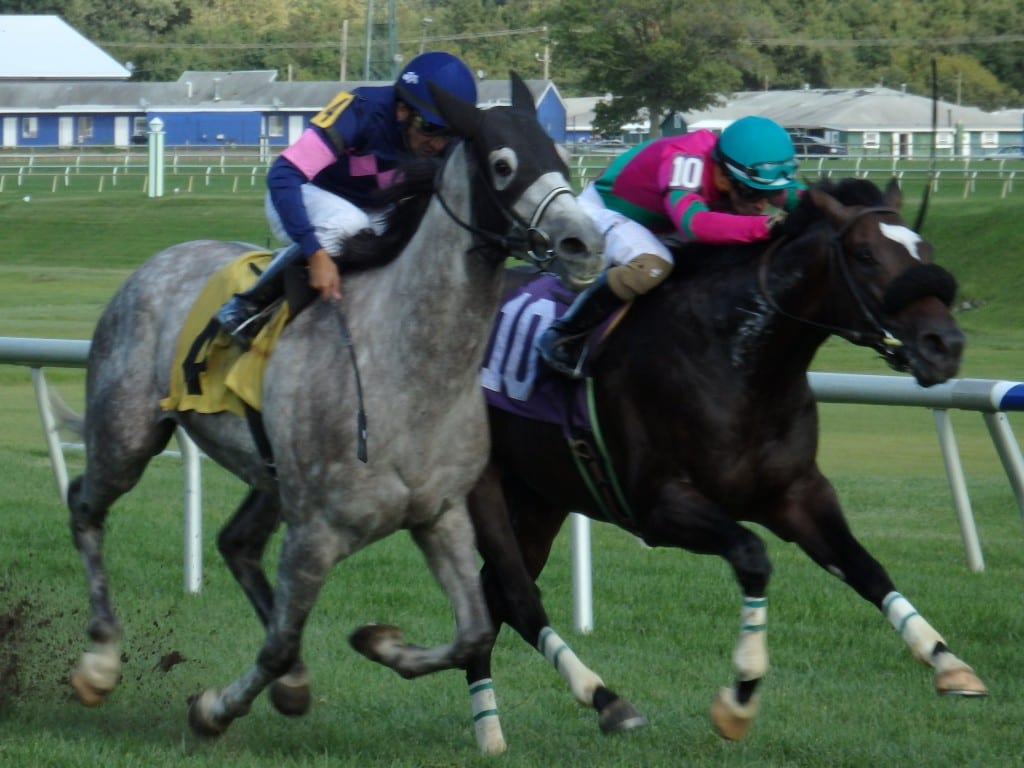 Photo by The Racing Biz.
The presidents of the Maryland Thoroughbred Horsemen's Association and Maryland Horse Breeders Association today released a joint statement decrying a recent proposal from the Stronach Group and other racetrack operators that would amount to a partial prohibition on the use of raceday Lasix.
"We support the current strict and uniformly enforced regulatory protocols for the administration of Lasix on raceday," wrote MTHA head Tim Keefe, a trainer, and MHBA president Michael Harrison, a veterinarian.
The Stronach Group, which owns and operates Maryland's two major racetracks, Laurel Park and PImlico Race Course, joined with several other track operators – including the New York Racing Association and Churchill Downs, Inc. – on April 24 to propose a phasing out of the use of the anti-bleeder medication furosemide, commonly known as Lasix.
That phaseout would begin with a prohibition on the use of Lasix in two-year-olds beginning in 2020. The following year, the prohibition would be extended to include all stakes races run at the participating tracks.
Currently in Maryland, raceday Lasix must be administered by a third-party veterinarian. It is widely used in Maryland and elsewhere, with virtually all horses receiving it.
Lasix has been a matter of some controversy in recent years. While organizations such as the Jockey Club liken the use of the medication to "doping" horses, many horsemen – particularly those who fill most of the races at most of the nation's tracks — argue that Lasix is an essential and humane tool in combating a problem that occurs to at least a limited extent in most horses.
The Congressional legislation pushed by the Jockey Club and its allies – known as the Horse Racing Integrity Act – would prohibit the use of raceday medications, including Lasix.
Yet while the track operators participating in the proposed ban praised each other for their "progressive" and "significant" step, they apparently neglected to consult with horsemen, or with state regulators who are likely to have something to say on the topic before all is said and done.
The situation in the Mid-Atlantic is especially fraught. While tracks in Maryland and New York aim to participate in the partial ban, those in Pennsylvania, Delaware, and West Virginia have not yet spoken publicly on the issue. And New Jersey's Monmouth Park has already announced it will not participate.
"We… will vigorously oppose any change to current regulatory policy in Maryland, absent a regional agreement to do so," Keefe and Harrison wrote in their statement.
Calling Lasix "the only safe and effective medication scientifically proven to mitigate the adverse effects of exercise-induced pulmonary hemorrhage (EIPH)," Keefe and Harrison wrote, "The proposed ban, if implemented, is an experiment capable of resulting in irreparable harm to many of our horses; most importantly 2-year-olds, where mitigation and prevention of EIPH is most important and necessary."
The two organizational leaders also expressed their dismay that the Stronach Group signed on to the anti-Lasix initiative without consultation with horsemen and "contrary to the manner in which we have been conducting ourselves in Maryland."
They added, "[I]t is most disappointing that The Stronach Group at no time has sought to engage or have any discussions with us regarding their recent divisive decision to seek to implement a ban on the use of Furosemide (Lasix)."
The major industry stakeholders in the state have established a "collective partnership" under the "landmark 10-Year Agreement" that has greatly benefited the industry as a whole, Keefe and Harrison wrote. The Stronach Group's unilateral effort to impose a partial Lasix ban violates that spirit of cooperation, they argued.
"In Maryland, we put our horses first," the two men wrote in opposing the proposed Lasix rule. Which, as it happens, is more or less exactly what the rule's proponents claim they are doing, as well.
All of which means this story still has several chapters to go.