Jockey Jenn Miller takes "long journey" home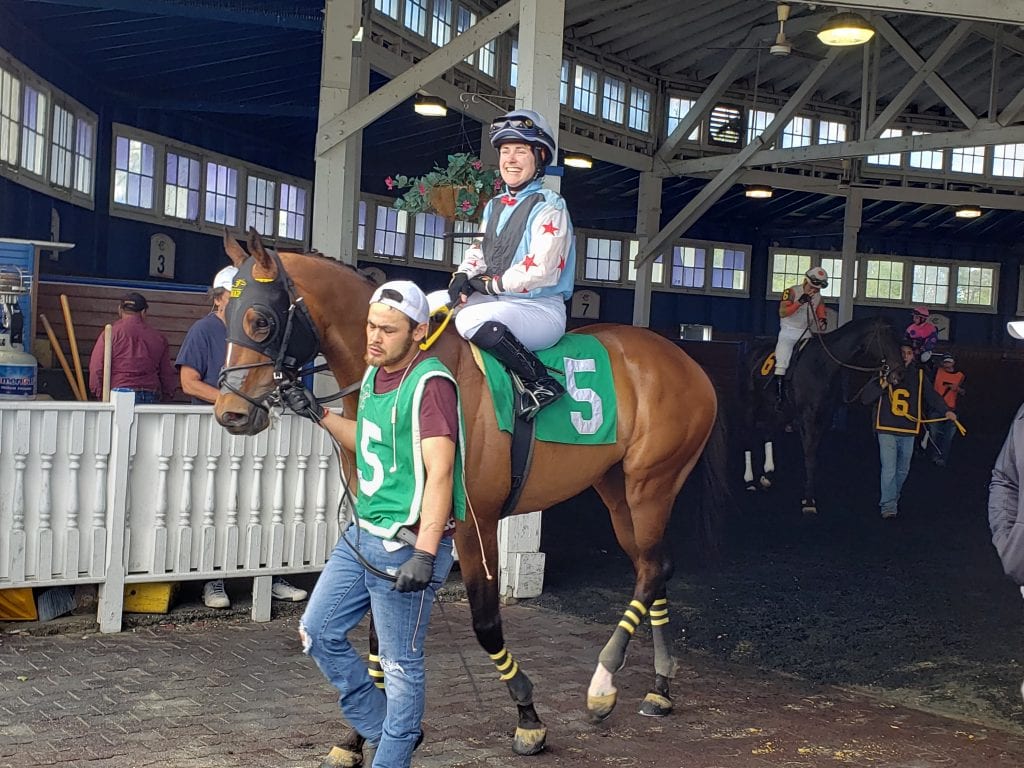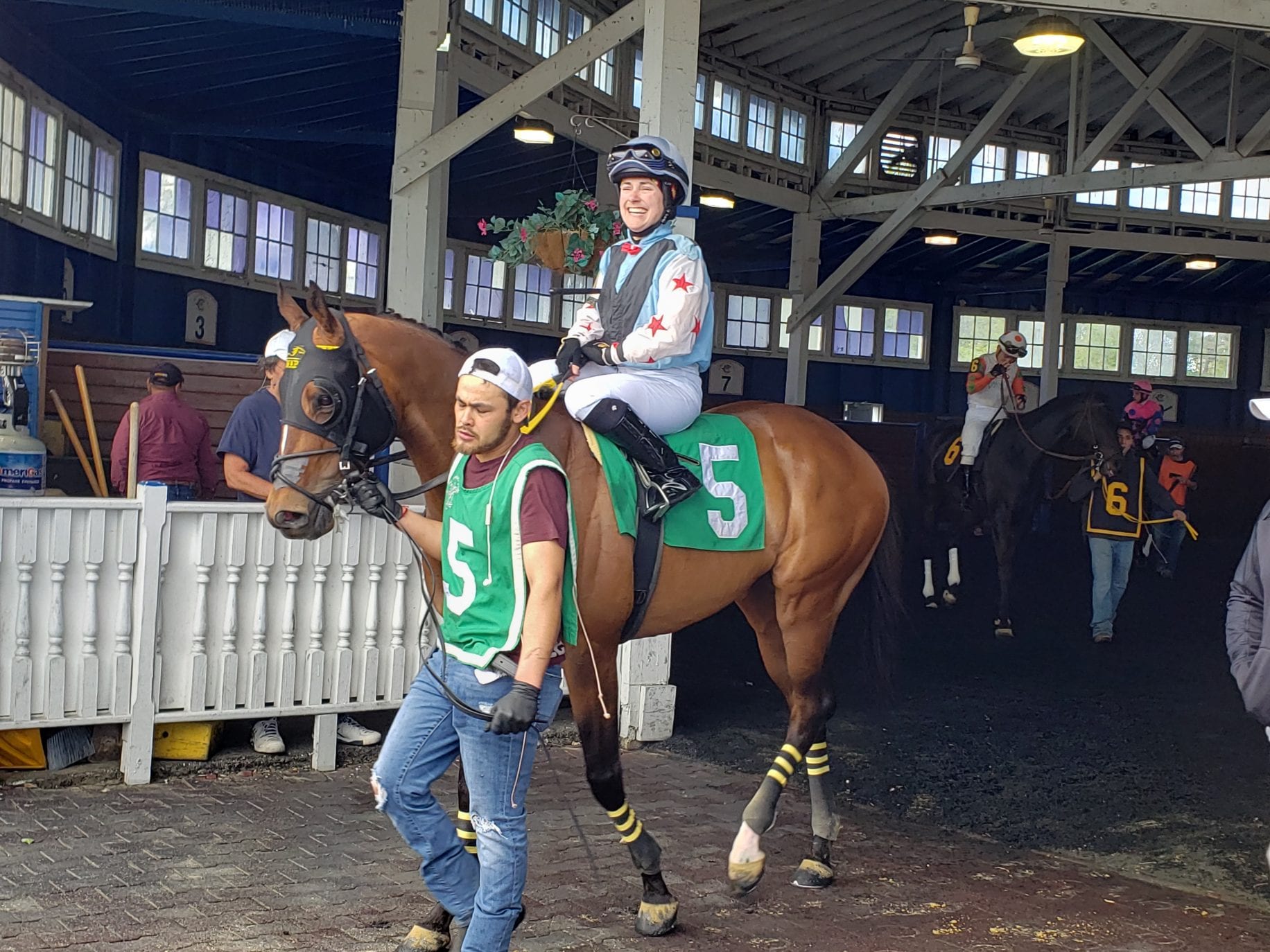 Jenn Miller smiles as she and Moneymeister make their way to the track. Photo by The Racing Biz.
Jenn Miller doesn't have any memory of the spill that nearly cost her… well, everything.
It was November 25, 2017, and Miller, an apprentice jockey, was aboard a four-year-old gelding named Green Time in the second race at Charles Town. Just after crossing the wire in a fifth-place finish, Green Time broke down, throwing Miller to the dirt, and she was kicked by an oncoming horse.
She suffered bleeding on the brain in two places and a severe concussion. She broke her lower jawbone in two places.
And she has a memory gap that in essence stretches from Thanksgiving – two days before the accident – to Christmas, a month later.
"I think those memories are gone forever. And that's okay," Miller said April 22. "I think it's something the brain does to kind of protect you. I mean … I don't remember. And I don't have any bad memories to associate with being on a horse."
On Monday at Laurel Park, Miller rode in a race for the first time since the spill. She piloted the Wayne Potts-trained Moneymeister to a second-place finish in a $5,000 claiming event.
After, she was all smiles.
"I could not be happier – so excited to be back," she said.
It's been, she said, a "long journey." She was in the hospital for two weeks after the injury, and then a rehab facility for another week.
"When I first got out of the hospital, I couldn't stand on one shoe while I put the other shoe on," she recalled. "I didn't have the balance. I couldn't remember things from one day to the next. I had no coordination. I couldn't listen, like, if I was talking to somebody and there was a lot of noise around, I couldn't filter the noises."
For several more months, she could only do exercises prescribed for her rehabilitation. Indeed, she was forbidden from lifting anything weighing more than five pounds – "Because if I lifted more than five pounds at a time, they were afraid it was going to set off the brain bleeds again," she said – and so it wasn't until late March of 2018 that she was able to start working out.
For all that, one thing "was never a question": she intended to ride again.
In fact, she said her original goal had been to come back for the 2018 turf season at Laurel Park. That slipped, and slipped again.
She didn't get on a horse of any sort until midway through the turf season nor a racehorse until the season was nearly over.
"I started getting on, just some really old, perfectly quiet, un-fit trail horses," she said. "I didn't sit on a racehorse until … October?"
That was at the Boniface family's Bonita Farm in Darlington, MD.
"They were great about putting me on calm horses, Horses that they knew weren't so fit, so, because they knew I couldn't handle that much," Miller said.
By November, she was back at Laurel galloping horses six days a week.
"I mean, really every step of the way has just been incredible," she said.
Her commitment to returning never wavered. During the brief race meeting in Timonium, Miller worked in the "Horse Land" tent, dressing in jockey's silks and explaining to children and their parents what it was like to be a jockey.
She said she loved the interactions with fans and kids, but being around live racing had its challenges.
"It was a little harder if I actually tried to watch the races, because I wanted to do that, but wasn't allowed to do that yet," she remembered.
She picked up a new hobby during her time out – painting – and like a lot of things in Miller's life, it pointed her back to horses. She attended a "paint and sip" class with Potts's assistant, Kristi Schmidt, and exercise rider Lauralea Glaster, found it relaxing, and continued to attend them.
And when the class had a "paint your pet" night? "I painted one of my two-year-olds that's getting ready to run soon," she said. "So, hopefully that race goes well, and I can add a little plaque to his painting."
Miller spreads credit around to people in the industry allowing her to take the time necessary to regain her fitness rather than rushing her: her agent Roniel Gerardo, Dr. Kelly Ryan of MedStar, the Jockeys' Guild, the After the Impact Fund, trainers like Potts and Jeremiah Englehart, the Bonifaces. "It's a bit of a list," she concedes.
"The Maryland racing community, as a whole, is really supportive, I thought. I hope other people find that, too, but I find, as a whole, they're really supportive," she said. "And any time I said, 'Yeah, I'm not ready, I'll come back when I'm ready,' nobody pushes or argues. They're like, 'Okay. Cool. Take your time.'"
Miller's injury occurred just when she seemed to be gaining some traction, picking up more live mounts for a wider variety of outfits. After a bit of a slow start to her career, she had posted 51 wins from 419 mounts in 2017, with purse earnings a bit over $1 million.
She says she feels stronger now than ever before, even as she acknowledges it will take a few races before she's "race-riding fit."
She had the one mount on Monday, and her next scheduled race is this coming Saturday, aboard another Potts trainee, this one a 10-year-old gelding named Aire Bueno.
It will take some time for her to recapture the momentum she was building in 2017, though she still has a five-pound apprentice weight allowance, which should help.
But Jenn Miller figures she's exactly where she needs to be.
"It feels like coming back home," she said. "That's the best way to describe it. It feels like I'm coming back home."