Eastern jocks cast skeptical eye on proposed Cal. whip rules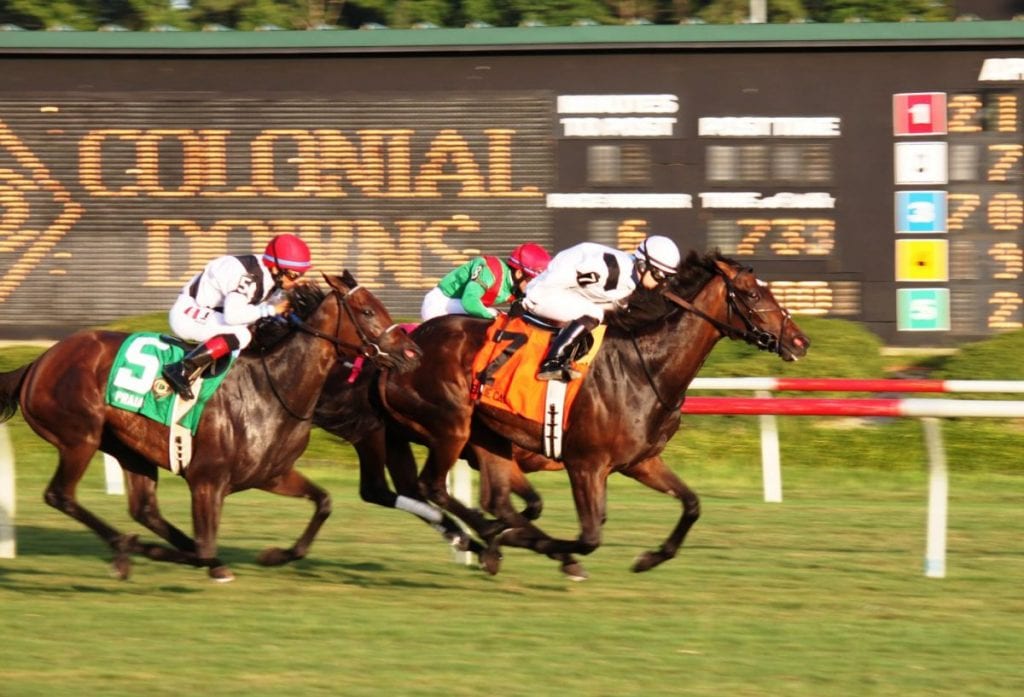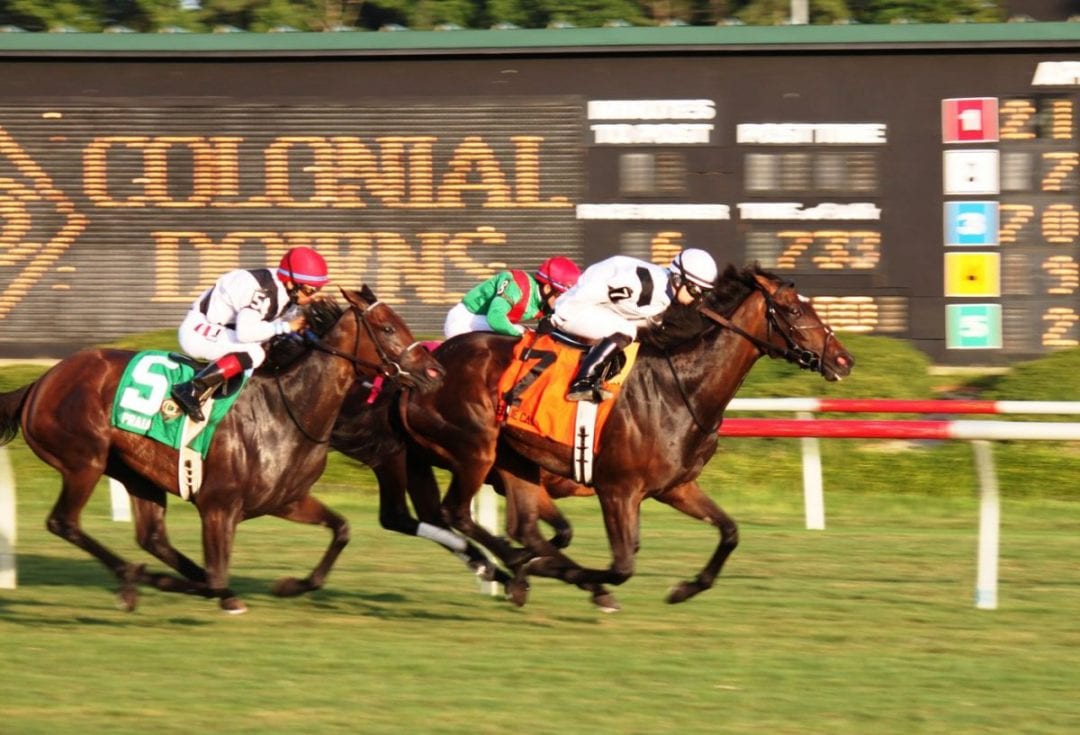 Forest Boyce, aboard Nellie Cashman, upset the Virginia Oaks in 2013. Photo by Nick Hahn. 
The notion of a whipless day of racing at Santa Anita Park received plenty of attention – until they pulled the plug.
Terry Meyocks, the apparently exasperated chairman of the Jockeys' Guild, said that his members would "comply, for the time being" with requests from the state's owners group not to move forward with the day without crops.
If a sampling of Maryland riders is any indication, the jocks at Santa Anita are breathing a sigh of relief. Formal and informal conversations with a variety of local riders and others found little support for cropless riding.
"I think riding without a whip is a bad idea," said rider Forest Boyce.
Boyce, a winner of more than 750 races in a career that began in 2006, is perhaps the most accomplished female rider currently based in Maryland, with five graded stakes wins and career purse earnings of more than $24 million under her belt.
She particularly thinks the crop is necessary when dealing with younger horses.
"Anybody that's ever been on a two-year-old first-time starter in April or May will tell you it's a bad idea [not to carry a whip]," she explained. "You just don't know what they're going to do."
Weston Hamilton, the reigning Eclipse Award winner as champion apprentice jockey, agreed.
"It's good to have a whip for a first-timer because sometimes they're green and they want to get out or something, you need the stick to correct them," he said. "It's a lot safer than not."
It's not just young horses, though. Any horse can wander on the racetracks, and certain runners have a tendency to lug in or to get out.
"It helps with steering, too," Hamilton said. "If a horse is lugging in real bad, you can hit them once and then pull on your right rein, or at the same time, and it helps a little bit, or if a horse is getting out, hit them righthanded. It keeps them straighter."
Exactly right, agreed J. D. Acosta, a veteran rider who has won more than 3,200 races in a career that began in 2002.
"It's not for abusing, it's just for control," Acosta said. "Sometimes a horse tries to get out, and you just touch them on the shoulder, and the horse corrects himself."
A proposal advanced late last month by the California Horse Racing Board would only allow riders to use the whip for steering and not to encourage their mounts. That could put stewards in the uncomfortable position of determining when a rider is simply steering or controlling a horse, as allowed by the rules, versus when the rider is taking an advantage.
But while Maryland jocks generally seemed to favor – or at least not oppose – increased whip restrictions, they were somewhat cool to the California proposal.
"If you have a shot in a race, I'm for the whip," Hamilton said. "Not to overuse it. I try to be as respectful as I can to the animal. I'm just asking them to run."
And Jenn Miller, an apprentice rider who suffered a frightening injury in November 2017 and now is working her way back, made a similar point.
Crops are common in all equine disciplines, she pointed out, and jockeys, with no leg contact with their mounts, have relatively fewer ways to communicate their desires.
"It's a trained cue. Like you teach a dog to sit by saying sit, and some people use a hand motion, and the dog learns that cue," she said. "It's a trained cue for the horse; it doesn't have to hurt them. We can still have the cue as just a way of communication without hurting them."
The crops riders carry now are more sound than fury, and a newer crop, the "360 GT," is under field-testing right now. It was designed "in the interest of safeguarding horses and riders," according to a Jockeys' Guild release.
At the same time, the riders acknowledge that jocks also need to be mindful of the horse's well-being, and aware of how their efforts appear to the public.
"You see a jock down the lane struggling for 5th place hit the horse 50 times: There's no point to that," said Miller.
Some jurisdictions have rules that require the rider to give a horse a chance to respond to the stick before using it again. Others have hard limits on the number of times a jock can hit the horse; France, for example, has had a limit for several years and earlier this year dropped that limit to five strikes.
Maryland jockeys seemed generally open to such rules.
"I think that's a great way to look after the welfare of the horse," Boyce said.
In the end, there's a balancing act. The safety of horse and rider must be paramount, of course, but the integrity of the competition and public perception matter, too.
"You want a stick there just in case you need it. That's my whole thing; I just think it's getting a little dangerous if you say no whips at all," Boyce said. "Around here jockeys are pretty cognizant: these horses are our coworkers."