On eve of hearing, gloves off over Pimlico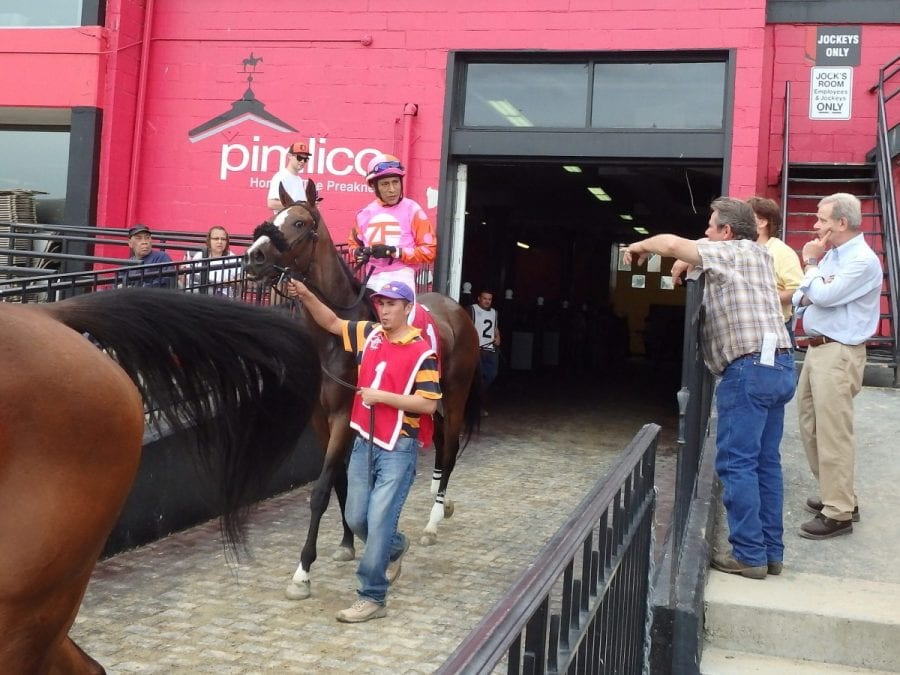 With dueling legislation – and dueling letters – the heat is rising in what is becoming a brawl for the future of Pimlico.
And when one side is using words like "laughable," "disarray," and "patently false" to describe the other, you know the gloves have come off.
It's starting to get ugly and figures to get uglier.
All of which means that the hopes some held that The Stronach Group, City of Baltimore, and State of Maryland would shake hands and backslap their way to a deal look to be out the window. However the future of Old Hiltop is resolved, it's likely to be at sword's point and with one – or quite possibly all – parties not very happy with the outcome.
What specifically are the players looking to accomplish now, and in the long run?
The second phase of the Maryland Stadium Authority's Pimlico study outlined one possible approach to a new Old Hilltop on the existing property – an approach that would level the existing facility, re-orient the track, create a year-round venue… and cost an estimated $424 million. The City is backing legislation — HB 1190/SB 800 – to create a "study group" to figure out how to pay for that proposed new Old Hilltop.
In a February 15 letter to Governor Larry Hogan (R), Senate President Mike Miller (D), and House Speaker Michael Busch (D), Baltimore Mayor Catherine Pugh (D) urged state leaders to pass the City's proposed bills to have the work group "get started on determining from all sources, including (the Stronach Group), how to finance the new Pimlico/Park Heights with its prestigious Preakness Stakes."
But there's the rub.
In a letter the week prior to Pugh's missive, Stronach Group chief operating officer Tim Ritvo made his company's position clear: "We are not aware of any proposal to publicly fund an investment of this magnitude for two days of racing that offer no clear benefit for the remaining 363 days," he wrote.
Instead, his company proposes two pieces of legislation that would allow Racetrack Facilities Renewal Account (RFRA) funds to be used on Bowie and empower the company to work with the state-chartered Maryland Economic Development Corporation (MEDCO), which could issue bonds to help finance a project to improve and modernize Laurel Park and to create, at Bowie, a "world-class training facility."
"The most viable plan for Maryland's racing's future involves: 1) a single 'super track' serving as the premier venue for major racing events; and 2) a new training and equine health center," Ritvo wrote, adding, "Ultimately, a newly renovated Laurel Park is in the best interest of racing and the State of Maryland as a whole."
The combined Laurel/Bowie project, Ritvo said, would cost about $120 million – about 30 percent of the estimated cost of the new Pimlico – an amount that, using RFRA, would be split between the Stronach Group and the state.
The Stronach Group's case is simple. "The future of Maryland racing requires a discussion of topics much broader than a single race or a single racing facility," Ritvo wrote.
In other words, while the Preakness – and by extension, a place to house it – is important, the more important question is, What's best for the long-term future of the state's Thoroughbred industry?
In the Stronach Group's analysis, that means reducing operations to a single track while maintaining a nearby training center, thus reducing overall costs while continuing to have ample stabling for a large number of horses.
And Laurel – with its much larger acreage, location halfway between Baltimore and Washington, DC, and better structural "bones" — makes sense as the "super track" of the future.
The city, not surprisingly, begs to differ.
"The State has an opportunity to support horseracing and breeding by supporting Old Hilltop and its 140-year tradition, and at the same time leave a transformative legacy for Baltimore and Maryland," Pugh wrote. "A redesigned race course and expanded Sinai Hospital would anchor the Pimlico/Park Heights redevelopment that the community desperately needs."
That there's no ready way to square these competing positions is apparent.
The Stronach Group is trying a conciliatory – if vague — approach to what it hopes will be permission to end racing operations at Pimlico.
"The State of Maryland, City of Baltimore, and local communities have been our hosts and partners for many years," Ritvo wrote, "and we want to make it very clear that no matter the outcome of this legislative session and budget decisions made within, (The Stronach Group) is and will remain steadfastly committed to the communities surrounding Pimlico, Baltimore City, and the entire State of Maryland."
Pugh, on the other hand, has been about as subtle as a bulldozer.
"This is an enterprise which has filed for bankruptcy in the recent past and whose significant financial challenges are presently being reported in the media," she wrote of the Stronach Group, claiming the company "is in disarray" and citing "serious allegations of substantial financial waste and dire fiscal circumstances."
In a follow-up letter, which pledged to "shine some light" on the proposal to have MEDCO issue bonds to support the "super track" project, Pugh claims that the Stronach Group would be "vastly enriched" by what she calls "an outrageous raid on State dollars for the benefit of a private Canadian owner with ample resources to take on these projects with its own money."
The competing bills are slated for hearings in the House Ways and Means Committee March 1 in Annapolis. Meanwhile, the Greater Baltimore Committee, which bills itself as "regional business leaders creating a better tomorrow today," is spearheading rallies in Annapolis to "stop the hasty legislative action" that, it says, would doom Pimlico and ensure that the Preakness heads to Laurel.
How all this will play out remains to be seen. But it doesn't appear the sides will get together to sing Kumbaya anytime soon.