Linder strikes thrice: The week in maiden winners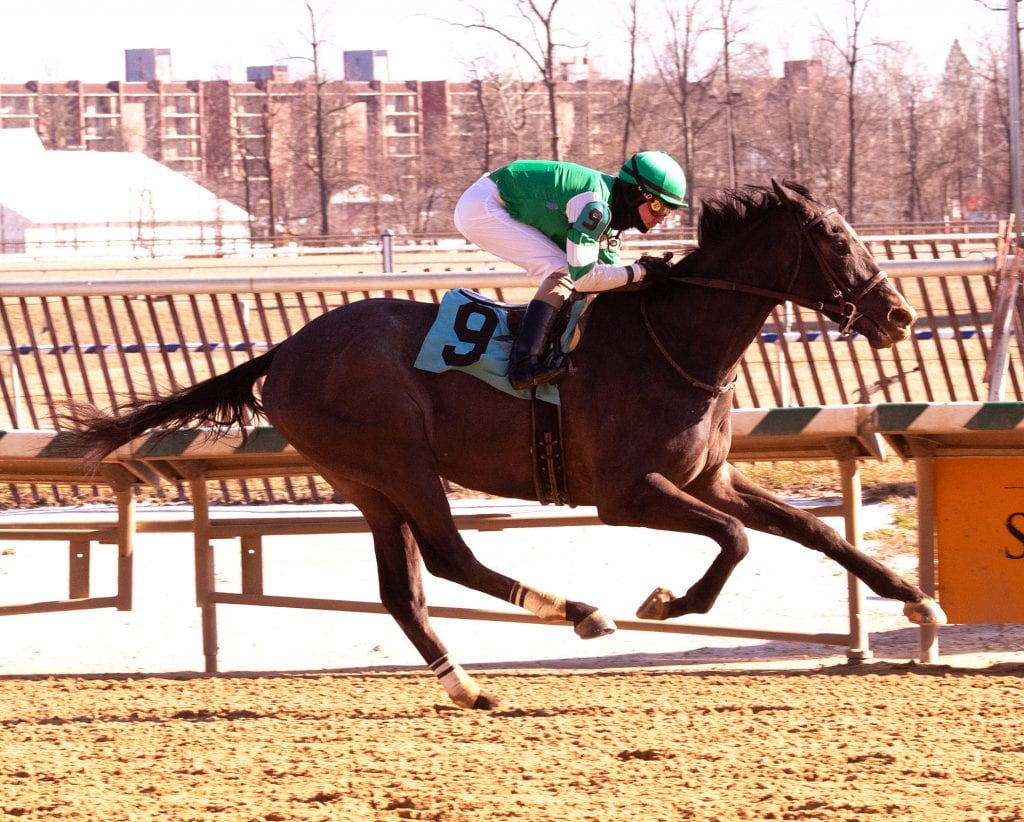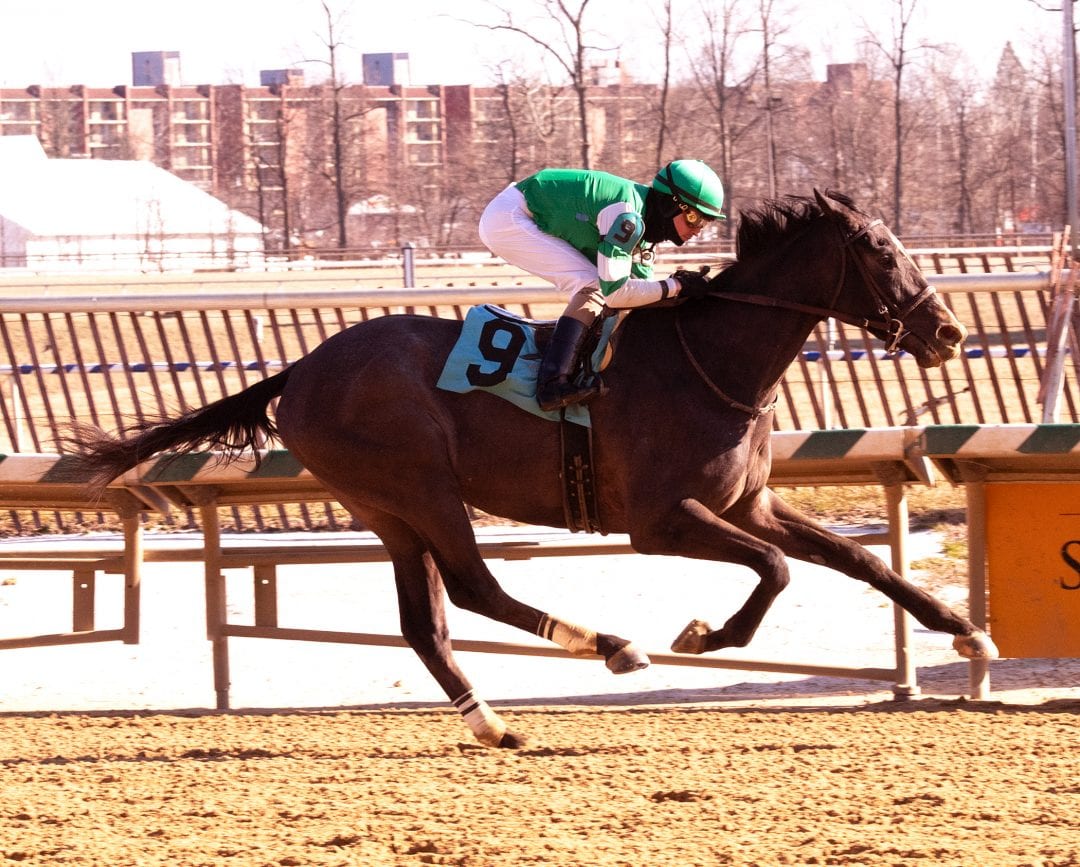 Lordhavemercy was, at $84.00, the biggest payout among maiden winners last week.
by Frank Vespe
Trainer Louis Linder, Jr. enjoyed a productive — and somewhat unusual — week during the seven days ending February 10. The Parx-based conditioner won three times during the week — and all three came with maidens. That was more maiden victors than any other regional trainer sent out during the week.
The best of that group was likely Golden Gala, a sophomore Goldencents filly who made her fourth career start a winning one, taking a $45,000 maiden special weight test at Parx by an easy five lengths with Mychel Sanchez in the irons. Golden Gala, a $55,000 auction purchase, is owned by Bran Jam Stables and David W. Clark. She now has a record of a win and two thirds from four starts.
Linder's other maiden winners were If You Only Knew, who won a maiden claiming affair at Parx Racing, and Dazzle Me, who scored in maiden claiming company at Penn National.
PARX RACING MAIDEN WINNERS
| | | |
| --- | --- | --- |
| Horse, state bred, trainer, and jockey | Level | Win Payout |
| Awe Mun (KY), trained by M K Montoya and ridden by M J Sanchez | MCL 20000 | $7.00 |
| Deerstalker (PA), trained by A Bedard and ridden by J Garcia | MCL 10000 | $6.00 |
| Double Chubble (NJ), trained by M M Moore and ridden by S Gonzalez | MSW | $24.20 |
| Golden Gala (MD), trained by L C Linder, Jr. and ridden by M J Sanchez | MSW | $16.40 |
| If You Only Knew (KY), trained by L C Linder, Jr. and ridden by L A Rodriguez Castro | MCL 10000 | $8.40 |
| Iiidentical (PA), trained by J C Servis and ridden by F Pennington | MCL 40000 | $10.40 |
CHARLES TOWN MAIDEN WINNERS
Three-year-old Hero's Man caught the betting public a little bit off-guard. They let the three-year-old Charitable Man gelding go at just more than 5-1 last week in a West Virginia-bred maiden special weight event at Charles Town Races.
It may be a while before you get 5-1 on him again.
Bred and trained by James Casey and owned by his Taylor Mountain Farm LLC, Hero's Man absolutely obliterated the field in that contest, speeding to the early lead and zipping to a 6 1/2-length triumph in 52.42 for the 4 1/2 furlongs. That time was two-fifths faster than older West Virginia-bred maidens managed it two races later — and virtually identical to the time posted by older WV-bred allowance horses on the same card.
| | | |
| --- | --- | --- |
| Horse, state bred, trainer and jockey | Level | $2 win payout |
| B J's Big Boy (WV), trained by T C Grams and ridden by O Flores | MSW s | $5.40 |
| Decadence (NY), trained by P F Nuesch and ridden by J D Acosta | MCL 5000 | $13.00 |
| Greta Greta Boo (NJ), trained by J Volpe and ridden by D Thorpe | MCL 5000 | $12.80 |
| Hero's Man (WV), trained by J W Casey and ridden by C Hiraldo | MSW s | $12.80 |
| Jagged Arrow (KY), trained by J C Runco and ridden by L A Batista | MSW | $13.20 |
| Kool Kea (WV), trained by D Walters and ridden by R Maldonado | MSW s | $7.20 |
| Lil Sweetheart (WV), trained by T M Collins and ridden by R Latchman | MSW s | $8.80 |
| Righteous Man (WV), trained by G A Coker, Jr. and ridden by J Montano | MSW s | $42.00 |
PENN NATIONAL MAIDEN WINNERS
| | | |
| --- | --- | --- |
| Horse, state bred, trainer, and jockey | Level | $2 win payoff |
| Au Fudge (PA), trained by F W Stites and ridden by M J Inirio | MCL 5000 | $5.60 |
| Border Agent (KY), trained by H Wyner and ridden by J M Felix, Jr. | MCL 5000 | $9.80 |
| Dazzle Me (KY), trained by L C Linder, Jr. and ridden by J M Perez | MCL 10000 | $6.00 |
| Road Rage (KY), trained by L J Stickler, Jr. and ridden by W P Otero | MCL 15000 | $15.00 |
| The Venerable Bede (PA), trained by N P Zito and ridden by E Gonzalez | MCL 8000 s | $8.00 |
LAUREL PARK MAIDEN WINNERS
| | | |
| --- | --- | --- |
| Horse, state bred, trainer, and jockey | Level | |
| Allison K (KY), trained by McMahon Hugh I and ridden by Davis K | MCL 10000 | $6.00 |
| Boom Boom Gone (KY), trained by Salazar Marco P and ridden by Pinero F A | MCL 16000 | $9.40 |
| Dixie Drawl (SC), trained by Smith Hamilton A and ridden by Carrasco V R | MSW | $3.60 |
| Dominant Stranger (KY), trained by Thurston Jerry A and ridden by Acosta J D | MCL 10000 | $73.00 |
| Donna's Delight (MD), trained by Rawlings Amanda C and ridden by Trotman K | MCL 10000 | $3.60 |
| Expect Drama (FL), trained by Potts Wayne and ridden by Suarez A | MCL 10000 | $4.80 |
| Hurricane Sheila (KY), trained by Englehart Jeremiah C and ridden by Vargas J A Jr | MSW | $5.80 |
| Jagger Baby (FL), trained by Ness Jamie and ridden by McCarthy T | MCL 10000 | $7.40 |
| Lordhavemercy (MD), trained by Geralis Emanuel J and ridden by Russell S | MSW | $84.00 |
| Louise (MD), trained by Bailes W Robert and ridden by Chiappe R | MCL 10000 | $6.00 |
| Maynooth (KY), trained by Lynch Cathal and ridden by Suarez A | MCL 10000 | $2.80 |
| Mortal Storm (KY), trained by McMullen Marilyn G and ridden by Montanez R | MCL 25000 | $29.20 |
| Nightlife (MD), trained by Coletti Edward J Jr and ridden by Rosado J | MSW | $9.40 |
| Real Factor (KY), trained by Lynch Cathal and ridden by Suarez A | MCL 50000 | $6.20 |
| Wall (MD), trained by Trombetta Michael J and ridden by Hamilton W | MCL 16000 | $10.80 |