City of Light, Game winner head NTRA Top Thoroughbred Polls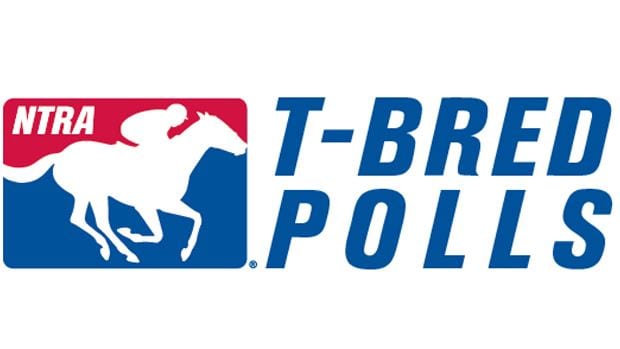 From a National Thoroughbred Racing Association release
An open-length victory over sealed, sloppy going in the Grade 3 Robert B. Lewis Stakes February 2 was enough to earn Mucho Gusto a place in the top 10 in this week's National Thoroughbred Racing Association (NTRA) Top 3-Year-Old Poll.
Owned by Michael Lund Petersen, Mucho Gusto became the latest sophomore from the barn of Hall of Fame trainer Bob Baffert to stamp himself within the division. In his first start since finishing second to stablemate Improbable in the Grade 1 Los Alamitos CashCall Futurity on December 8, Mucho Gusto won by 4 ¾ lengths in the Robert B. Lewis at Santa Anita Park to land at No. 4 on the Top 3-Year-Old Poll with 220 points.
"This is the time of the year when you want to start getting excited about something (on the Triple Crown trail)," Baffert said of Mucho Gusto after the race. "We're still dreaming in Technicolor, but they have to start performing and they have to move forward from here, but it's a fun position to be in."
Baffert trainees make up three of the top four spots on the Top 3-Year-Old Poll. Eclipse Award winner Game Winner remains in first with 37 first-place votes and 405 points. Improbable is second (3 first-place votes, 350 points) with War of Will, trained by Mark Casse, sitting third (1 first-place vote, 273 points).
Instagrand (163 points), Knicks Go (135), Hidden Scroll (118), Signalman (102), Gunmetal Gray (88) and Tax (66) round out the top 10. Tax, winner of Grade 3 Withers Stakes this past Saturday, joins Mucho Gusto in being a new addition to the top 10.
A gritty effort from Battle of Midway in the Grade 2 San Pasqual Stakes at Santa Anita on Saturday allowed the son of Smart Strike to make an appearance in the NTRA Top Thoroughbred Poll. With jockey Flavien Prat in the irons, Battle of Midway prevailed by half a length over McKinzie to earn the fourth position among poll voters with 224 points, including one first-place vote.
Recently retired City of Light, winner of the $9 million Pegasus World Cup Invitational, remained in the top poll position with 36 first-place votes and 369 points with champions Monomoy Girl (5 first-place votes, 295 points) and Roy H (267 points) second and third, respectively.
Rounding out the top 10 are: Bricks and Mortar in fifth (220 points), Accelerate (208), McKinzie (154), Seeking the Soul (141), Sistercharlie (86), and Game Winner (76).
The NTRA Top Thoroughbred polls are the sport's most comprehensive surveys of experts. Every week eligible journalists and broadcasters cast votes for their top 10 horses, with points awarded on a 10-9-8-7-6-5-4-3-2-1 basis. All horses that have raced in the U.S., are in training in the U.S., or are known to be pointing to a major event in the U.S. are eligible for the NTRA Top Thoroughbred Poll.
The NTRA Top Thoroughbred Poll concludes November 4 after the running of the Breeders' Cup.
The Top 3-Year-Old Poll concludes June 8 after the Belmont Stakes.
NTRA TOP THOROUGHBRED POLL
City of Light
Monomoy Girl
Roy H
Battle of Midway
Bricks and Mortar
Accelerate
McKinzie
Seeking the Soul
Sistercharlie
Game Winner
NTRA TOP THREE-YEAR-OLD POLL
Game Winner
Improbable
War of Will
Mucho Gusto
Instagrand
Knicks Go
Hidden Scroll
Signalman
Gunmetal Gray
Tax