Shamrock Rose named Top Midlantic-bred of 2018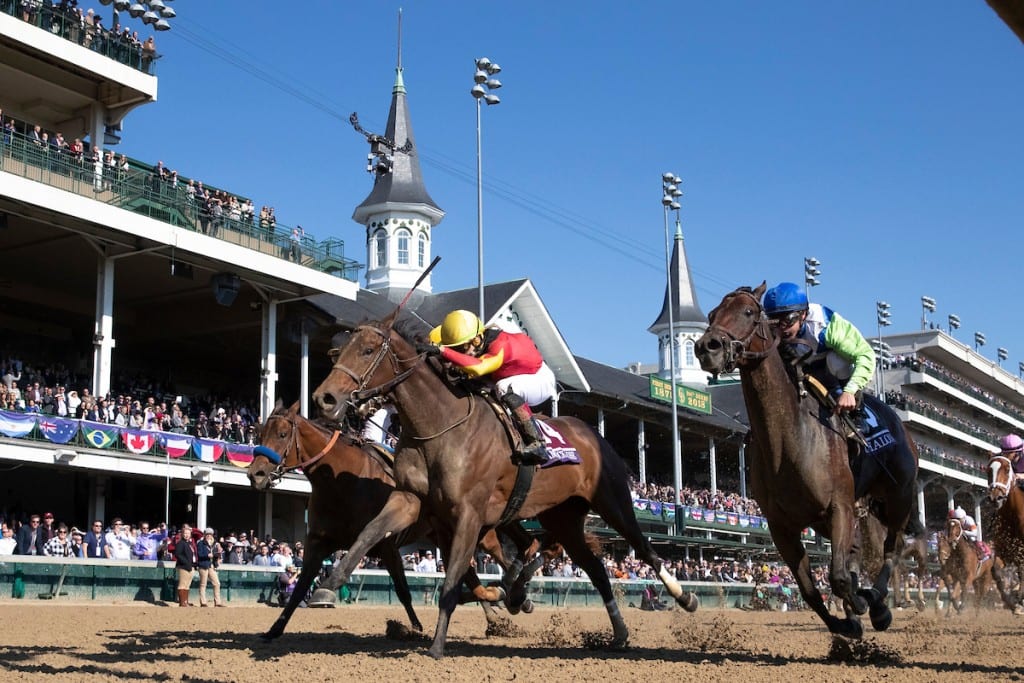 Shamrock Rose (between) won the Breeders' Cup Filly and Mare Sprint. Photo by Alex Evers/Eclipse Sportswire/CSM
The journey continues — and the hardware keeps piling up — for Best A Luck Farm LLC, the Florida-based breeders responsible for the Pennsylvania-bred Shamrock Rose.
First, the daughter of First Dude finished 2018 with four consecutive wins, the last of which came in the Grade 1 Breeders' Cup Filly and Mare Sprint. Then she was named the Eclipse Award winner as champion female sprinter.
And now she's been named the best horse bred in the Mid-Atlantic in the final Mid-Atlantic Thoroughbred/The Racing Biz Top Midlantic-bred Poll.
Shamrock Rose's late-season heroics, which also included a win in the Grade 2 Raven Run at Keeneland and two minor stakes wins, enabled her to leapfrog multiple Grade 1 winner Unique Bella, who finished second. Those two Pennsylvania-bred fillies were clearly ahead of all other runners in the voting.
"It's been really special, and a privilege," said Lori Fackler, who with her husband Thomas owns and operates Best A Luck Farm.
Best A Luck sold Shamrock Rose for $120,000 at the 2017 OBS April two-year-old sale to Conrad Farms, which campaigns the now-four-year-old. She is trained by Mark Casse.
Though Best A Luck is located in Florida, as is First Dude, Shamrock Rose's sire, the Facklers chose to have her foaled at Horseshoe Valley Equine Center in Annville, PA.
"I rotate my mares and started six or seven years ago sending some of them to Pennsylvania," Lori Fackler explained. "Up there you have a lot more tracks. The [state-bred] programs are so good, and the purses are really good."
Oddly enough, however, Shamrock Rose has made only a single start in her home state. She won the Malvern Rose Stakes this past August at Presque Isle Downs versus state-bred sophomore fillies, the win that jumpstarted her late-season win streak.
Shamrock Rose, out of the unraced Elusive Quality mare Slew's Quality, concluded 2018 with four wins from seven starts for the year and earnings of $848,076. She is five-for-11 in her career with more than $920,000 in the bank.
Shamrock Rose narrowly edged her fellow PA-bred — and fellow Eclipse Award winner — Unique Bella for the overall top spot in the poll. That runner won a pair of Grade 1 events in 2018 before ending her season following a win in the Grade 1 Clement L. Hirsch Stakes July 29. She earned the Eclipse Award for older dirt female.
They were followed by Spring Quality (PA), Knicks Go (MD), Still Having Fun (MD), Late Night Pow Wow (WV), and Blamed (MD).
In a strong year in the region, three of the top seven were Eclipse Award finalists. In addition to Shamrock Rose and Unique Bella, the Maryland-bred juvenile Knicks Go was a finalist for top two-year-old honors after a season in which he won a Grade 1 event and ran second in the Breeders' Cup Juvenile.
Of the seven horses in the poll, three were bred in Pennsylvania, and three were bred in Maryland. One West Virginia-bred rounded out the group. Of the top seven, four were females and three were males.
The monthly Mid-Atlantic Thoroughbred is the only publication devoted to Thoroughbred breeding and racing in the Mid-Atlantic region. The Racing Biz, an online publication, is the independent voice for mid-Atlantic racing and breeding.
The poll is conducted of media members and others involved in the Thoroughbred industry and restricted to horses that ran in 2018 and were bred in Pennsylvania, Maryland, Virginia, West Virginia, New Jersey, Delaware, and the Carolinas.
MID-ATLANTIC THOROUGHBRED/THE RACING BIZ TOP MIDLANTIC-BRED POLL
Shamrock Rose (PA) — 3yo filly by First Dude-Slew's Quality, by Elusive Quality; bred by Best A Luck Farm LLC; trained by Mark Casse for Conrad Farms; won G1 Breeders' Cup Filly and Mare Sprint, Grade 2 Lexus Raven Run, La Lorginette S., Malvern Rose S. (1st last month)
Unique Bella (PA) — 4yo filly by Tapit-Unrivaled Belle, by Unbridled's Song; bred by Brushwood Stable; trained by Jerry Hollendorfer for Don Alberto Stable; won G1 Clement L. Hirsch, G1 Beholder Mile, G2 Santa Maria, 2nd Grade 1 Apple Blossom. Now retired. (2nd last month)
Spring Quality (PA) — 6yo gelding by Quality Road-Spring Star, by Deputy Minister; bred by George Strawbridge, Jr.; trained by Graham Motion for Augustin Stable; won G1 Manhattan S., 2nd G3 Fort Marcy, 3rd G1 Sword Dancer (3rd last month)
Knicks Go (MD) — 2yo colt by Paynter-Kosmo's Buddy, by Outflanker; bred by Angie Moore; trained by Ben Colebrook for KRA Stud Farm; won G1 Breeders' Futurity, 2nd G1 Breeders' Cup Juvenile, 3rd Arlington-Washington Futurity (4th last month)
Still Having Fun (MD) — 3yo colt by Old Fashioned-Casual Kiss, by Dehere; bred by Tim Keefe and Mr. and Mrs. Charles McGinnes; trained by Tim Keefe for Gary Barber, Wachtel Stable, and Terp Racing LLC; won G2 Woody Stephens, Miracle Wood S., Whiteley S., 3rd Grade 1 Malibu S. (6th last month)
Late Night Pow Wow (WV) — 3yo filly by Fiber Sonde-Holy Pow Wow, by Indian Charlie; bred by John McKee; trained by Javier Contreras for Breeze Easy LLC; won G3 Charles Town Oaks, Willa on the Move S., WV Cavada Breeders Classic, Sylvia Bishop Memorial S. (5th last month)
Blamed (MD) — 3yo filly by Blame-Salsa Star, by Giant's Causeway; bred by Sagamore Farm; trained by Bill Mott for Cleber Massey; won G3 Comely S., Sunland Park Oaks, Island Fashion S., El Paso Times S., 2nd G2 Lexus Raven Run (7th last month)
Also receiving votes: Army Mule, Daddy Is a Legend, Senior Senator, One Go All Go, Cosmic Burst, Fahan Mura
Note: Horse ages are their ages as of the end of 2018, not their current ages.

Participating Voters: Ted Black (freelance writer), Michael Campbell (Thoroughbred Breeders' Association of New Jersey), Joe Clancy (Mid-Atlantic Thoroughbred), Cindy Deubler (Mid-Atlantic Thoroughbred), Linda Dougherty (freelance), Debbie Easter (Virginia Thoroughbred Association), Paul Espinosa (Charles Town Races), Anne Frederick (Maryland Horse Breeders Association), Rich Glazier (Delaware Park), Cricket Goodall (Maryland Horse Breeders Association), Jim Hague (freelance), Nick Hahn (freelance), Carol Holden (West Virginia Breeders Classics), Tom LaMarra (The Blood-Horse), Jeff Nations (freelance), Kate Painter (West Virginia Thoroughbred Breeders Association), Vinnie Perrone (freelance), Frank Petramalo (Virginia Horsemen's Benevolent and Protective Association), Gary Quill (The Racing Biz), David Richardson (Maryland Thoroughbred Horsemen's Association), Brian Sanfratello (Pennsylvania Horse Breeders Association), Sal Sinatra (Maryland Jockey Club), Chris Sobocinski (Delaware Park), Dan Tordjman (freelance), Frank Vespe (The Racing Biz), Bill Watson (freelance), Lydia Williams (freelance), Bobby Zen (freelance).
Note — Not all participating voters will vote in every poll.