Stories that mattered in '18: Justify comes to Baltimore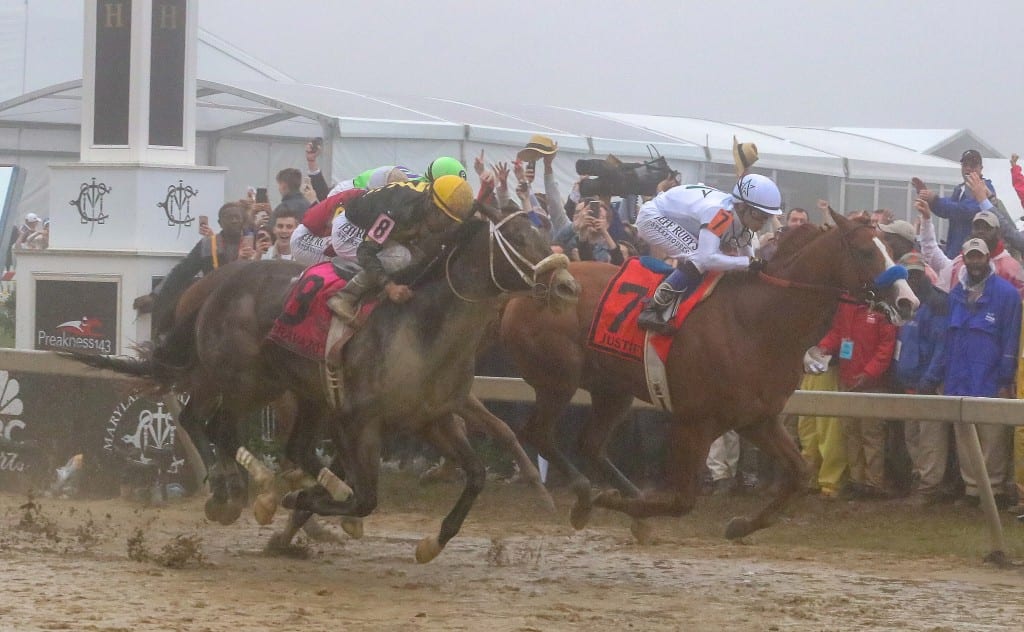 by Frank Vespe
Back before the controversy – before he did (or didn't) benefit from a stablemate's erratic opening quarter-mile in the Belmont, before he was whisked off to the breeding shed without a single post-Triple Crown start – Justify was a tremendously fast-developing horse arriving in Baltimore for the Middle Jewel of the Triple Crown.
"He's this big beautiful horse," trainer Bob Baffert said of the sophomore, a chestnut son of Scat Daddy who concluded his career with six starts, six wins, four Grade 1 victories, a Triple Crown, and a bit shy of $4 million in earnings. "But he's all racehorse."
And it was in the Preakness, at the not-so-gracefully aging PImlico Race Course, that he showed that most of all.
He was all by himself in the Derby, and his nearest rival in the early running of the Belmont was stablemate Restoring Hope, whom one owner called "more of an offensive lineman than a racehorse trying to win the Belmont."
But he received no such breaks in Baltimore.
There was Good Magic, the highly regarded challenger who pressed him from the first jump. Then there was the Steve Asmussen trainee Tenfold looming a threat in mid-stretch. And finally, there was the D. Wayne Lukas trainee Bravazo flying home on the outside.
All looked — if only for a moment — like the horse that could spoil Justify's bid for the golden triple. In the end, though, what they did was force the Baffert trainee to… well, justify his greatness. Which, with Hall of Famer Mike Smith in the irons, he did.
"It was a nail-biter," said Baffert. "They put it to us. That was a good horse [Good Magic] and it was like they had their own private match race. Somebody had to give, and I'm glad it wasn't us."
"A dream come true," agreed Smith.
It marked, in a sense, a somewhat surreal second step of the Triple Crown, contested over a sloppy, sealed Old Hilltop strip in a dense fog that rendered the runners at times invisible to the crowd.
Baffert came to public attention when annexing two of three legs of the Crown in 1997 (Silver Charm), 1998 (Real Quiet), 2001 (Point Given), and 2000 (War Emblem), but in all four years, the third jewel was denied him.
Indeed, Baffert marked one of a bevy of foiled windmill-tilters over the years, as the Crown drought yawned on from 1978, when Affirmed turned aside Alydar in all three races, until 2015. That's when the Baffert-trained American Pharoah romped to Triple Crown glory.
After 37 Crownless years, did anyone expect another one to follow so quickly?
Well, perhaps, yes, though it's doubtful that on February 1, 2018, anyone would have guessed that an at-that-point unraced maiden would be the horse to win 'em all.
Oh, and given that Baffert has won with five of his last eight two-year-old first-timers at his home track of Santa Anita, it probably wouldn't be a bad idea to keep an eye on his barn 'round about the first and third Saturdays this coming May, either.