RT's spot plays: Penn National December 27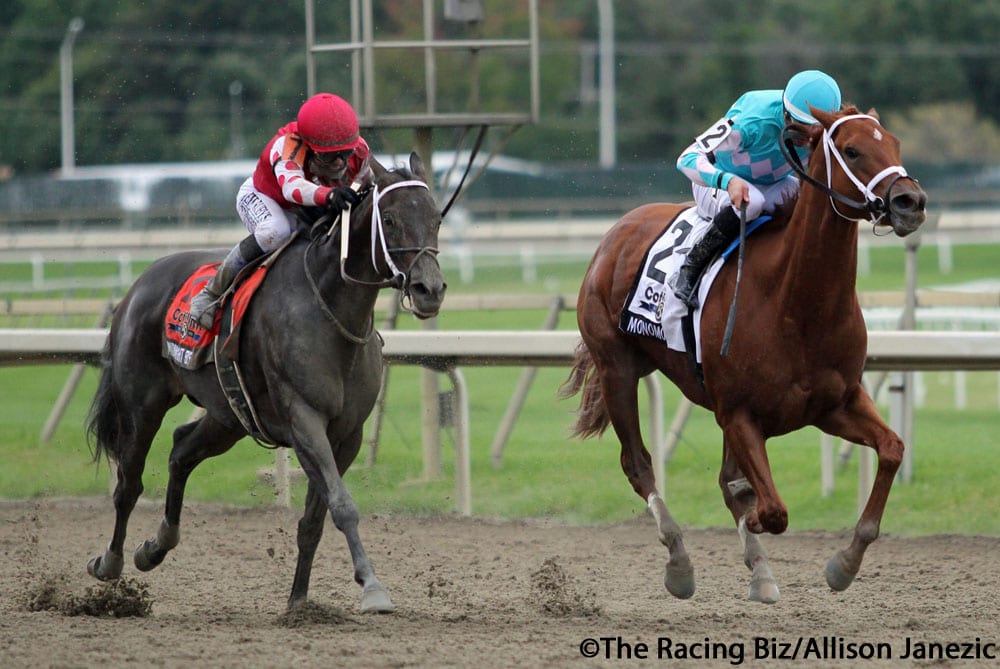 RT will be making occasional spot plays. A veteran handicapper, he loves him some exacta box actions.
by RT
It'll be cool, 40̊ and declining in temp.
Musings du jour
What do the Vikings and the Eagles have in common? Neither can figure out what to do about a QB. As I write this, Philly is -5.5 @ Washington and Minnesota is -5 @ home vs. Chicago. I'm taking Chicago and Philly and then teasing them both. From living in the Twin Cities for 30 years, there are four universal truths about the Vikings –
when they must win, they don't

when they're supposed to get blown out, they rise to the occasion

the refs hate them

the Bears always bring their A game
Eagles fans out there are hoping for these both to come true, and it would not surprise if it happens. You're sitting on the best team in the NFL with Foles at the helm.
Could this be the year the Pats do not go deep in the playoffs? It sure seems like it.
In the college ranks, I'm taking:
T

he over in the PSU/Kentucky game. Penn State always seems to go over in bowl games.

A

labama/Oklahoma under 77.5. I'll take Alabama's defense vs. Oklahoma's offense. The Sooners haven't played a team this stout on D before…regardless of suspensions.

N

otre Dame +12.5. Wake up the echoes here. Mea culpa…I'm a fan. (Editor's note: Oh, for Pete's sake…)

P

itt +5.5 – they'll have more interest in playing that game than Stanford
I asked Big Gina, my 85 year old mother, what she wanted for Christmas. She hemmed and hawed and said, "New eyes and ears." I bought her a Mrs. Potato Head (Editor's note: rim shot!).
Make 2019 a great year!
PENN NATIONAL RACE 1
Exacta Box 5-6-4
6-5-2 on the lead, 4 behind them
#5 That's History (7-2): One of two Salvaggio runners here, it's a positive sign to see That's History getting a work out on 12/19. Trainer/jockey combo getting 13% winners and 52% ITM. This gelding'S Timeform fractions show a steady increase in his final times and given the low number of entries here, he should be in contention.

#6 Howdy Boy (3-1): Salvaggio's other horse in this race and the switch in jockey the past race was a positive It's good to see Salvaggio sticking with Tyler Conner who had a devil of a time with Howdy Boy in his last race. He lugged out at the start, Conner quickly righted him and had Howdy Boy into contention, only to get bumped off stride. He did bring this gelding in for place money. Howdy Boy's Beyer pattern suggests that he'll improve this race.

#4 Hesgotawaywithwords (7-2): It's hard to buck a trainer/jockey combo of 32% wins and 72% ITM. Hesgotaswaywithwords loves Penn with a ledger of 4:2-1-1.
PENN NATIONAL RACE 2
Exacta Box 5-2-4
4 to win/twice as much to place
7-8-4 on the lead with  2 in tow
#5 Miss Craigie (6-1): This will come down to who catches the 4/7 and Susan Cooney drops this filly in class and adds Conner to give it a go. Miss Craigie has six trips over the track, going 2-1-2. In her last race, she closed from seven back to ¾ from the leader, making her Timeform final fraction jump from 64 to 73. For your reference, there are only two others in this race that have posted a final of 75 – the 4/7. The remaining are lower in that stat. Penn typically plays to the tracker/closer type, so this can set up for her to get in the money.

#2 Ask The Boss (9-2): Here is the way I think it'll happen: 7 & 4 get into a pace battle, 4 dispenses with 7, and Ask the Boss or Miss Craigie gets up for the win or place. Ask the Boss has an interesting trainer: Nick Mileni Jr., who has 20 wins from 45 starts in 2018, including a 13:7-2-2 log at PEN. Mileni has a 20% strike rate going synthetic to dirt, and based upon the 3f workout in 36.2 on 12.18, it appears Ask the Boss is liking it the natural stuff.

#4 Robotron (4-1): If you get 4-1 on Robotron, consider upping your bet. A friend of mine never bets a horse seeking its third win in a row, and I always do. For me, it tells me the horse is in good condition, feels good about himself, and has competitive fire. The chances are very likely that Rodriguez will blast Robotron out of the gate and never look back. Jerilyn Rocks, the 7, is going to sidle up next to her and Robotron will cast her away. Trainer Garcia and jockey Rodriguez is as good as you get here knocking down a 32% win rate and 75% itm. This miss is two-for-two at Penn. 
PENN NATIONAL RACE 3
Exacta Box 3-8-7
5-3-1-8 on the lead, 4 near
#3 Flattering Ruby (15-1): Taking a flyer on Jacqueline Davis being the jockey to get Flattering Ruby back to her form from this past spring. This runner no doubt has the ability documented by her 12/20 bullet work. This gray filly has had her woes of late, being bumped at the start last out, bobbled the previous, and her jockey three back toasted her on early fractions in a $28K allowance race. At this price, she's worth the stretch.

#7 Pisutoru (10-1): Getting a break in the weights with Stephanie Sheroski aboard, Pisutoro has been on the upswing since Sheroski got in the irons and comes into this race into shape and appearing to be rounding into form. Her Beyers are on the upswing, and I project her to run in the mid-50s here.  

#8 Berberslilbriebrie (2-1): Trainer Zulueta is masterful in dropping allowance horses in for a tag, scoring a 29% win rate. This filly has scored the top three Beyers in her respective last outs. We'll see what jockey Wesley Torres does with her. My belief is he'll get her out on fast fractions which will set up 7 and 3 to take a slice.