RT's spot plays: Penn National December 26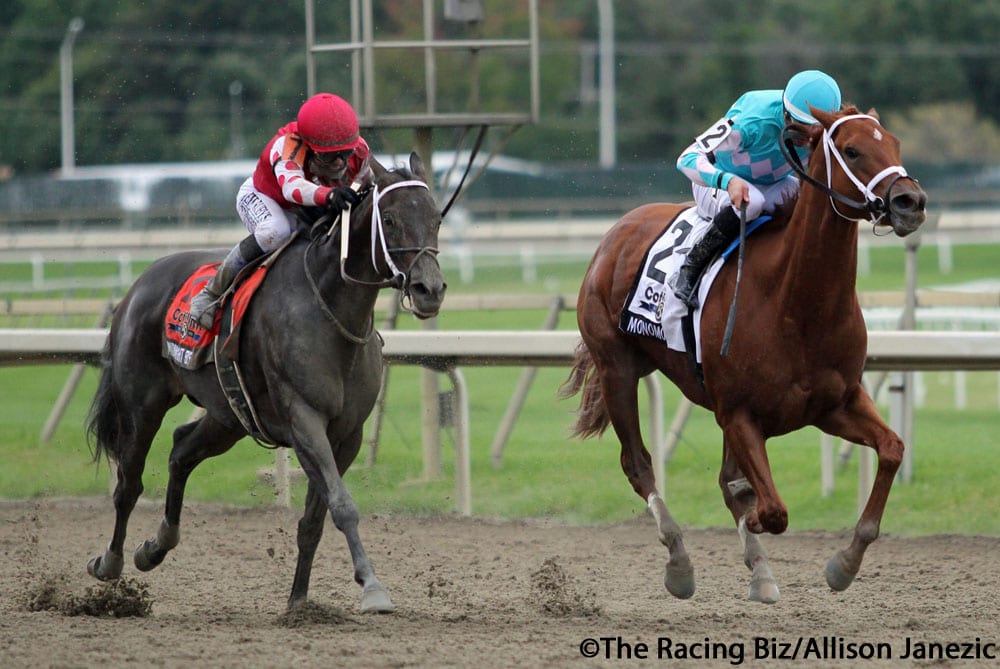 RT will be making occasional spot plays. A veteran handicapper, he loves him some exacta box actions.
by RT
Sunny and high of 46̊ today and a low of 26̊ – chilly night at the track.
Musings du jour
Are you a believer in the Ravens yet? John Harbaugh should tithe 10% to Lamar Jackson for saving his arse. The under in the first half and the side came through as the Bawlmer D summarily dispensed with Rivers and company this Saturday past.
Earlier last week, I had lunch with my buddy Joe, who is a West Pointer. I told him that the public was jumping on Houston plus the points in the Armed Forces Bowl and that I was going to pound the Black Knights. Their 70-14 beatdown was impressive, and after the game, his text alluded to their scorching victory and as always, his disdain for Navy. There's seemingly never a correlation. Moreover, if you know any Academy grads, they're like the "Roll Tide" commercial where everyone uses "Roll Tide" as their final sentence….except it's "Beat Navy" or "Beat Army." You can use this to your advantage…
Me: "Can I borrow your pickup this Saturday and by the way, Navy sucks, I detest blue and gold, and Annapolis smells of sewage?" (Editor's note: He's kidding, he's kidding. Go Mids!)
Joe: "Do you need me and my sons to help, too?"
Time to close a yearly chapter – the time after Christmas and before heading back to work has always been a personal fave. You get a chance to look back at the year and more importantly, calibrate and document your aspirations for the upcoming year.
Make 2019 a great year ?
With that, here goes
Through 12/17, according to Brisnet, three of the four trainers on a hot streak at Penn were women, and the only hot streak jockey to be listed is also female. So, to trainers Stacy Machiz, Patricia Farro, and Kathleen Demasi, as well as jockey Stephanie Sheroski, congratulations and keep on plugging!
PENN NATIONAL RACE 1
Exacta Box 3-4-7
3 to win and twice the bet to place; half as much on #4 across the board
This will be a slow pace with the 8 & 7 in front with 6 nearby
Jewel Heist (3-1): Jewel Heist will win this race. The 7, 6, 1 and 2 will try to keep pace on the front end, and their respective jockeys will fry them before the finish line. This Kimberly Graci (2nd leading trainer) claimer, who has been claimed four times in five weeks, returns to her for the second time in that period. Graci saddled this runner for one race on 11/02, had Jann Hernandez up, and they torched the pack. He was claimed from that race. Graci and Hernandez get Jewel Heist back and he'll be first today.

#4 Parauari (6-1): Since we have the best jockey of the meet on the first choice, why not take the second leader in this wager? Jockey Angel Rodriguez and trainer Israel Garcia are cashing winning tickets (16: 5-6-1, good for 35% wins and 75% ITM). Garcia has two entries in this sprint, and it wouldn't surprise me to see if he'll send the 5, his other entry, out quickly to attempt burning out the leaders. Since shipping here from France this spring, this gelding has faced tougher and busted better Beyers than the rest. Look for Garcia to track and make his move in mid-stretch.

#7 Shoe Loves Shoe (9-2): Contradicting my first statement regarding getting fried on the front end, I struggled excluding this AP Indy gelding. Trainer Jamie Ness breezed him out of the gate on 12/1 and he nailed 5f in 1:02 2/5. Shoe Loves Shoe has 12 races under his belt and has banked $115K, and looks ready to roll here — if he can overcome the other speed.
PENN NATIONAL RACE 2
Exacta Box 3-10-2
10 on the lead. 3-4 behind
This race reminds me of how President Lincoln described Civil War general George McClellan: as having a case of "the slows."
#3 Electric Avenue (3-1): This guy can rock down to the winner's circle, or at least take us back to the '80s and Eddy Grant's big hit. Electric Avenue started his career on the Midwest (ish) circuit, making stops at Oaklawn, Keeneland, Churchill, and elsewhere, where he faced tougher and ran better this summer past. He ran poorly last out at PEN, so why the love here? He has done much better than his current record suggests, and I believe the last out was an out for air affair. Keeping the same connections is a positive sign, and while he may not win, I do believe he'll hit the board. 2018: 10 starts, 2-1-2 for $45K…or $4500 per race/$9K per itm

#10 The Italian (3-1): So far at Penn, trainer Soto batting 1.000 going 1-1. This Unbridled's Song gelding has been a consistent achiever of mid-50s to low-60s Beyers in his last seven races. This is significant when you gauge it vs. the Beyer par for this race of 56. This runner is coming into this in good condition and dropping in the ranks. 2018: 10 starts 2-1-2…$31K or $3100/race and $6200/per itm.

#2 Drive On (8-1): This is in trainer Lou Linder's (30%) wheelhouse –a shipper that is dropping in claiming price. Drive On is dropping to his lowest level this year. Earlier this fall, Drive On was a greater success at Woodbine – a synthetic surface. It usually takes 2-3 trips off that surface to adapt to a dirt track. This gelding's first race away from Canada and in the Mid-Atlantic, was on a muddy track. His results showed his disdain. In the next race, that being the most recent, Drive On showed a marked improvement getting within three lengths of the leaders before begging off and clipping a 49 Beyer. An improvement in this race will make him a contender.
PENN NATIONAL RACE 3
Exacta Box 5-1-7
2-5-6-7-8 will all press the front end
The problem with this race is that we can shoot holes in just about every horse in here. To wit:
Dana Whitney may get impatient and not rate her accurately

Stephanie Sheroski's 0-7 record in Allowance races with her highest finish being 5

th

Trainer Louis Linder only getting 7% wins in allowance company

Jockey Eddie Delgadillos' documented struggles to get to the finish line first of late

Layoff since February

Running pattern suggests a serious bounce this race

Running pattern suggests a serious bounce this race
That said…  None of the above-mentioned front runners has been challenged on the lead. If you have watched enough races, you'll know that when there are two or three very fast horses in a race, one or two of them will quit before the end of the journey. Additionally, we all have heard the stories of horses sizing each other up during a race, at which point one horse summarily dispenses its rival, who slinks off. 
Projecting this eventuality, I looked for two things: best jockey at Penn and best trainer at Penn. I figured they'll know how to manage this race. This led me to my top choices of:
#5 Leapt (6-1): Jock Angel Suarez is a skillful rider who's been rebuilding his once-promising career after getting himself sideways. The big question with Leapt is whether she's ready after the 10-month layoff. Trainer Jamie Ness is not a good prop bet in a long layoff situation, but Leapt has been working forwardly for this. Ness is one of the leading allowance trainers at Penn, scoring at a 19% rate, and if Leapt were not ready, this tandem wouldn't be here.

#1 Miss Pink (9-2): Salvaggio (9th leading trainer, 23%) has Dana Whitney in the irons for this. In Miss Pink's last start, she was fractious in the gate, rose in the air, then bobbled at the start. In his effort to place Miss Pink forwardly, Whitney brought her into contention and then couldn't fire her from the energy they both expended at the start. This Fusaichi Pegasus filly has nine starts this year with a 4-3-1 record. Miss Pink has the highest earnings of this group at $54K and back -to-back 60 Beyers. In this race, she will show an improvement from that.

#7 Regal Anticipation (2-1): If I am to pick the speed horse, I am going with the trainer/jockey with the best record – Kathleen DeMasi/Jann Hernandez (19 starts, 6-5-0).  By a very thin margin, Regal has the best last race Beyer and has banked $52K in earnings this year. When analyzing the final fractions from each of these runners last race, Regal Anticipation has also put together the fastest time.