RT's spot plays: Stronach 5 December 21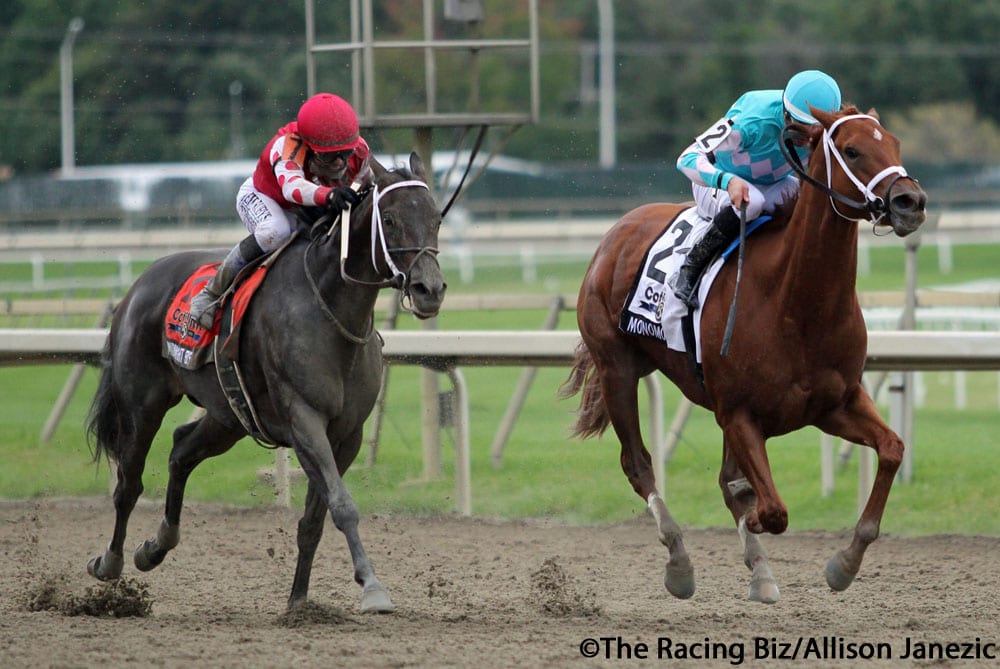 RT will be making occasional spot plays. A veteran handicapper, he loves him some exacta box actions.
by RT
Let's take a swing at today's Stronach 5, featuring three races from Gulfstream Park and two from Laurel Park. Happy hunting!
LEG 1 – Laurel Race 8
Expecting it to be warmer today 60˚with light rain
10 & 5 on the lead at the first call; 7,3,8 behind
#3 Allison K (6-1): Katie Davis is in the irons for this second time off a layoff filly. Hugh McMahon (20% winners) trains this lady, and this race sets up nicely for her. Her debut was in Delaware where she placed and delivered a 38 Beyer. Six weeks later, she tried her hand against maiden special weight runners at Laurel and got thrashed. Since that race, she breezed three furlongs in in the slop in 36 and change. McMahon claimed her from Chuckie Lawrence in her debut race, tried her against better, and now lands back in the right spot. Allison K is ready.
LEG 2 – Gulfstream Race 8
I do not know the weather there today other than to say it's a helluva lot warmer that where I am.
10 on the lead, 9, 1 & 4 directly behind
Since I used to live near Gettysburg, I was going to take Lilroundtop, but that's as smart as my wife wanting to grab the Redskins plus the points because of their cool uniforms when Mark Sanchez is starting.
#4 One's Never Enough (15-1): Runner making debut in the Ollie Figgins, III barn gets Robbie Albarado up for this one. Albarado is not having the best of campaigns, but he's no stiff, having rung the cash register in his career to the tune of $217M. This miss's first and only start was in the slop and she stalked before fading. On her way to GP, she made a stop in CT and worked out a couple of times with a bullet of 36 2/5. This filly takes a class drop from her only start, and she should improve in this race – look for a strong finish.
LEG 3 – Laurel Race 9
5 on the lead, 10 & 8 behind
#8 Musabaga (10-1): This filly bounced last time out in an OC $25K sprint and now gets a class drop. The race prior, she won going away, earning a Beyer of 65, her third fig in the 65-70 range in six starts. Apprentice Wes Hamilton gets the mount, so she has a 5 lb advantage against the rest. I'm going Win and 2X on Place with an 8-4-1 exacta
LEG 4 – Gulfstream Race 9
1 is going to get a big lead with 8 a bit behind and 7, 5, 4 saving ground
#8 Blue Lute (7-2): Tyler Gafflione, Mike Maker, turf route, in-shape mount, cha-ching!
LEG 5 – Gulfstream Race 10
4 on the lead, 9, 3 & 11 next
#9 Dr. Dudley (12-1): We have a live longshot with trainer Ralph Catanese and jockey Eduardo Nunez. The good Dr. has a Beyer pattern of 29-63-44-11 or down-up-down which brings us to this race, which will be up…to the tune of 63+ – enough to dust this gang.