RT's spot plays: Parx Racing December 18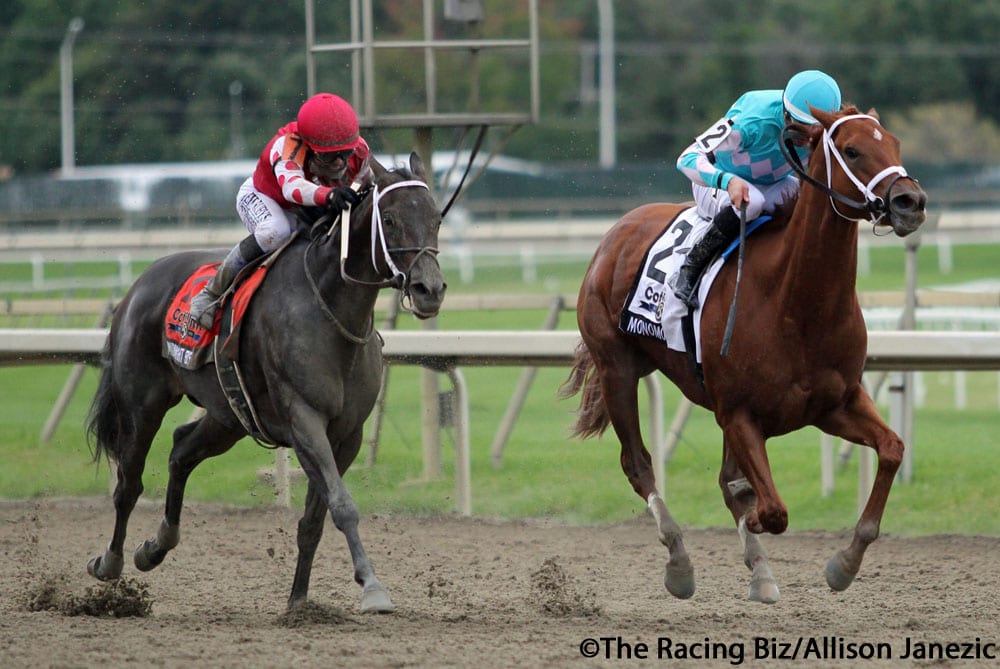 RT will be making occasional spot plays. A veteran handicapper, he loves him some exacta box actions.
by RT
I've taken the day off work today in honor of Big Gina's 85th birthday. Do you ever look at a parent's birthday and imagine the events that have transpired since, in this case, 1933?
Wars, Depression, nukes, a four-term president, polio vaccine, jet airliners, the Beatles, the internet and Dick Butkus. Wow.
So, with time on my hands, I bring you the first three from Parx.
Oh, and Happy Birthday, Mom!
PARX RACING RACE 1
Exacta Box 7-3-1
1, 3 & 7 are going to scream out of the gate with 5 behind
#7 Li'l Dude L Do It (15-1): It would have been easy to go with the 4-horse this race, but I couldn't jump in since it will be a prohibitive favorite. Its turf performances were worthy, but his dirt races weren't worth that price. Which leads me to Li'l Dude here. It took trainer Rodriguez eight times and the switch to Dexter Haddock to finally get this horse to the winner's circle. His primary style is speed, and he is capable of rating and closing. He is coming off wiring a field of seven and is stepping up the claiming ranks. Li'l Dude/Haddock/Rodriguez is undefeated to date, so why buck them?
#3 Smart Rags (10-1): I'm going to play the percentages with Smart Rags. Trainer Guerrero is 26% off a 31-60 day layoff, trainer/jockey win at a 17% clip, and the trainer wins 20% of the time first time off a claim. Jockey Mychel Sanchez is 16% for the meet.
#1 Loco Lobo (3-1): If this is an off track, lay off this horse. If it's fast, Loco Lobo should be in the mix. Loco improved his last out grabbing a 58 Beyer. He did have a tough go two races back in allowance company and this is his second race at this level. Michael Pino claimed him, and who am I to bet against a guy with almost $130M in career earnings in a $25K claiming race?
PARX RACING RACE 2
Exacta Box 4-9-7
4 on the lead, 3 close in and 9 near
#4 Cape May Ferry (9-5): This 4-year-old gelding absolutely crushed it last out winning by 18 lengths and notching a 78 Beyer. Carmona gets the mount again, and any semblance of his previous race will get him there.
#9 Bobcat (3-1): With the front end being hotly contested by 3, 4 & 1, I looked for a tracker who can lay near the lead and strike. Bobcat is a solid choice for this. His last out was after a 6-month layoff in the slop, and Pennington (leading jock w/23% winners) has a knack for this style. The Beyer par for this race is 70 and prior to his layoff, Bobcat was getting higher numbers than that.
#7 Lunar Rover (15-1): If you toss out his last race due to errant track conditions, Lunar has been clipping at high 60's to low 70's Beyers. This race can set up nicely for him and getting this closer at 15-1 makes it worth a shot.
PARX RACING RACE 3
2-4-6 exacta box
4-2-1 with a big jump and 5 nearby with 7 next
#4 Majestic Bloom (4-1) Chris Englehart shipper from Finger Lakes enters this contest with back-to-back, wire-to-wire wins by huge margins. Mares are historically supposed to improve in the fall and this lady is dead on in that precept. Andre Worrie gets the mount and he is 15% wins for the year, while trainer Englehart is at 23%. Majestic has nailed 66 & 61 Beyers and did a bullet work from the gate on 12/11.
#6 Hopeful Angel (6-1) Since 1-2-4-7 all will contest the early pace, I am using #6 Hopeful Angel and #2 Banana Anna (3-1), both closers. Rodriguez has come from off the pace and won with Hopeful his last two and improved in Beyer figures. Banana got Pennington up last time, tracked the leaders, and struck to win with a 62 Beyer. Pennington retains the mount and I look for the race to unfold to favor 2-6.