RT's spot plays: Parx Racing December 17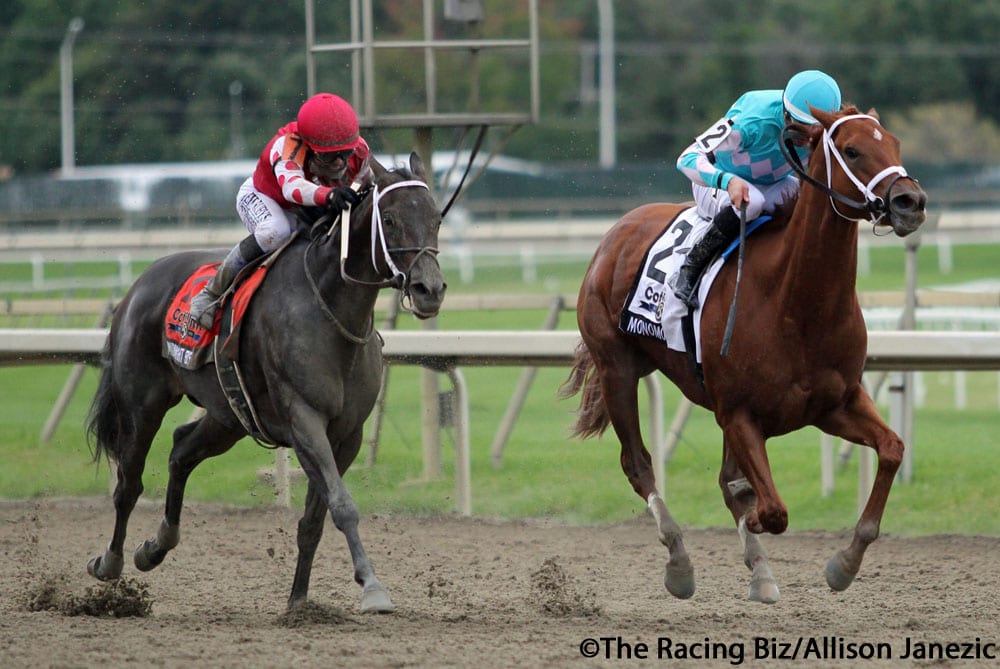 RT will be making occasional spot plays. A veteran handicapper, he loves him some exacta box actions.
by RT
Overcast and low 40s today.
You've heard of an Editor's Note? Here's a Writer's Note: if you want to improve your handicapping, do what I have done in my nascent venture these past couple of weeks. Open a doc, open your resources, examine everything, pick three runners that you would box in an exacta, then type out the reasons that you chose those three and how you think the race will develop.
Then, when you are through, post it somewhere, whether it's on a news site like this one or your own blog or Facebook account. Going on the record will force your accountability. Those two maneuvers have made a dramatic improvement for me, and I hope they will for you.
In the words of Alexander the Great, "There is nothing impossible to him who will try."

Also, I'm gloating at the fact that all the "experts" left my Vikings offense for dead yesterday, and the under in the Ravens outing was never in doubt.
PARX RACING RACE 1
Exacta Box 9-5-8
8 will be on the lead for most of the way…4 & 9 will be sniffin' round the far turn
#9 Secret Quality (7-2) As the saying goes, "A horse in poor condition cannot beat one of his own class."  That thought brought me to Secret Quality. This filly was claimed and has been put on the bench since 10/24. In the interim, she has four solid works and Dutrow takes the blinkers off. During this past fall and late summer, she was hitting Beyer figures that would lap this field. The bonus is getting Pennington in the irons, and I think we will see her cross first.
#8 Red Bomber (8-5) Torres did an excellent job with this filly last out — with one error. He should have filed an objection. During the stretch run, the #5 horse bumped her three times and while Red Bomber was very game, it appeared that the knocking around, while running full throttle, took her back enough to have the #5 barely win. She'll be on the lead and we'll see how Torres handles it today.
#5 Rigel's Halo (10-1) Erick Lopez got this mount last time and held her back from her usual front-running style. To Erick's chagrin, and anyone who had money on her, Lopez held on for too long. Though she made quite the formidable move at the far turn, then into the stretch, she came up short. If Rigel's Halo gets a cleaner trip this afternoon, she'll have a puncher's chance to be in the mix.
PARX RACING RACE 2
Exacta 1-8-6
7 on the lead by the ½ with 6 close by
#8 Brazen Prince (8-5): There are two second-time starters entered into this race, and both had Beyers of 40 the first time out. Brazen Prince is one, and he is switching jockeys to Mychel Sanchez… a plus. This Cairo Prince colt closed to get up for show last out and has been training forwardly for this.
#1 Who's Driving (6-1): I ask myself this same question that this namesake has every day while navigating my hometown mess of motorists (expletives not included). This gelding should improve here in his second start after time starter after earning a 40 Beyer when grabbing show spot in debut.
#6 Bill's Mafia (4-1): Bill had a tough go of it two back in a class dropper and trainer Woodhouse dropped this gelding in class again while looking to Wesley Torres for the ride. Torres ended up delivering a better performance garnering a 40 Beyer and expended a game effort from Mafia to get up for 2nd in the slop.
Note – if Lawyer Roy runs an improved race today, put him in your virtual stable. Second-out after being gelded types are a good prospect.
PARX RACING RACE 3
Exacta box 4-3-7
8 gets the early jump and 5, 1 behind
#3 Inland Empire (6-1): West Coast shipper comes in and has scored $58K in earnings this year. Empire gets a favorable inside post for this mile route, and she has had a solid work over the track on 12/13. Trainer Pino (25% for the meet) has Emmanuel Esquivel (16%) up, who seemingly passed on Sandy Mischief in this race. Inland Empire has the best Equibase speed figure and the best average speed figure of this group and the only victory at this distance.
#4 Sandy Mischief (4-1): Lightly raced 3 yo filly with three outings scoring 1 win and 2 show finishes. Mischief has the highest per race average of $10,907, improved Beyers in all her races, and will track/stalk the lead before making her move on the turn.
#7 Whitney Cove (2-1): Linder (20%) drops this Sky Mesa filly in for a tag after two hotly contested allowance class outings. In her last four attempts, she has run in the money all four, which tells me she's in shape and ready to go.
And a hunch play in the fourth…
Gambit's Girl, Golden Gala and Fiery and Gorgeous…a lot of alliteration for an anxious augur.