RT's spot plays: Stronach 5 December 14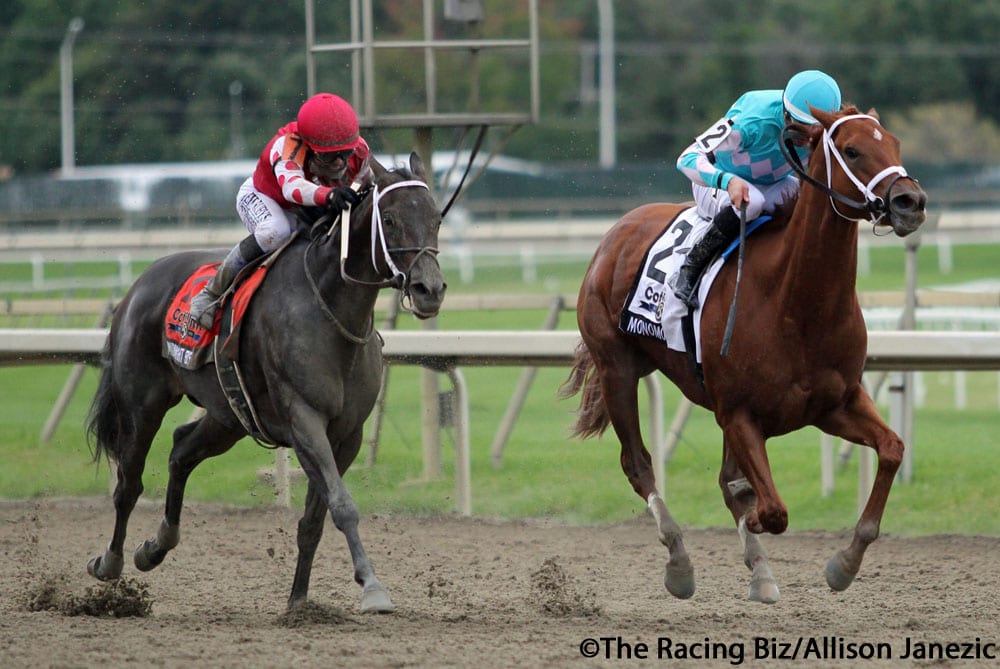 RT will be making occasional spot plays. A veteran handicapper, he loves him some exacta box actions.
by RT
Let's take a swing at today's Stronach 5, featuring three races from Gulfstream Park and two from Laurel Park. Good luck!
LEG 1 – Laurel Race 8
It will more than likely be raining when this race goes off.
Wooooosh 13 takes off. 1, 5 & 6 behind
#11 – Gorbachov (3-1): Four races and three times claimed, this $85K Ghostzapper gelding is going to benefit from an outside post. I'm not a fan of taking a 1st claim horse, especially in a 13-horse field, but Keiron Magee is a 20% winner in this situation. Gorbachov gets a break in the weights with apprentice Weston Hamilton. In his last race, on a muddy track, he got up for 1st going away and notched a 60 Beyer. With so much early speed in this race, Hamilton will have a chance to keep this runner near the lead and crush them all by mid-stretch.
LEG 2 – Gulfstream Race 8
Sunny and 81 — arrrgghhh, I'm jealous!
10, 11, 12 out to the lead with 2 in tow.
#7 – Cape Desiderato (10-1): This is 5 furlongs on the turf and with most turf races, I look for the closers. I opted for this gelding because he has shown closing speed and gets the switch to Irad Ortiz, Jr. Irad is an ace turf jockey as proven by his award on Monday for turf jockey of the year. In this horse's first four races, his Beyer pattern has been 51-43-59-47, so expect an improvement from that last 47.
#12 – Macho Blue (12-1): Was claimed, benched, freshened with two solid works and is now, like the Richard Nixon joke went, "tan, rested and ready." He is a second-time starter who put up a 47 Beyer last out. There is normally an improved performance out of a second timer, and this should be no different. He gets Lasix today, which isn't his first time, but his last race was almost a year ago, so it will more than likely have that first time effect. In his only/last race, the three finishers in front of him went on to win their next out and albeit an outlier, this guy has been freshened with two solid works including a breeze from the gate in 35 2/5 on 11/10. Trainer Abarrio appears to have Macho ready.
LEG 3 – Laurel Race 9
Slow pace with 5 one the lead, 13 right behind and 6 nearby
#4 Best Surprise (3-1): The class of this race… with some concern because of it being Lake's first start (14%) with this claimer. Shows a strong work out at Pimlico. Seven times out and four times in the money and having previous races at Saratoga, Belmont and Aqueduct make him my choice…
LEG 4 – Gulfstream Race 9
11 & 5 at the half with 10 & 9 in tow
#2 Pass the Butter (9-5): I kept looking for reasons to go against this favorite and couldn't find a legitimate one…. other than betting a heavy chalk in an 11-horse race is usually a way to make the book richer. PTB gets the switch to hot jock Paco Lopez, the trainer, Kathy Ritvo, is 25% with claimers and this guy loves Gulfstream with Beyers in the 70's.
LEG 5 – Gulfstream Race 10
First time starters w/lasix # 1, 12, 2 & 8 on the lead. If also-eligible #14 runs, as well as 4, 9 & 10 nearby.
#4 Come on Venezuela (7-2): Come on Venezuela closed to 3rd in his last race and bounced off his highest Beyer… look for a bump. Since this is a 5f turf sprint, this runner's style is suited to close on the lead and take the gold. The switch to Tyler Gaffalione is an absolute boost.A couple of Pittsburg Phils maxims come to mind with this race:

a) A good jockey, a good horse, a good bet. A poor jockey, a good horse, a moderate bet. A good horse, a moderate jockey, a moderate bet.
b) There are few trainers who can send a horse to the post the first time out in perfect condition.
Hey, what a bargain! At the $1.00 unit of the Stronach 5, our bet is just… hmm… count it up… $2.00!