Maryland Jockey Club unveils 2019 stakes slate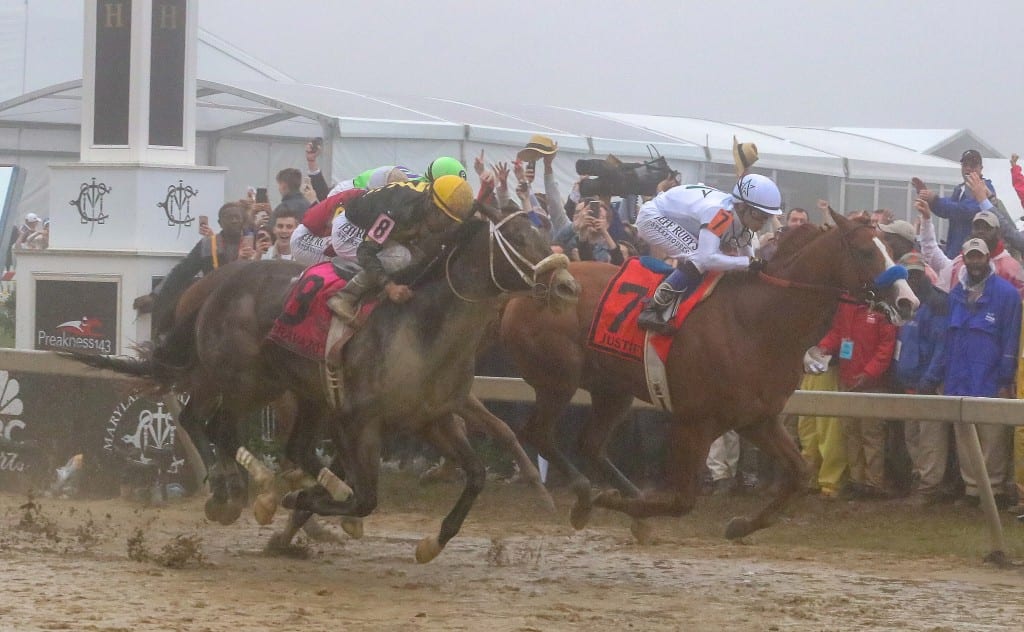 The Preakness tops the 2019 stakes calendar. Photo by Dottie Miller.
From a Maryland Jockey Club release
Starting on New Year's Day, Jan. 1, and leading up to the 34th edition of the Jim McKay Maryland Million in mid-October, the Maryland Jockey Club will offer 65 stakes, 13 graded, worth $9.2 million in purses (PDF of the list of stakes) through the first two-thirds of the 2019 calendar.
Highlighting the year's stakes action is the 144th running of the $1.5 million Preakness Stakes (G1), the Middle Jewel of the Triple Crown, set for Saturday, May 18 during the 12-day Preakness Meet at legendary Pimlico Race Course.
A total of 16 stakes, nine graded, worth $3.8 million in purses will be offered over Preakness weekend. The $250,000 Black-Eyed Susan (G2) for 3-year-old fillies headlines a program of seven stakes worth $1.15 million on Friday, May 17 that includes the historic $300,000 Pimlico Special (G3) while the Preakness anchors a program of nine stakes worth $2.65 million.
The $200,000 Chick Lang (G3) for 3-year-olds going six furlongs on the Preakness undercard was upgraded from listed status for 2019, while new to the program is the $100,000 Searching Stakes for fillies and mares 3 and up at 1 ½ miles on the turf.
"We're very happy to present this stakes schedule through October," said Maryland Jockey Club President and General Manager Sal Sinatra. "We continue improving our program and getting interest from horsemen throughout North America. The improvements to our facility, coupled with a few changes to the stakes schedule, have us excited about the upcoming year. We will continue building our year-round program and amenities and we're confident we will see interest continue to grow in our product."
Laurel Park's winter meet begins Jan. 1 and will run primarily Thursday through Sunday in January and February and Friday through Sunday in March in a 48-day stand that concludes March 31. There will be no racing Thursdays Jan. 3 and 17 and Feb. 14 and special Monday programs on Presidents Day, Jan. 21, and Martin Luther King Jr. Day, Feb. 18.
Winter Carnival returns Saturday, Feb. 16 featuring the $250,000 Barbara Fritchie (G3) for fillies and mares 4 and up and the $250,000 General George (G3) for 4-year-olds and up, both at seven furlongs. Sophomores take the spotlight in the $100,000 Wide Country for fillies at seven furlongs and $100,000 Miracle Wood at one mile.
Closing month of the winter meet will see 3-year-olds compete in the $100,000 Beyond the Wire for fillies at one mile and the $100,000 Private Terms at about 1 1/16 miles as part of a five-stakes program Saturday, March 16.
Laurel Park's 19-day spring meet opens Friday, April 5 and runs through Sunday, May 5 on a Thursday through Sunday schedule. There will be no racing on Easter Sunday, April 21, and a special Easter Monday program April 22.
A total of seven stakes worth $750,000 in purses will be run Saturday, April 20 led by the $125,000 Weber City Miss at about 1 1/16 miles for 3-year-old fillies and the $125,000 Federico Tesio at 1 1/8 miles for 3-year-olds and featuring the debut of the $100,000 King T. Leatherbury Stakes. Named for Laurel's resident Hall of Fame horseman, the race is for 3-year-olds and up going 5 ½ furlongs on the grass.
The winner of the Tesio will earn a spot in the starting gate of the Preakness while the winner of the Weber City will earn a place in the starting gate of the Black-Eyed Susan. It will also mark the start of the popular MATCH Series.
Following the Preakness Meet at Pimlico, racing returns to Laurel for its summer meet which runs May 31 to Aug. 18. A total of 13 stakes worth $1.1 million will be offered starting Sunday, June 16 with four stakes including the $100,000 Alma North for 3-year-old fillies at seven furlongs and the inaugural $100,000 Big Dreyfus for fillies and mares 3 and up and $100,000 Prince George's County for 3-year-olds and up at 1 1/16 miles on Laurel's world-class turf course.
Sunday, July 14 will feature five stakes worth $400,000 in purses led by the $100,000 Stormy Blues, a 5 ½-furlong turf sprint for 3-year-old fillies. Summer meet stakes action concludes Saturday, Aug. 17 with four stakes worth $300,000 including the $75,000 Star de Naskra and $75,000 Miss Disco for Maryland-bred/sired sophomores.
Racing moves to the Maryland State Fairgrounds in Timonium Aug. 23 through Labor Day, Sept. 2, and Laurel Park opens its calendar-year ending fall meet Friday, Sept. 6. The opening month features 14 stakes, two graded, worth $1.8 million in purses.
The September 21 program will be the first of two Super Saturdays during the month, offering eight stakes worth $1.2 million highlighted by the $250,000 Frank J. De Francis Memorial Dash (G3) for 3-year-olds and up at six furlongs and the $200,000 Baltimore-Washington International Turf Cup (G3), a one-mile turf test for 3-year-olds and up.
Also on Sept. 21 is the second running of the $150,000 Bald Eagle Derby for sophomores at 1 ½ miles on turf and the debut of the $100,000 Weathervane Stakes for 3-year-olds fillies sprinting six furlongs on the main track.
The Saturday, Sept. 28 program will feature six stakes worth $600,000 topped by the $150,000 All Along at 1 1/16 miles on grass for fillies and mares 3 and up. New to the stakes schedule are the $100,000 Anne Arundel County for 2-year-old fillies and $100,000 Howard County for 2-year-olds, both 5 ½-furlong turf sprints.