RT's spot plays: Parx December 11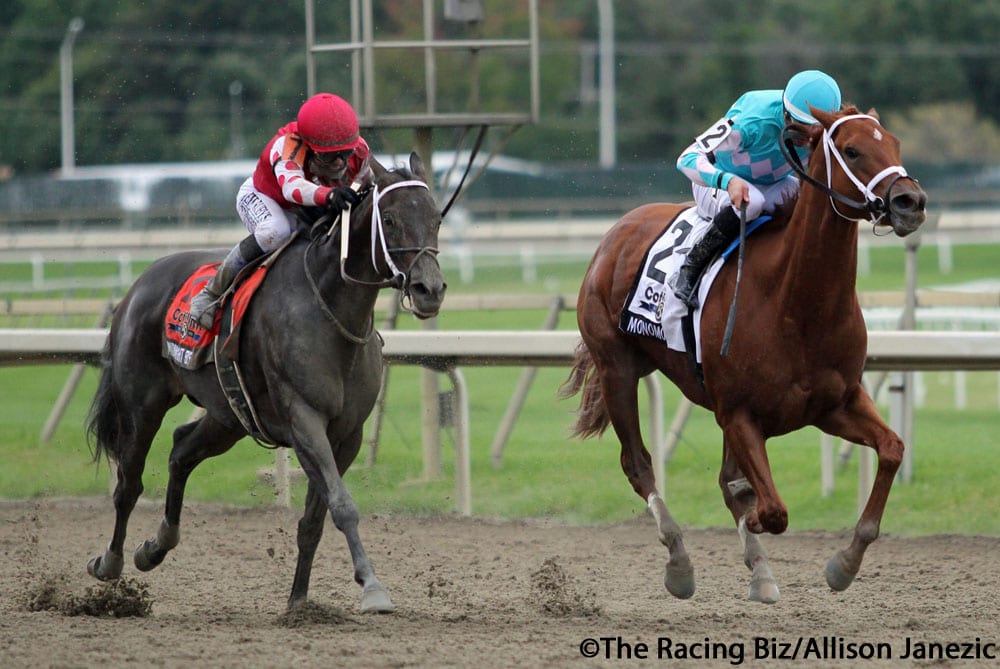 RT will be making occasional spot plays. A veteran handicapper, he loves him some exacta box actions.
by RT
If you are absolutely convinced that sports betting will be legal in all 50 states, like myself, then PDYPY is the investment. They're an Irish group that has Betfair, Paddy Power, TVG, Draft Kings et al…. (Editor's note: For the love of Pete, do NOT, under any circumstances, take investment advice from anyone on this website. We recommend seeking the advice of a professional investment analyst.)
I caught a few races at Parx yesterday, and the track played mostly to speed/tracking and the occasional closer. Reviewing the results it appears that mid/outside is the preferred posts and the rail is dead.
Once I have ascertained the conditions of the race, the first thing I look at is which horse has earned the most money for the year and how much at that given track. Certain horses have an affinity for certain tracks (or, alternatively, do not like certain tracks). I then check their Beyers and Beyer patterns to give me a start of who is going to be of interest. I then do a quick scroll to find who is dropping in class, moving up, etc.
I prefer a runner who gave a great effort last time out and is moving up in class. From there, I try to get an idea in my mind's eye of the way the race is going to unfold.
Race 1
Exacta Box 7-5-4
Look for #5 and #3 to be on the lead with #4 and #2 tracking…
#5 Sierra Leona (3-1): Shipper from AQU who has a race on 11/8 after a seven-month layoff where she dinged out a 45 Beyer in a stronger class. I like to take horses that have moved from an A track to a B, such as this gal. Second off a layoff is always an excellent proposition. This filly will run and hide from the pack today…
#7 Pretty Venezuela (12-1): She comes in 2nd off a claim and in that previous race, she drifted in and got up for show. This filly received a 50 Beyer for that effort, and she is capable of better. Trainer Dominguez keeps Bracho in the irons. Filly has won $63K at this track…
#4 Emiliana's Hope (4-1): This is the crap shoot, question mark….turf to dirt. Four-year-old, 24 races, $91K in earnings and only three of the 24 races have been on dirt. However, this filly has a Timeform closing rating of 90 and given the front-end speed in this race, she will get her footing and start flying in the stretch…
Race 2
Exacta Box 7-2-6
#6 Sheplaysthefield (1-1): Recent claim from Chris Englehart and he picked her up at a bargain for $14K. I'm not wild about playing this heavy of a chalk, but this filly, before being shelved last year, was racing in loftier company at Sar and Kee. I look for her to be in the money and not necessarily the winner. Her last three workouts were very slow which speaks to the trainer wanting her to get used to laying back and not rushing to the lead. Eleven lifetime outings and $92K in earnings with an average of $8300 per race and an E speed rating of 75 – the highest numbers by a stout margin out of this group…
#2 B B's Busted (5-1): Major class dropper here and her last 5 Beyers are marginal efforts, yet are better than the rest's past five. Twelve races at PRX, two wins and five times in the money for $63K at this track,,,
#7 Queen Fantabulous (6-1): Her last 4 races have been on an off track and she didn't fare well. If this is the case today, then toss her and go to #5. That said, her Beyer pattern indicates an improvement and if she gets a dry track, she will be a factor. Trainer Silvio puts the bug boy, Juan Hernandez (15% wins for the meet), so she gets a nice break in the weights…
Race 3
Exacta Box 1-2
#1 is going to scream out to the lead in this one and stud trainer Servis may get the winner and second-place prizes
#1a Lights Down Low & 1 Finishing School (7-5): One of these two Servis entries in this race will be the rabbit and one will lay back and close the deal. The remainder of horses in this race have a proclivity to fade badly, so I am putting my hard earned cash on the entry. It appears that the 1a will be the laggard early and get to the line first…
#2 – Zensational Dixie (10-1): She's the only one left of this gang that has shown any jump…
LAST OUT
On Sunday 12/9, made $18 in wagers, which returned $104.90 for a profit of $86.90.