RT's spot plays: Parx December 8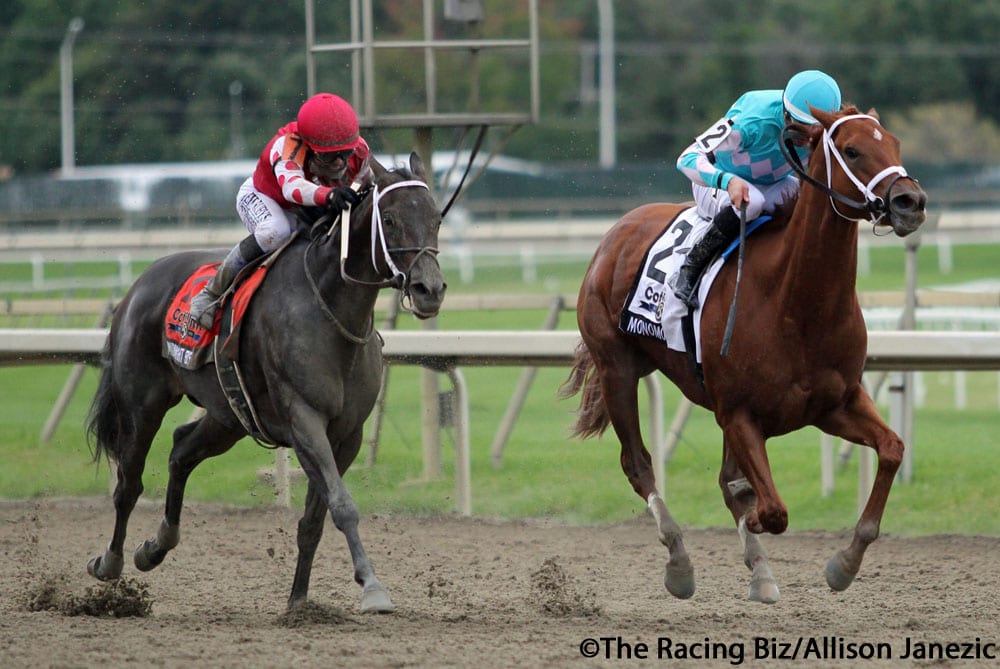 We add a new handicapper to the mix today, with RT joining the team. He'll be making occasional spot plays. A veteran handicapper, he loves him some exacta box actions.
by RT
Taking a look around the Mid-Atlantic, I've landed on Parx Racing, where it's expected to be cold and cloudy. It's shaping up to be a good day for me, though, as I'm going to bet some ponies while watching Army thrash Navy (I hope!). Go Knights!
Now on to the races:
Race 1
Exacta Box 6-9-3 – looking for an early payoff with an 8-1 horse on top…
#6 – Bella Lou (8-1): Big class drop, key race returnee, 2nd off of claim, trainer Ness 21% with 2nd start claimers, $318K in winnings @ PRX. Beyer pattern suggests this runner is ready…
#9 – Journey on the Move (6-5): Trainer Gonzalez is 32% with first claimers and is 40% for the meet. Very early speed rating of 106…
#3 – Abets Abet (12-1): 2nd time for apprentice Hernandez in the irons. Gets blinkers 1st time which tends to spook the horse and make them shoot out of the gate and take the lead – which this track favors…
Race 2
 Exacta Box 9-4-2
#9 – Prize Fight (15-1): Tiznow gelding ships in from Finger Lakes with C. Englehart a trainer who has solid skills. Off since 11/1 with a three-furlong breeze on 12/4 over the strip, and has last three Beyers of 58-61-64 along with Timeform Early rating of 102. Exits Key race where the two who have raced since scored wins at 79 & 65 Beyers at FL…
#4 – Malibu at Midnight (7-2): Pino trains, Rodriguez up and has 99 early Timeform rating. With last 5 Beyers of 63-32-58-67-67, should be there…
#2 – Josey Wales (15-1): Only Timeform rated closer and that's a strong 93. Given the track bias to speed as well as all early runners here, this one may sneak in down the stretch…
Race 3
#6 – Billyjeansmyboy (2-5): The only entry here that has shown some signs of being a racehorse…
#2 – Deerstalker (6-1): On the bench since May where he was in his first race, a MD20000, so a bit of a class drop here. Has had 3 works in November, including a gate work that was befitting of this class. Typically, horses improve dramatically in their 2nd outing…
#3 – Purrs Again (12-1): Going with Hernandez in the irons here. Last outing scored a -0 Beyer. Last time he had that score, he came back with a 41. So there's that…
Race 4
#5 – The Carlbrook Kid (3-1): Zulueta is 18% with first time claimers, and this one has shown late kick. Runner lands here after being fifth by a half-length against MC 20k rivals…
#2 – Wise Jude (5-1): On the shelf since October and has been working well toward this race, including a 5f  move out of the gate in 1:01. Takes a class drop out of open company to this state-bred race…
#1 – Let's Blaze (4-5): Gets Pennington and has excellent early zip. The jockey change is a positive with a runner who has a history of fading badly in the stretch. Could run away with it, but at 4-5?
** NOTE ** Pay attention to the tote board on the #7 horse, Seth's Law. He's a first-timer with Lasix, and three above-average works from the gate denote that there's more under the hood. If he drops in price, bet him.