"Crookedest foal" Ava O running on the straight and narrow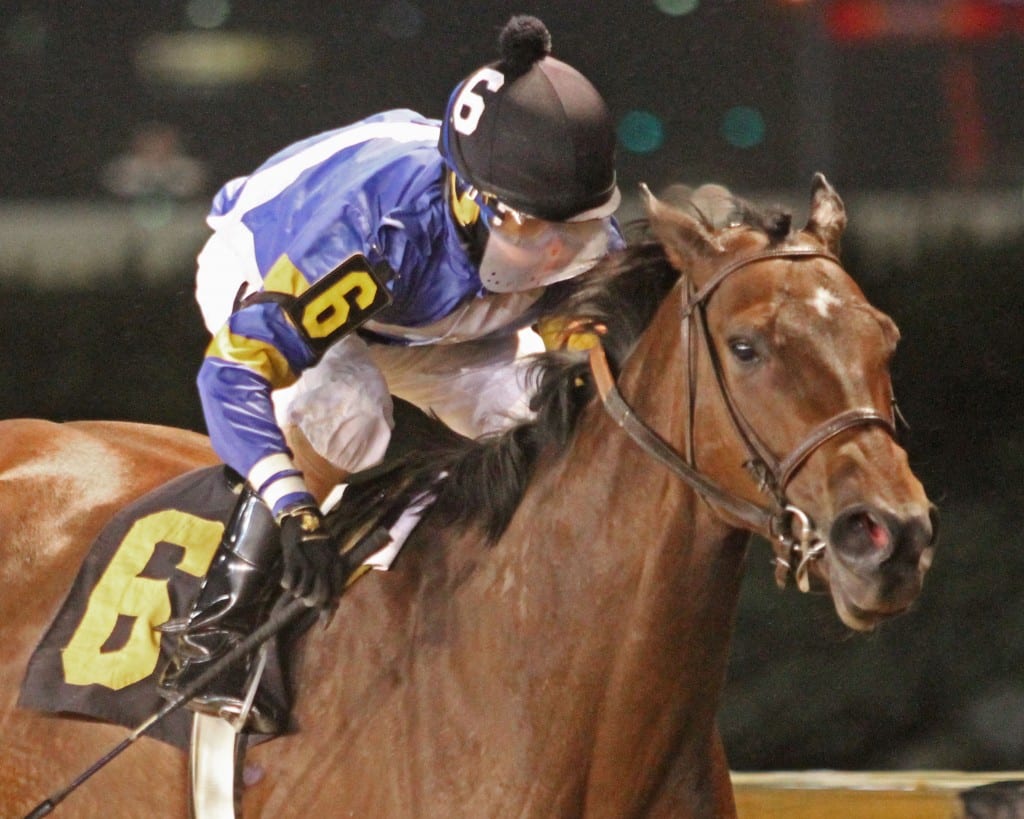 Ava O and Wesley Ho won an allowance race at Charles Town. Photo by Coady Photography.
by Ted Black
Virtually from the day she was foaled in 2015 at Country Life Farm in Maryland, Ava O has made a lasting impression on people, first for how crooked she was, and more recently for her emerging talent.
A daughter of Hunt Crossing out of the Bop mare Shesabopper, Ava O recorded her third win in 11 career starts for trainer Michael Weeks, breeder Tommy Lee Jones and owner the Estate of Doris Jones. Ava O pushed her lifetime earnings toward $56,000 with her latest tally.
Tommy Lee Jones, who has served as the Huntsman of the Casanova Hunt for nearly 50 years and as a director of the Warrenton Horse Show and Upperville Colt & Horse Show for the past 35 years, recalled the days leading up to Ava O's birth. His mother, Doris, who passed away last May at the age of 91, watched the birth online, and moments later Tommy Jones received a memorable call.
"I remember setting up the laptop on the kitchen table so that my mom could watch her being foaled," Jones said. "There was another mare in the first stall and our mare, Shesabopper, was in the second stall. When Ava O was born she was very big and had difficulty standing. In fact, Christy [Holden] from Country Life called me and said she was the crookedest foal she had ever seen. Then right after she broke her maiden [on June 16] I called Christy and told her that the crookedest foal she had ever seen won a race."
Ava O finished ninth in her career debut but then was third twice and fourth once in her next three outings before finally garnering her diploma in a one-turn, 4 1/2 furlong, maiden special weight event on June 16, 2018, roughly one month after Doris Jones passed away.
That victory would prove eerily similar to her most recent one in several respects. Ava O scored by nearly three lengths that night as an overlooked 10-1 shot in a race where Ghost Fever, a full-sister to Hidden Canyon, was the even-money choice. In her most recent allowance tally, Ava O prevailed at 5-2 in a one-turn dash in which Ghost Fever was again sent postward the even-money choice.
"That was probably the first night in a long time when she was able to run on a track that wasn't sloppy or muddy," trainer Michael Weeks said. "She had been running on off tracks early in her career. The first time she ran on a fast, dry track she won. We had wanted to run her several times in Maryland on the grass, but every time we tried, either the race didn't fill or they got so much rain they had to take the races off the turf. She's probably going to run one more time this year then we'll turn her out at the farm and bring her back next spring and look for races on the grass."
Ava O may have needed five tries to break her maiden, but immediately after she garnered her diploma she came right back to forge a 9-1 upset in a one-turn allowance dash at Charles Town on July 12.
She would then finish third three times in allowance company during the summer and fall before prevailing again last Saturday over Ghost Fever in 52.12. Several passing showers dampened the Charles Town surface that evening, the track listed as muddy, but that listing somewhat belies the actual conditions, Weeks said.
"It was raining a little when we headed up there and I thought the track might be off," Jones said. "But it was really mostly dry and fast. That's the type of track she loves."
Weeks has Ava O's medium-term future pretty well mapped out.
"She might make one more start up there before she comes back to the farm," the trainer said. "But our goal next year is for her to run on the grass. Her grandmother [Minimum Effort] was really good on the grass. She would take back and then make one big run late, but she finished second 12 times [in 78 starts]. This filly likes to be up near the lead."
Beyond horsemanship, Tommy Lee Jones has also been noted for his roles with Jack Russell terriers over the years, making several appearances on the George Michael Sports Machine and another on The David Letterman Show.
"George always loved the Jack Russell terriers," Jones recalled. "He said when we came on it was the highest rated show of the season. They're usually very friendly dogs, but one day after a race, George picked one up and tried to kiss him and the dog snapped at him and nearly bit him in the face. Besides that moment, he loved them."
All in all, it's turning out to be a pretty good tale for the "crookedest horse."
"She's such a big filly," Weeks said. "When she was young, she was big and gangly and crooked, but she's really straightened up nicely."