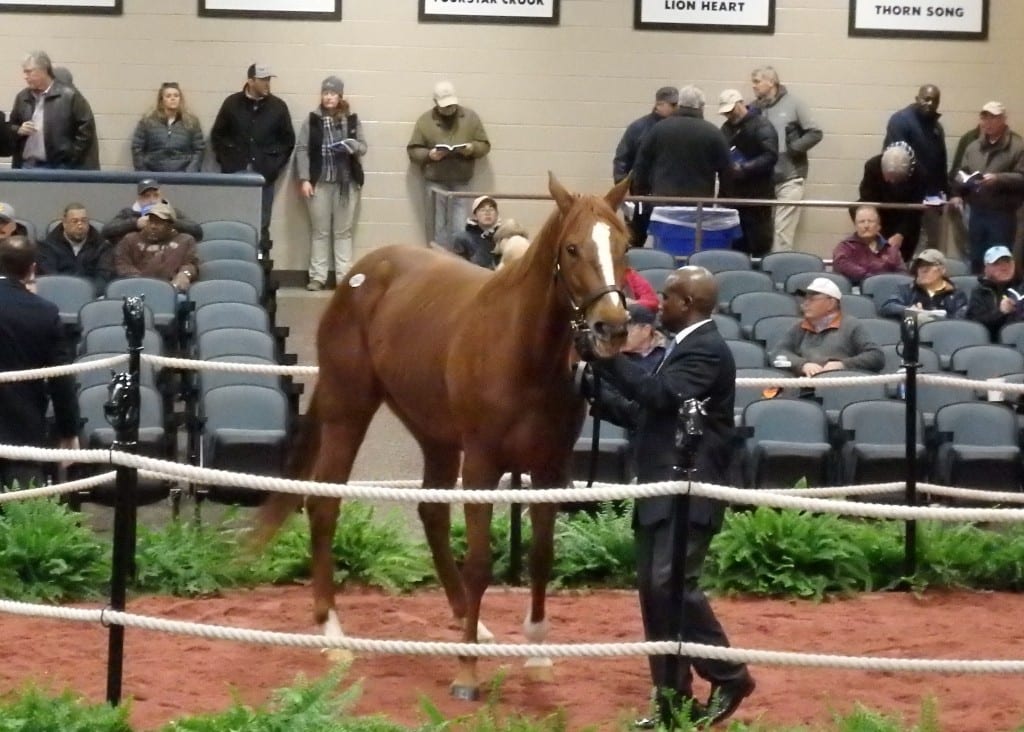 Line of Best Fit sells at Timonium. Photo by The Racing Biz.
by Frank Vespe
"Today is a little bit of a sad day for me," Rick Proctor said midway through Tuesday's Fasig-Tipton Midlantic mixed sale.
He had just watched Hip 60, an eight-year-old mare he'd owned named Line of Best Fit, sell for $33,000 as a broodmare prospect. She was the top-selling broodmare or broodmare prospect.
"It's bittersweet today because she's been the best horse I've ever had," Proctor continued. "A lot of people said to me, she looks like she still wants to run, and she does, but she can't with an ankle like that."
Consigned by Bill Reightler, Line of Best Fit was purchased by Joseph Besecker. It was one of Besecker's eight purchases on the day.
Proctor, who earns his living in real estate, reflected on the journey on which Line of Best Fit had taken him.
"I'd always bought two-year-olds or yearlings for 27 years [up to 2016]," Proctor said. "But in 2016 I got this idea that the better way to play the game is to claim. So my first claim in January 2016, for $25,000, with no help, just me evaluating things, was Line of Best Fit."
He claimed the Ontario-bred daughter of Trajectory in January 2016 for $25,000. She went on to win eight races for him, earning his stable $356,385.
She won a stake — the Shine Again in September 2017 at Laurel Park — and finished second in two others. But it was a third-place showing that might have been her best effort: she finished third, beaten three lengths by the great Songbird, in the 2017 edition of the Grade 1 Delaware Handicap.
"When [Line of Best Fit's trainer Kieron Magee] said we're going to the Grade 1 Delaware Handicap, I said, 'You're out of your mind," Proctor recalled. "But if you watch that race, when you come around the turn, for about two blinks, you're thinking, 'Oh my God, she's going to go after Songbird.' For those two seconds, you thought she was going to do it. I don't know — there's nothing more exciting."
Line of Best Fit ran three times in 2018, twice finishing second, before the ouchy ankle caught up to her. She retired with 16 wins from 46 career starts and earnings of nearly $660,000.
Proctor describes Line of Best Fit's pedigree as "nondescript" — it's dotted with unfamiliar stallions like Domasca Dan and Bionic Light — but said that the primary reason he continued to run her rather than breed her was more elemental.
"She's a tomboy," he explained. "She just wants to run."
Perhaps so, but her racing days are behind her now. Now she will join Besecker's broodmare band, along with Sanibel Star, a veteran Unbridled's Song mare Besecker also snapped up.
With the sale of Best Fit, Proctor has two horses, a two-year-old that hasn't yet raced and Queen to Checkmate, a three-year-old Plan filly he claimed this past March for $11,000. She has earned his stable over $60,000 to date.
"You know, it's like the horse of a lifetime in a lot of ways," Proctor said of Line of Best Fit. "My dad climbed telephone poles for a living. I've been blessed. I've won 80 times with the horses I've owned. I feel lucky."