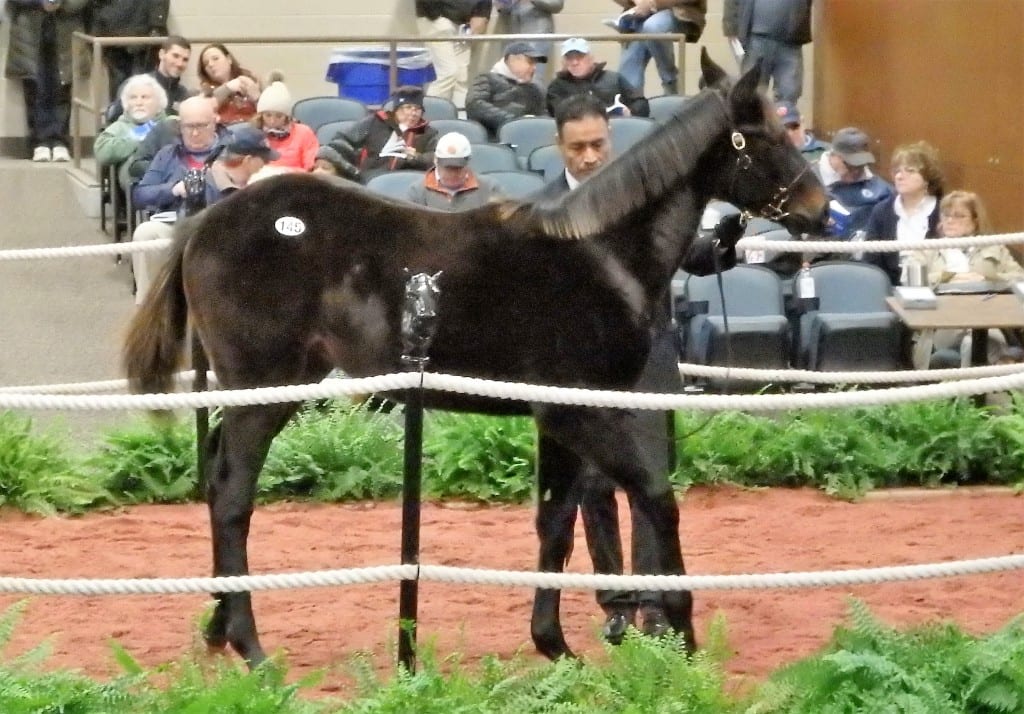 Selling at Timonium. This Peace and Justice colt sold for $80,000. Photo by The Racing Biz.
by Frank Vespe
"It's exciting," Konrad Wayson said at yesterday's Fasig-Tipton Midlantic mixed sale a few minutes after he and racing partner Wade Meadows purchased Hip 144, a weanling Liaison colt, for $20,000.
It was the second purchase the two men had made, having already grabbed Hip 121, a Great Notion weanling colt, for $21,000 a little bit earlier. In both cases, another bidder had landed on the same horse, Wayson lamented, driving the price a little bit higher than he might have hoped.
"We actually had three of them we were looking at, but these two went for a little bit more, so we're about at our budget now," Wayson said.
And he was true to his word; Wayson and Meadows stopped at two.
Hip 121, which was consigned by Dark Hollow Farm as agent, is out of the Lemon Drop Kid mare Cindy S. A Maryland-bred, he has a nice family behind him that includes notable local names like the stakes winners Hartigan and Struth, as well as the Grade 2 winner Star Minister.
Hip 144, consigned by Marshall Silverman as agent, is out of the Stormin Fever mare Hidden Fever. Also a Maryland-bred, he's a half-brother to three winners, among them the stakes-placed Stormin Wendy.
"For us they were two quality horses in the sale, so we paid a little bit more," Wayson explained. "We're going to take them back to my farm and put 'em out with some other weanlings we've got there and see what happens."
For Wayson, it's the continuation of story that's been going on for generations. He was introduced to the game, as a child, by his father.
"My dad has always been in the game. I remember as a young kid, we had horses at Bowie, Laurel, Pimlico," Wayson recalled. "When they couldn't make it here, we'd get in the back of the Country Squire station wagon and go to Charles Town. So I've been around the business a long time."
Wayson also serves on the Maryland Racing Commission, a position to which he was appointed in 2016. It's been, he said, a learning experience.
"You know, sitting in the audience sometimes [at Commission meetings], asking questions from the perspective of me as the individual owner" prior to joining the Commission, he remembered. "Now I can't look at it that way. Now I have to have a broader view. It's teaching me a lot about what's going on in Maryland racing."
Most of which, he says, is good.
Which in part is why continues to invest in the game. Wayson said he and Meadows also have a broodmare in foal to Madefromlucky, as well as a Great Notion weanling out of the same mare. They have one horse at the track, a three-year-old Union Rags gelding named Pro Riot, who broke his maiden November 24.
They began the year with two others in training with Michael Trombetta, but one, a Giacomo filly named Jacobella, was claimed away and the other never made it to the races.
"She's at the farm," Wayson said. "She's a field ornament, but she's living a happy life."
And now the two partners, who run as WWCD LLC, have the two sales weanlings to add to the herd.
And as he surveys the Maryland racing landscape, Wayson observes, "There's some issues that we've got to work at, but I'm happy."