My terrible, horrible, no good, very bad beat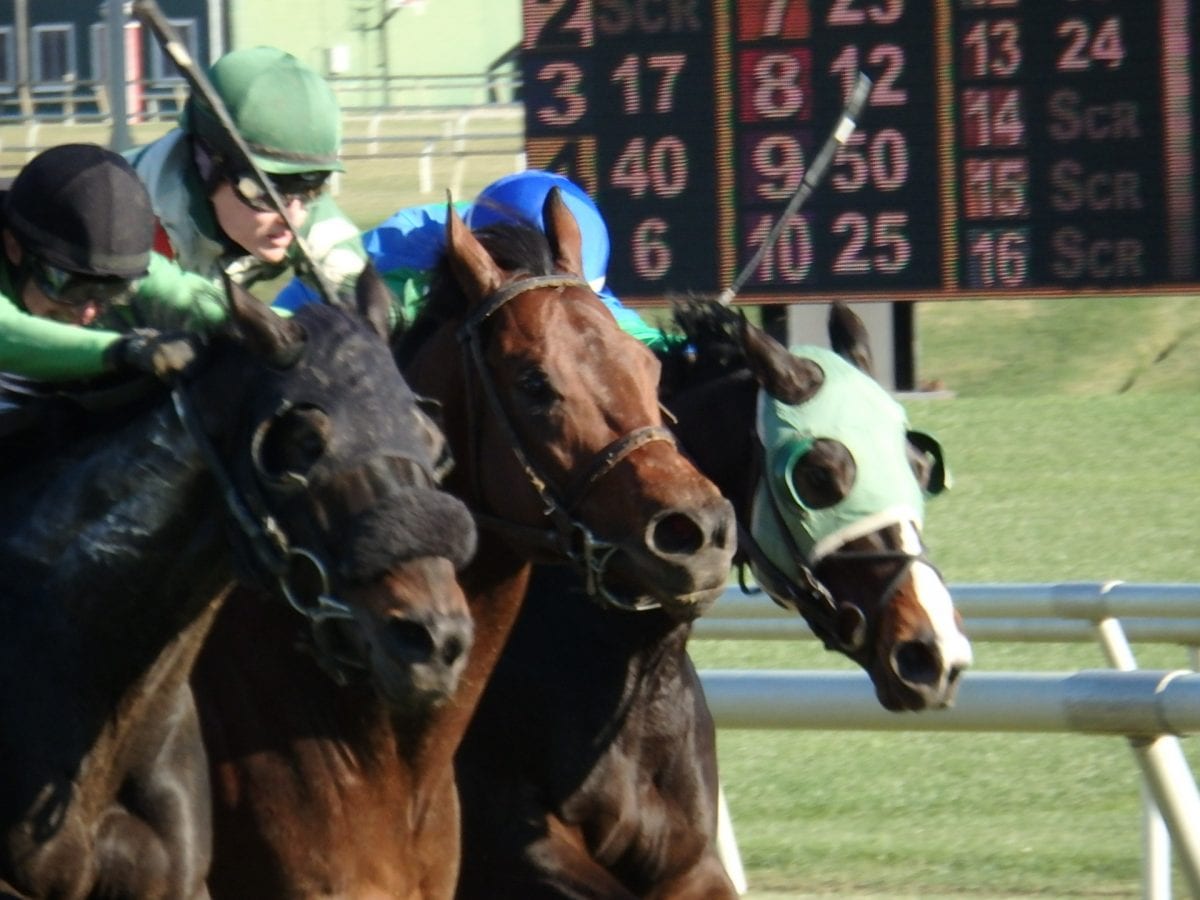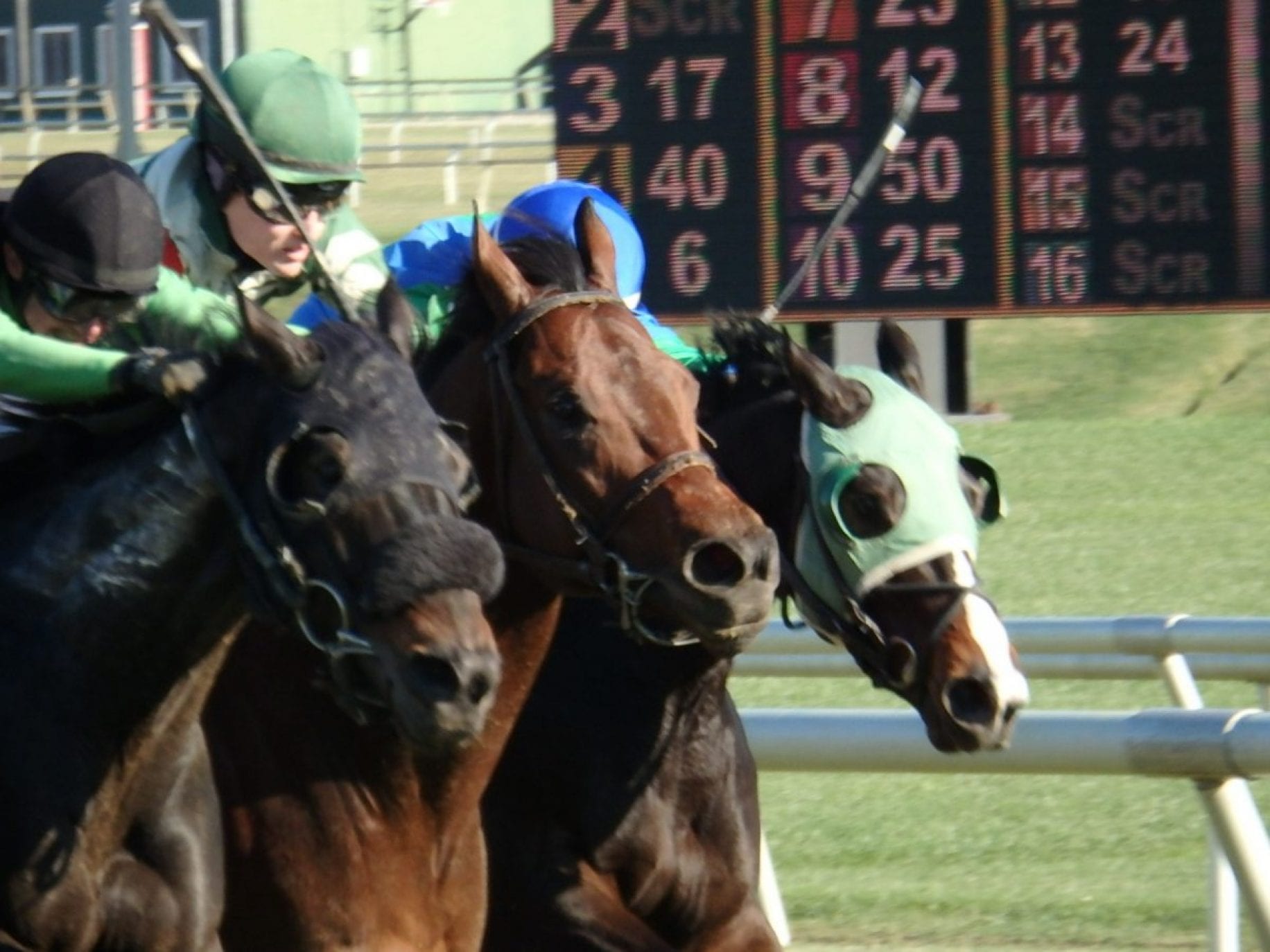 Racing at Laurel Park. Photo by The Racing Biz.
by Frank Vespe
Every horseplayer has his (or her) bad beat tales of woe: the pinhead jockey who zigged when he should have zagged, the freakish performance from the horse that couldn't win, the favorite you hated who beat you all the same.
Heck, there's even the "I didn't see the horse's PPs on the last page" genre of bad beats.
Be that as it may, one thing I know for sure is this: if I ever construct my own Bad Beat Hall of Fame, I've got one surefire, first-ballot, unanimous choice Hall of Famer all lined up.
That would be Friday's late Pick 5 at Laurel Park.
I don't usually play the Pick 5, because although it has, as the Maryland Jockey Club likes to remind us, "an industry-low 12 percent takeout," I'm cheap and putting together five races worth of winners generally deposits me in "too expensive to play" territory.
But entering Friday's action, the late Pick 5 had a $15,180 carryover, which seemed enticing enough to give the card a gander. Soon enough, gandering complete, I had compiled a draft ticket that went 3 x 3 x 3 x 3 x 2 for a total of $81 on a 50-cent base wager.
Hmm, I thought. Eighty-one bucks is more than I usually spend. I should trim this down a little bit. So I removed just one horse, turning a race where I had three runners into one where I had two and reducing the overall cost to $54.
Smart, huh? Take out just one of the 14 horses I was originally using and reduce the cost of the wager by one-third.
Time would tell how smart I was. And time can be a real son of a gun.
My emotions during the sequence:
Race 5: Wow, great! A longshot to start the Pick 5!
Race 6: Good break there, as the longer priced of my contenders wins. Two down, three to go!
Race 7: Damn! Turing Machine, the one and only horse I threw out from my draft ticket, wins. Son of a… On the other hand, I'm sure I'll miss the fourth or fifth, so really, it's no big deal.
Race 8: Well, look at that: the longshot I really liked in here wins and pays $25.80! At least I collected a couple of bets on him, so that gets me out of the hole!
10 minutes to race 9: Wait a minute: you're telling me the will-pays are… Oh, no.
5 minutes to race 9: Maybe the 14-horse will win. If he does, the pool will carry over and I'll cash a couple of consolation tickets. That would be the best outcome. Or maybe virtually any other horse will win, and there will be a carryover. That'd be OK, too. The worst outcome? That would be seeing the one-horse win, since that would pay out the pool – but not to me, because, even though I have her… well, I'm cheap. And a dummy (see race 7).
Race 9: Oh. No. No. No.
Inevitably, the one-horse, Fashion Faux Pas, cruised home a nearly-six-length winner. The 50-cent Pick 5 returned, to one fortunate fellow, $59,757.35. That was the entire pool.
Had I left Turing Machine on my ticket, I'd have had half of that: $29,878.
For those of you keeping score at home, that's $27 saved in wager cost – and $29,878 in winnings lost.
And that is what you might call a very bad decision. And a very, very bad beat.
But then again, I'm sure you have your own tale of woe. Don't you?
THE RACES
If you're the sort of person who likes to wallow in others' misery – and honestly, who among us is not that type of person? – here's the sequence of races and my thoughts on them as I constructed the ticket.
The fifth race – the first of the sequence — was a $25,000 maiden claimer for two-year-olds, and it was, honestly, a pretty motley crew that faced the starter. I had three in this one, which came down to a frantic stretch run in which the top four all were within a length of each other.
At the last moment, the Ferris Allen trainee Shaka Style, dropping out of maiden special weight company, spurted through a narrow opening between horses to win by a neck – and how about that? I didn't have the runner-up, so I was an eyelash from being out in the first leg, but I did have Shaka Style among the three I used and thus a $48 winner to start the sequence.
In race six, a $5,000 claimer for horses that had never won two, I also went with three. In the end, the race came down to the Mary Eppler trainee Publishanditerate trying to fend off Wayne Potts's Runabout. Both were on my ticket, and they were nine lengths clear of the rest, so no drama in this one. But Publishanditerate's win was a bonus, as he was 7-2, while Runabout was 9-5.
So, two legs down, both at decent prices.
Race seven was a maiden special weight test, but, while these races often come up pretty tough at Laurel, this one was a fairly mild crew. I had started with three in here, including a pair of runners making their second career starts after credible debuts (#1 War of the States and #5 Taking Aim). I also had the three-horse, Turing Machine, a 12-start maiden switching into the Claudio Gonzalez barn after repeated failures against $30,000-$50,000 maiden claimers in Southern California.
But in maiden races I usually prefer lightly raced horses to those that have lost repeatedly, and so in the interests of economy, I dropped Turing Machine. And, hey – that saved me $27!
Turing Machine, who went off the 2-1 favorite, won easily, with my other two choices finishing second and third.
The eighth, a starter allowance, looked to me like a race where a bunch of early speed types would knock each other out, setting it up for a closer. The only confirmed closer in the race, Papacho, looked a cut below the top runners here and was 20-1 on the morning line, but I decided he had to be on the ticket because of how the race would be run.
And sure enough, a wicked early pace – 21 3/5 seconds for the opening quarter of the 5 ½ furlong sprint – did the heavy lifting, and Papacho came rolling late to win easily by a couple of lengths. He paid $25.80 to win. For good measure, another of my trio, Saratoga Wildcat, was along late for second.
The finale, a maiden special weight for two-year-old fillies, brought together mostly either horses who had run without making much impact or first-time starters who had too many question marks to use. I settled on two, both of which had run before: the one-horse, Fashion Faux Pas, making her second start for trainer Arnaud Delacour and getting Lasix for the first time; and the 14-horse, Miss Philly Dilly, who had been in the money in all three of her prior starts while coming up against some tough customers. Fashion Faux Pas won easily, with Miss Philly Dilly finishing third, a length behind the runner-up, the first-time starter End Result for trainer Ham Smith.