How is sports betting going at Delaware Park?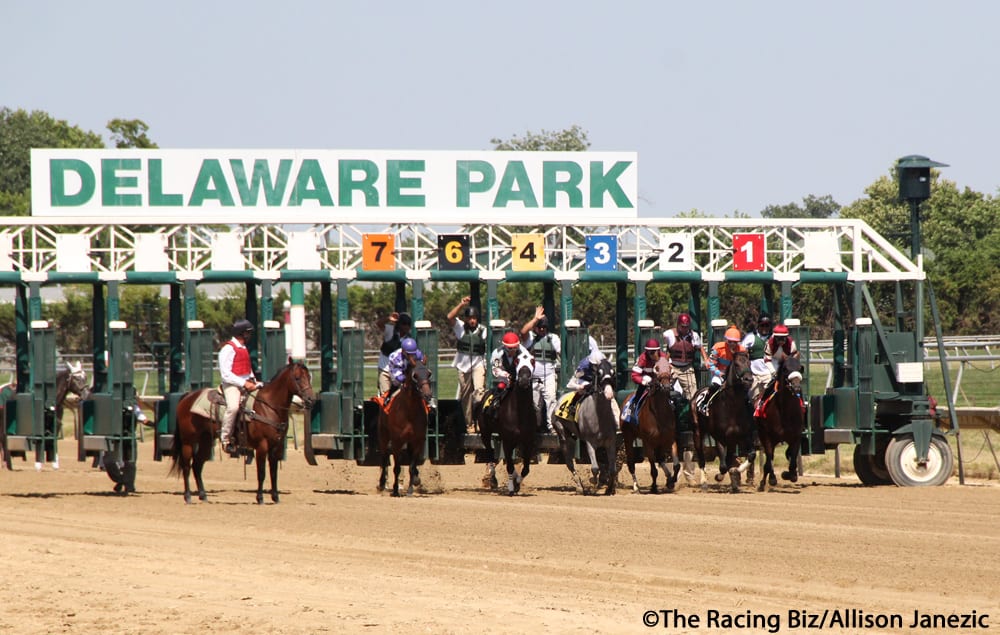 by Doug McCoy
Single-game sports wagering at Delaware Park is already having a positive impact on the track's finances and on the purse account, and horsemen and racetrack executives welcome the new addition.
But some analysts wonder what the long-term impacts might be, and closer to home, some horseplayers at the track fret about their place in the pecking order.
Many in horse racing have come to regard slot machines as, at best, a mixed blessing – bolstering purses even while, nationwide, wagering handle has declined precipitously and in 2017 was lower than it had been 20 years earlier, in 1996, according to the Jockey Club. Some, however, harbor higher hopes that sports wagering might even help racing by attracting a new customer who might more readily cross over to the racing side.
Single-game sports wagering arrived earlier this year via a mid-May Supreme Court ruling that overturned an existing federal prohibition on sports betting that, in essence, applied to every state but Nevada. That case had been brought by the New Jersey Thoroughbred Horsemen's Association and by the state of New Jersey, which, predictably, were then among the earliest adopters of sports betting.
In Delaware, also among the first to the party, bettors can get in on the action at the state's lone Thoroughbred track, Delaware Park, and two standardbred facilities, Dover Downs and Harrington Raceway.
From the advent of single-game wagering in Delaware June 5 through the end of October, bettors wagered more than $38 million on sports at Delaware Park, with net proceeds of over $3.9 million, according to the Delaware Lottery. Under Delaware's regulatory scheme, the state takes half of the net proceeds, while the track (40.4 percent) and Thoroughbred purses (9.6 percent) split the rest. (The numbers are slightly different for standardbreds).
"The overall impact of sports betting has been positive," Delaware Park, which has earned nearly $1.6 million in commissions from sports betting, stated in an email to The Racing Biz. "New customers are being introduced to the property and all Delaware Park has to offer.  Over time, we expect that some of these new visitors will enjoy the other gaming and non-gaming offerings at the property."
Sports betting has also meant close to $400,000 additional for purses to date.
"This should go a long way toward getting our overpayment figures down (overpayments occur when the track pays more in purses through a pre-agreed daily purse outlay than income can cover), and we're hopeful we can get that figure close to zero by the end of the year," Delaware Thoroughbred Horsemen's Association executive director Bessie Gruwell said. "Of course, we will continue to receive our share of sports betting revenue throughout the year even after the live meeting concludes so we're expecting to have a healthy surplus when we begin the new meeting next season."
Gruwell said that she is hopeful that the added purse funds could yield additional racing days at the Stanton oval.
Gruwell pointed out, though, that the sports betting market is already crowded – and soon enough will grow moreso. While New Jersey and West Virginia already are up and running, Pennsylvania is moving in that direction; Hollywood Casino at Penn National ran sports betting tests late last week. And the Maryland legislature, typically slow out of the gate, may well, in its 2019 session, send to the voters a constitutional amendment permitting sports betting. If so, voters would make their decision in 2020, likely leading to sports wagering in Maryland in 2021.
"I think we'll still be getting a lot of business from the I-95 corridor area through Baltimore to D.C. for at least two years, as it's projected it will take that long for sports betting to be legalized in Maryland," Gruwell said. "Just as was the case when slots and casino gaming came to the area, we had a good piece of the pie at first, and then that shrunk as neighboring states came online and also offered the same types of gambling. But any additional revenue for the horsemen is good revenue."
Moreover, sports wagering does not seem, in the first instance, to have harmed horse betting in any substantial way. In fact, overall Delaware Park saw handle on its live product grow by 17 percent during the just-completed meet – even though field size at the track dipped nearly seven percent.
That fall in field size stemmed primarily from a long, wet summer and early fall, which drove numerous races off the turf, often yielding small and unbettable fields. The number of turf races fell by over 18 percent from 2017. The rains also almost certainly drove down on-track attendance, although those numbers are not kept.
"The live race meet was severely impacted by weather this year, especially in the summer which was the beginning of our venture into single game sports wagering," the track reported.
During the July-September period – the first three full months of sports wagering with live racing ongoing – on-track handle on the live product did fall, according to figures provided by Delaware Park. But it, again, suffered from weather issues. Though overall on-track handle on the live product was off 18 percent versus 2017, the number of starters likewise fell by 14.5 percent.
On a per-betting interest basis, the decline during the July-September period was just 4.4 percent.
All of which suggests that the weather, and the concomitant loss of turf races, had more to do with on-track handle than did the advent of sports wagering.
Tracks, like Delaware, seeking to add sports betting face a couple of challenges. One of those is to accommodate the larger crowds generated by sports wagering without alienating their existing horseplayer base. A second is to find ways to encourage sports bettors to cross over to horse racing.
"Delaware Park has integrated sports betting windows on all three floors of the clubhouse.  A new mutuel line was built on the first floor, and racing is the very large majority of what is displayed on these televisions," Delaware Park explained via email. "Part of the mutuel line on the second floor was converted to live sports teller windows to help accommodate the crowds, especially during the football season.  Horse racing and sporting events share the television coverage.  The third floor is mainly sports betting with live tellers and self-service betting terminals."
Several horseplayers, however, suggested that reaching a happy medium remains a work in progress. Three of those – Jim Darden, Karl "Reds" Kalinevitch, and Steve Richards – all said that they and their handicapping friends had been forced to move from preferred locations multiple times as areas were repurposed to handle sports betting or the crowds drawn by the new offering made spaces uncomfortably crowded.
Darden, a 64-year-old realtor and lifetime horseplayer, complained that he is reaching wit's end.
"Saturday was the one day of the week I could go to the track, enjoy horse racing with my friends and have a pleasant day out," Darden said, "Now if I want to get a seat where I can see the TVs. I've got to get to the track at 10:00 a.m. or more than two hours before the first race runs at most tracks."
Kalinevitch, a 49-year-old contractor, said that he and his 'capping cronies "have had to move four different times, trying to find a spot where we can sit, watch races and bet."
And Richards, a 63-year-old insurance executive, serious horseplayer, and sometime horse owner, said that his group ended up in the first-floor DelCap room but were dismayed to find that the bar there closed with two races still to go on its namesake Delaware Handicap day.
"I understand it's a business and most of the money is made on the casino side, but it can't be that hard to find a way to address the needs of a loyal group that has supported the track for many years," Richards said.
Delaware Park said it is "constantly evaluating" customer feedback and business patterns to provide customers a positive experience.
The advent of sports wagering has clearly increased the number of people at the facility. The parking lot is much more crowded now than it had been previously, and inside large and lively throngs gather to watch and wager on a wide array of sports.
Whether those newcomers will turn their attention to the ponies remains to be seen. Delaware Park is hoping that familiarity will aid that cause. Horse racing is often cheek-by-jowl with the other events – by design, the track said.
"Delaware Park has not designated any one area as just racing or sports betting," the track said via email. "The plan is to keep racing and sports in the same areas in the hope for some cross-over play for both racing and sports."