Breeders' Cup: Crowdsourced handicapping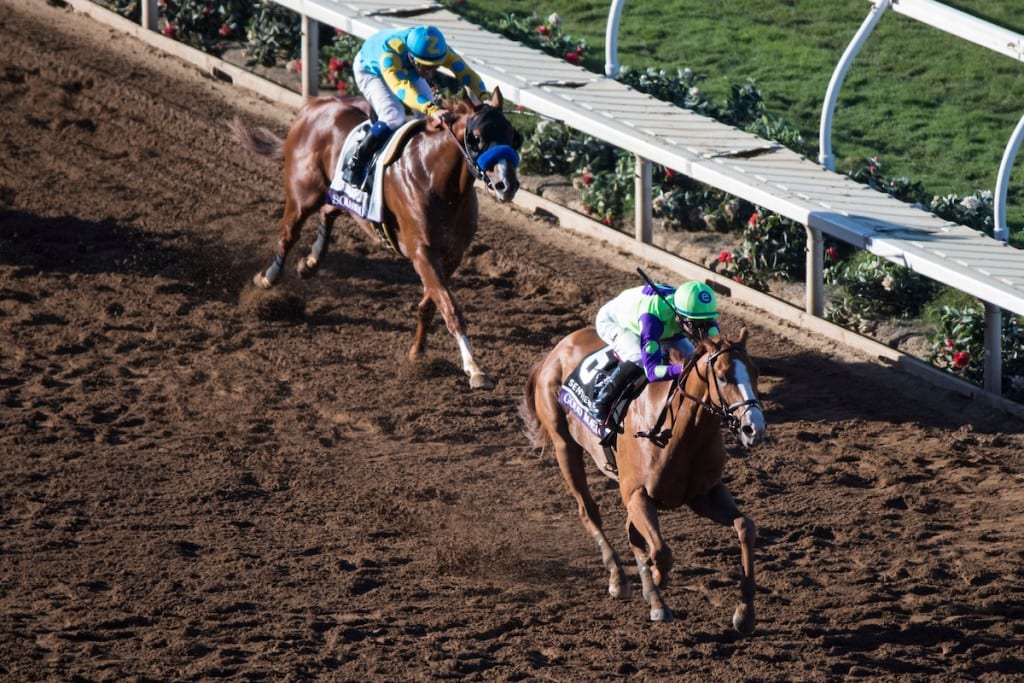 Good Magic won the 2017 Breeders' Cup Juvenile. Photo by Ting Shen/Eclipse Sportswire/Breeders Cup.
With a handicapping contest underway on The Racing Biz, we figured: let's see how our players scoped out the Breeders' Cup. Do they land in different spots from the general public? Or are they right there with them?
Let's see how it shakes out:
RACE 4 – BREEDERS' CUP TURF SPRINT
11 – World of Trouble (6-1)
5 – Disco Partner (7-2)
9 – Stormy Liberal (4-1)
1 – Ruby Notion (20-1)
RACE 5 – BREEDERS' CUP DIRT MILE

10 – Catalina Cruiser (8-5)
1 – City of Light (5-2)
7 – Firenze Fire (6-1)
6 – Seeking the Soul (5-1)
RACE 6 – BREEDERS' CUP DIRT MILE
3 – Wild Illusion (7-2)
6 – Sistercharlie (3-1)
1 – Fourstar Crook (5-1)
14 – Eziyra (15-1)
RACE 7 – BREEDERS' CUP SPRINT
5 – Imperial Hint (9-5)
9 – Roy H (5-2)
8 – Limousine Liberal (6-1)
1 – Whitmore (6-1)
RACE 8 – BREEDERS' CUP MILE
5 – Oscar Performance (6-1)
12 – Analyze It (6-1)
2 – Next Shares (10-1)
7 – Expert (8-1)
RACE 9 – BREEDERS' CUP DISTAFF
11 – Monomoy Girl (2-1)
2 – Abel Tasman (7-2)
9 – Wow Cat (8-1)
3 – La Force (20-1)
RACE 10 – BREEDERS' CUP TURF
2 – Enable (1-1)
12 – Waldgeist (9-2)
5 – Magical (10-1)
3 – Channel Maker (12-1)
RACE 11 – BREEDERS' CUP CLASSIC
3 – Catholic Boy (8-1)
7 – West Coast (5-1)
14 – Accelerate (5-2)
6 – McKinzie (6-1)