Breeders' Cup: Discreet Lover takes "crazy" St. Lewis clan on wild ride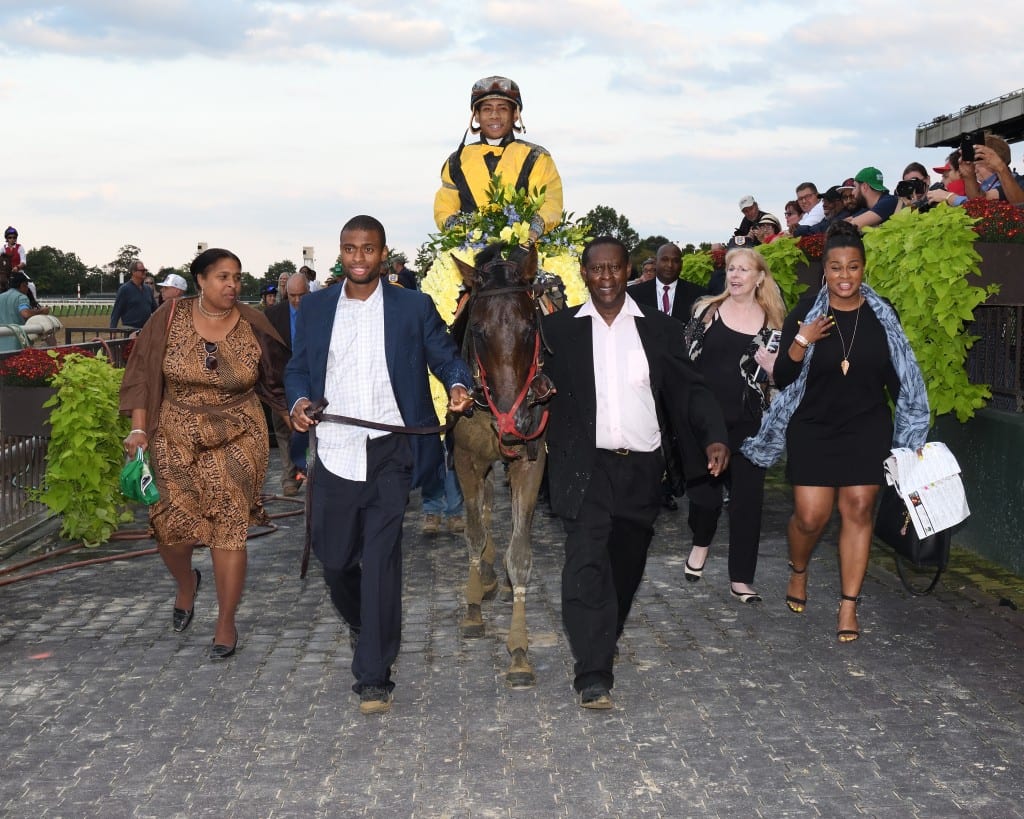 From left: Amanda St. Lewis, Uriah St. Lewis, Jr., Manny Franco aboard Discreet Lover, Uriah St. Lewis, Sr., and at far right, Jere St. Lewis after the Jockey Club Gold Cup. Photo by NYRA.
by Teresa Genaro
The racetracks on the New York Racing Association circuit—Aqueduct Racetrack, Belmont Park, and Saratoga Race Course—are familiar ground for the St. Lewis family. Long before they started spending time on the backstretch, they were insiders, literally.
More than 30 years ago, Uriah worked behind the scenes, fixing computers at the three tracks. His wife Amanda was on the front lines, working as a mutuel clerk. Both of them knew that they wanted something more, and Amanda went first.
Uriah continued to work at the track while she attended nursing school, eventually becoming an OB/GYN nurse, now working at Jefferson Hospital in Philadelphia.
"He put me through school," she said, standing next to the trophy for the Grade 1 Jockey Club Gold Cup at Belmont on Sept. 29. "Then it was his turn."
"His turn" required a different kind of education, the kind you don't get in classrooms and textbooks. "His turn" meant breaking into a tough business, learning on the job, taking enormous financial risks. "His turn" is what brought the St. Lewis family to that trophy presentation at Belmont Park, when their $10,000 five-year-old Discreet Lover became the improbable 100th winner of the Jockey Club Gold Cup, at odds of 45.5-1. Those trophies were theirs.
That win at Belmont was the first Grade 1 for the family, after three decades of toiling on the backstretch. Earlier this year, Discreet Lover brought them their first graded stakes when he won the Grade 3 Excelsior at Aqueduct.
"You know how many years we've been coming to these tracks?" said an exultant Amanda, standing next to her equally exuberant daughter Jeré, who earlier had called out, "Thank you, Manny!" to Manny Franco as he rode her family's horse down Grade 1 Alley to get their picture taken.
Uriah grew up in Trinidad, where his sister would take him to the racetrack. Amanda grew up in Brooklyn and knew pretty much nothing about horses before she started working there. Together, they own more than two dozen horses.
"People don't really give us horses," said Amanda, "so we struggle along all the time, buying our own. It was tough at the beginning, not winning any races. He just happened to luck into this horse for 10 grand."
Uriah bought Discreet Lover at the 2015 Fasig-Tipton Midlantic sale of two-year-olds in training. Bred in Florida by Woodford Thoroughbreds, the bay horse is by Repent and out of Discreet Chat (Discreet Cat). The win in the Gold Cup made him a millionaire (earnings of $1.37 million) and earned him a spot in Saturday's Grade 1, $6 million Breeders' Cup Classic. He is 20-1 on the morning line.
"Nobody wanted him," said Amanda. "The two of us went to the sale and we happened to see this little horse."
St. Lewis is based at Parx, and the family lives nearby in Philadelphia, where Amanda works at Jefferson Hospital.
"I love New York, I'm New York born and bred," she said. "But Philadelphia is a little cheaper, and you still get the flavor of the city."
This year, they bought 10 two-year-olds, investing back into the sport, hoping to find another Discreet Lover. Though their children have all graduated from college, they're still paying tuition bills, and it was of those bills that Amanda first thought when St. Lewis came up to her after the Gold Cup, all business, handing her a sizable WPS show ticket on their horse.
"This is going to pay a lot of tuition," she said, beaming and laughing.
She wanted to go drink champagne to celebrate the victory; he wanted to pick up their silks and the horse's papers and go back to the barn to check on their Grade 1 winner.
"He's a man that's willing to take a chance," she said, watching him walk away. "We'll throw caution to the winds with everything in our lives."
"Even if it doesn't make any sense," added Jeré, still overjoyed.
"We think he's crazy, but…" Her voice trailed off into proud, giddy laughter.
"And sometimes," said Amanda, "I have to jump off the edge with him. He's my husband."