Breeders' Cup: Jason Servis arrives with an entourage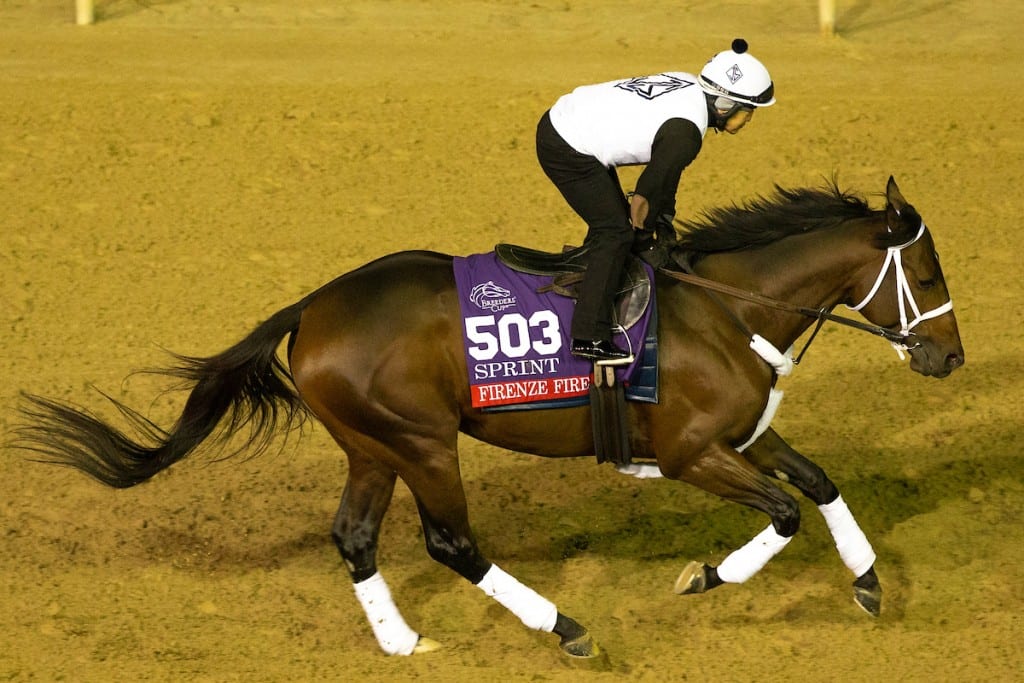 Firenze Fire training for the Breeders' Cup (though the Dirt Mile, not the Sprint) at Churchill Downs. Photo Casey Phillips/Eclipse Sportswire/CSM
by Doug McCoy
"Good things come to those who wait."
That catch phrase isn't just a tagline for consumers of Heinz ketchup and Guinness Stout beer. It also perfectly fits the life and times of trainer Jason Servis.
Servis worked as a top exercise boy on the New Jersey circuit in the mornings and also worked as a valet for a number of years, making a good living in the process. The knowledge was there to be a trainer, but Servis had children to raise, and the uncertain nature of being a public trainer was just too risky a proposition for Servis to give up the financial security provided from his two steady jobs.
When a friend who owned some horses asked Servis to take some of them to New York for the winter months until racing returned to New Jersey at Monmouth Park in 2002, the then-43-year-old agreed. He has never looked back. He won at 20% in his first year as a trainer, cracked the million-dollar mark in earnings in his third season, and went over the two-million-dollar mark for the first time in 2012.
This season has been the pinnacle for Servis and his stable. He won his 1000th race in April, is winning at stunning 32 percent clip, and his stable has surpassed $6 million in earnings for the season.
This weekend he will send out five runners in racing's world championships, the 2018 Breeders' Cup. Servis has never won a Breeders' Cup race, his best prior finish a runner-up effort from Tightend Touchdown in the 2013 Turf Sprint.
The straight-talking Servis ran down his thoughts about his five runners this weekend.
UNCLE BENNY (15-1, Juvenile Turf)
"We had him nominated for both the Juvenile Turf Sprint and the Juvenile Turf but Irad (Ortiz Jr., rider of Uncle Benny) felt Uncle Benny would be better suited around two turns. He told us in the last race a horse came out in front of him after the start and stopped him dead. He said because he (Uncle Benny) was a baby he just tucked him in and waited to see how the race played out then when he swung him out and asked him he just took off. He was very impressed. Everybody who's been around this horse has had nothing but positive things to say about him. We had actually looked at him at the sale but he was an RNA. I told my people (Beach Haven Thoroughbreds LLC) I was going to do something I rarely do and go see if we could buy the horse, which we did. It was a gamble but I'd say it paid off."
RAINBOW HEIR (12-1, Turf Sprint)
"His is an interesting story. After he won in Florida this spring, I was hoping to eventually send him to Del Mar, but the owner said he wanted to send him to stud. He told me he would send him back to me after breeding season. He covered 32 mares, got 30 in foal, then came back and ran a bang up race in the stake at Parx (when third in the Grade 3 Turf Monster). He's doing good and shows up every race, so I think he's got as good a chance as anybody in there."
VISION PERFECT (15-1, TURF SPRINT)
"On paper it might look like he's in a little deep, but his numbers for three of his last four races are good, and we thought he deserved a chance. His only race over that course at Churchill wasn't that promising, but he's doing good and in these turf sprints you never know what'll happen."
WORLD OF TROUBLE (6-1, TURF SPRINT)
"I'd been excited about running him on the turf ever since we got him, and when he finally got on the grass (in the Quick Call Stakes at Saratoga) he confirmed what I'd thought along, that he'd love the turf. The course was soft that day but he handled it great, and last time at Belmont that course was also wet and he ran well over it. He's very fast but he's not speed crazy, he's a smart horse and is still getting better. I think he's going to run big!"
FIRENZE FIRE (6-1, DIRT MILE)
"If there was ever a race that fit a horse, it's this race and this horse. He's three-for-three lifetime in one-turn mile races. Some of his best career efforts have come in those races and unlike a lot of horses, the Kentucky Derby experience (where Firenze Fire finished 11th) doesn't seem to have done any permanent damage. He's won two of his three starts since that race, he's training well and from what I could see the last couple of days out on the pony in the morning, the track looks like it's very fast. This horse likes to hear his feet rattle. There's some legit speed in there, and I would expect we should be sitting just off the pace. I'm also happy Irad will be on him again. He's ridden him for four of his last five wins and they (horse and rider) just seem to click together. I'm looking for him to run a big race."